MAX 2017 – the big annual conference intersecting creativity and Adobe technology – is coming up this fall in Las Vegas, Nevada… And continuing our long tradition of free Adobe giveaways, we've got one free regular full conference pass (worth US$1,595) to give away, courtesy of our friends at Adobe Systems! Plus, an exclusive US$400-off MAX ticket discount code that's available to everyone… (details below)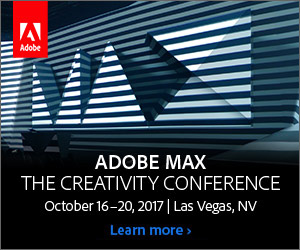 Adobe MAX 2017, The Creativity Conference – running from October 18-20 – will be chock full of expert keynotes and presentations, technical and how-to ses­sions, product announce­ments and sneak peeks, evening events and parties, networking and meeting the teams, and possibly some surprises… The show is an amazing experi­ence where they really take care of you from start to finish while you soak up all the growth and learning you can.
In fact, many of the best courses and tutorial sessions from the last MAX were recorded and are still available on-demand for free viewing, covering all Adobe applications.
This month we're celebrating our 8th anniversary here at PDT, and proud of it! So it seems the perfect time to put together a comprehensive review of the best and most-shared articles and resources published here since our site launched in 2009.
These are the top posts that consistently have the highest readership on our site, month after month, covering all major Adobe software products… They're broken out by topic below in case you've missed any, or are new here – so bookmark, share, and enjoy!
Free Adobe Books

Creative Cloud (CC)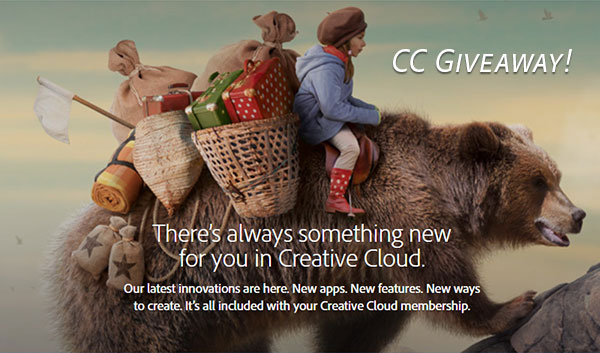 [UPDATE – Also see our new MAX 2017 Ticket Giveaway!]
Late last year, Adobe launched the all-new CC 2017 product line, a major milestone of creative tools and services marking the fifth major release of the CC product line, which replaced CS6 from 2012. This latest CC version contains thousands of new features and advancements compared to CS6 (across all creative applica­tions), and it is available only via Creative Cloud membership – a community which now surpasses 9 million paid subscribers.
Adobe CC 2017 is also known as the Creative Cloud 2017 Release… And that is exactly what we're giving away for free below, and this offer is open to everyone world­wide.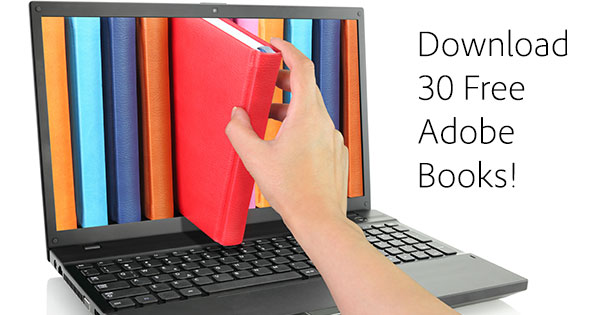 Next to our Adobe software direct download links, easily the most popular resource here at ProDesignTools is the set of free Adobe books that we've put together over the years…
So we're pleased to announce that, with the recent addition of the Lightroom Performance Guide, this no-cost collection has now grown to 30 different titles that you can legally download and use royalty-free, forever. These eBooks comprise thousands of pages covering the CC and CS releases of all major Adobe products. So before you go and spend money for a book, you might want to check these out first!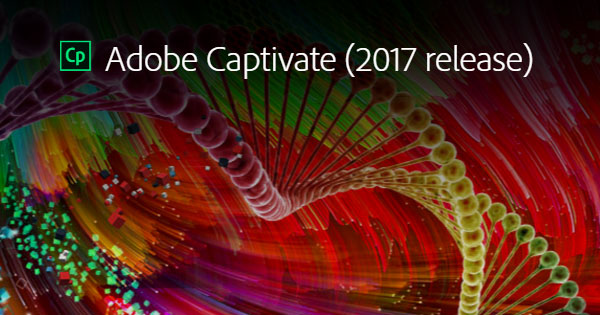 Adobe just announced the latest versions of its industry-leading eLearning and mLearning authoring tool, Captivate 2017 (aka Captivate 10), and learning management system (LMS), Captivate Prime. Used in conjunction, as an end-to-end solution, or as standalone offerings, these powerful eLearning products continue to break new ground in learning, development, and training – delivering exceptional learning experiences that are personalized and available on any device.
Now that the Adobe CC release has become ubiquitous with over 9 million paid customers, more folks are asking us whether the new versions of the tools in the Creative Cloud can read or save older data/document/project file formats like CS6, CS5.5, CS5, CS4 & CS3…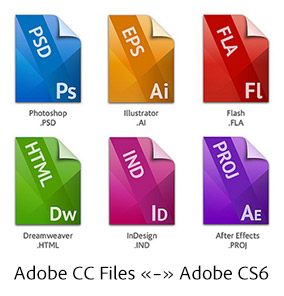 In fact, since Adobe's flagship creative toolset CC 2017 is now five major releases past CS6 from 2012 (which they no longer sell), file version compatibility can some­times be an important decision point in moving forward.
In the past, new Adobe product versions have often brought different or expanded file formats to support significant new features – and customers want to know if their existing projects will easily carry forward with them when they upgrade, or if they will be able to save back to older formats for coworkers or clients who may still be running an earlier revision of the programs…
OK then, here's how it works. Generally, your new CC tools will be able to open and use any and all earlier CS project and data files – including CS3, CS4, CS5, CS5.5, and CS6 files – with no problem or loss of information. In other words, all Adobe software is able to read or import file formats from previous versions of the same program – and it should happen seam­lessly and automatically. The only exception to this is Premiere Pro, where it's best to open/edit projects in the same versions that created them.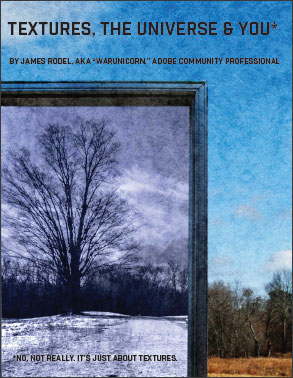 We've got a great new resource for you – a free 213 MB collection of custom Photoshop textures to help set your work apart… This exclusive set of 29 different hand-crafted textures was just released by War Unicorn Media at no cost and is 100% royalty-free. This collection comes complete with an 18-page guide (available online or as a downloadable PDF), filled with tips and tricks on how to best use textures in your Photoshop workflow, as well as how to create your own!
Textures are super-easy to apply and use in Photoshop. Just load the texture into a new layer above your composition, and then set its Blending Mode and Opacity for how you want it to impact the photograph or image underneath. More details and ideas are given in the short tutorial video included below.
Here is James Rodel's introduction from the accompanying guide, which is packed with examples and entitled, "Textures, the Universe, and You":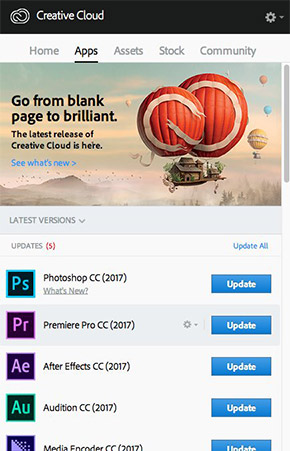 We're on the Adobe Help Forums every day and regularly see users posting queries like "Can't install Photoshop CC from the Creative Cloud" or "CS6 won't download," or "my product updates aren't working"… It could be for the free trials or for the full paid versions.
Often the issue is related to one or the other download managers (DLM) that Adobe uses to deliver its software install­ers. Over the years and for various tools, they have used the Akamai Download Manager, the Adobe Download Assistant (ADA), the Adobe Application Manager (AAM), and most recently the Creative Cloud's CC Desktop App.
Adobe employs these helper utilities because their downloads are usually large – multiple gigabytes – and download managers can help correct for unreliable Internet connections, and resume a download after it has been paused or unexpectedly broken.
But it turns out there can be interactions between the DLM and some configuration on the user's computer, web browser, anti-virus software, Internet connection, or something else which causes it not to work… So the first step is to try something different with those.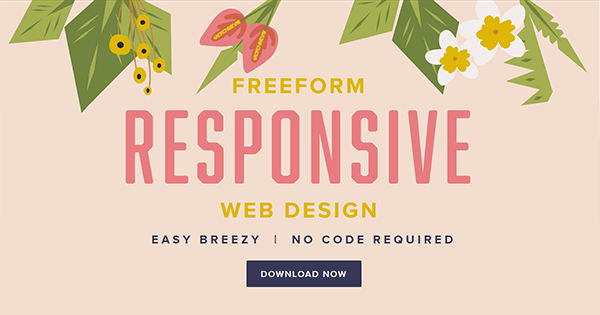 Adobe Muse is a modern website builder that enables you to create gorgeous HTML5 sites that dynamically scale to any device – and Muse allows you to do this without writing any code. Muse is included for all Complete Creative Cloud ("All Apps") members, as well as available via a Single-App Subscription. So with millions of people already receiving Muse with their CC purchase, there's a broad audience for training materials on how to get going with this helpful program…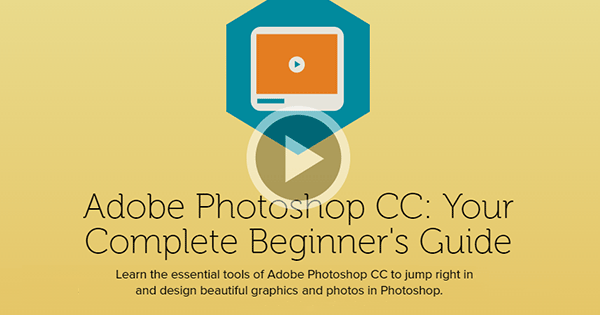 Here's a fantastic new resource that you should not miss – and even bookmark/share… It's a complete introductory-level class on how to best use Photoshop from the training team at Adobe KnowHow – a course worth hundreds of dollars, but now completely FREE with no catch. It includes 5½ hours of high-quality instruction broken out into 16 chapters with 58 video tutorials (in HD or SD), covering everything you need to know to really get going with Photoshop – the world's leading graphics and photo editing application – at no cost!