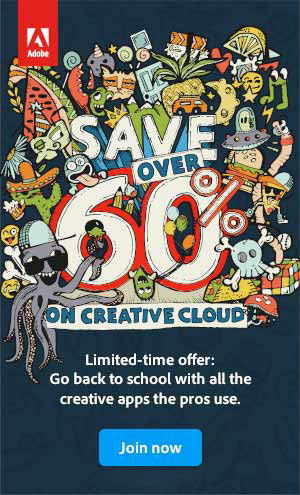 Here we are, it's that time of year again – it's back to school, and the sales that often come with it… So for a limited time, Adobe is offering a special deal for students and teachers. In addition to the regular education discount of 60-70% off of the standard price for an annual CC membership, you can now also get one month free when you prepay for your first year of Creative Cloud.
And you get the complete Creative Cloud – the latest CC 2015 desktop releases of all of the tools and services contained in the collection, including Photoshop CC, Illustrator CC, InDesign CC, Lightroom CC, Dream­weaver CC, Premiere Pro CC, After Effects CC, Muse CC, Edge Animate CC, Acrobat DC, and more. These CC 2015.5 versions contain thousands of new features and improve­ments compared to 2012's CS6.
This back-to-school offer is valid inter­nationally and worldwide – including North America, UK/Europe, Australia/NZ, and more – until Sept. 2nd. The extra bonus means the savings in some countries reaches 73% off the normal price in the first year… To get the discount, just visit the online Adobe Education Store and purchase with a credit card or PayPal: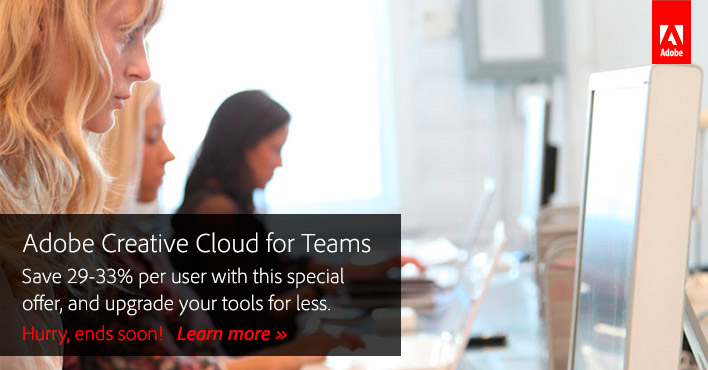 We have a special Creative Cloud promotion from Adobe for you. For a limited time, you can save US$20/month (almost 30%) on Creative Cloud for Teams for your first year. That comes out to under US$50 a month for the entire CC collection of tools and services, including thousands of new features and performance improvements, as well as ongoing product updates! This promotion is available in many countries worldwide with similar discounts… See below for offer details and links.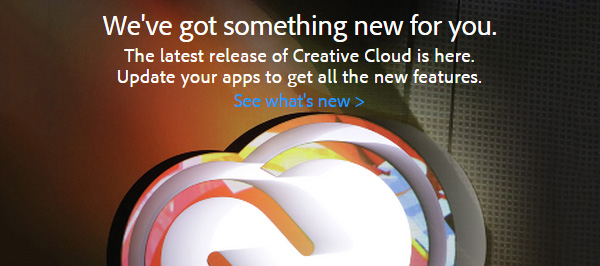 Early this morning, Adobe launched major updates to its flagship Creative Cloud tools and services. This June 2016 release includes dramatic new features in Adobe's key desktop applications, performance enhancements across Creative Cloud (CC) and exciting updates to Adobe Stock. As always, all upgrades to all CC desktop apps are available for download by Creative Cloud members as part of their membership at no additional cost.
Historically a significant new June release would be labelled with a new year, e.g., CC 2016, as with previous versions (CC 2013, CC 2014, CC 2015). But that has not happened here; the highest version shipping today is branded CC 2015.5. The reason why Adobe is doing it this way is not yet known – but since they are not using "CC 2016" now, it seems unlikely they would do so later in the year (e.g., MAX 2016 in November)… So some think this move indicates a future version might be called CC 2017 instead, skipping the CC 2016 moniker entirely.
MAX 2016 – the big annual conference intersecting creativity and Adobe technology – is coming up this fall in San Diego, California… And continuing our long tradition of free Adobe giveaways, we've got one free regular full conference pass (worth US$1,595) to give away, plus one US$400-off ticket savings, both courtesy of our friends at Adobe Systems!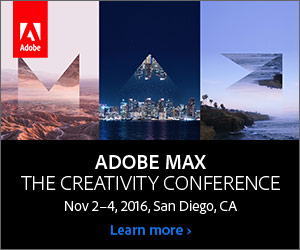 Adobe MAX 2016, The Creativity Conference – running from November 2-4 – will be chock full of expert keynotes and presentations, technical and how-to ses­sions, product announce­ments and sneak peeks, evening events and parties, networking and meeting the teams, and possibly some surprises… The show is an amazing experi­ence where they really take care of you from start to finish while you soak up all the growth and learning you can.
In fact, many of the best courses and tutorial sessions from the last MAX were recorded and are still available on-demand for free viewing, covering all Adobe applications.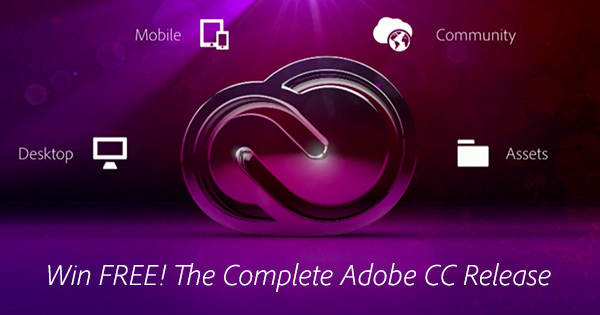 [UPDATE – Also see our new MAX 2016 Free Ticket Giveaway!]
Last June, Adobe shipped the new CC 2015 set of tools and services – a milestone marking the third major release of the CC product line, which replaced CS6 from 2012. This latest CC version contains thousands of new features and advancements compared to CS6 (across all creative applica­tions), and it is available only via Creative Cloud membership – a community which now surpasses 7 million paid members.
CC 2015 is also known as the Creative Cloud 2015 Release… Since its initial launch, Adobe has issued many updates to further upgrade the functionality and capabilities of the different tools – and all ongoing upgrades are auto­matic­ally included at no addi­tional charge. Sometime this year, the company is expected to ship the next major milestone release of the product line (e.g., CC 2015.5 or CC 2016), and this will also be included for current members.
Adobe MAX—The Creativity Conference is lined up for November 2-4 this year in San Diego, California – and planning is underway to make the 2016 MAX experience better than ever: "Join over 9,000 of the world's top designers, creative directors, video and photography professionals and others for the premier creativity conference. MAX provides hands-on training from best-in-the-business experts in creative labs and workshops along with inspiring talks to help ignite your creativity and grow your career."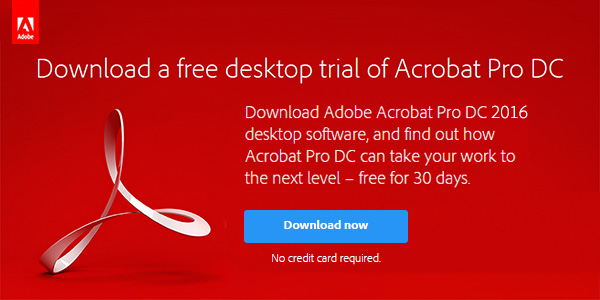 Adobe Acrobat DC 2016 is now shipping! "DC" stands for Document Cloud, which is Adobe's new set of integrated online services that helps people and businesses better manage critical documents. At the heart of Document Cloud is Acrobat DC – the industry standard for creating, sharing and editing PDFs – which was completely reengineered last year for the initial DC 2015 milestone release.
This new version of Acrobat continues as a desktop product in both Pro or Standard editions, and is available either via subscription or with a perpetual license. Adobe has incorporated many new features and improvements to bring Acrobat up the modern day. Further, the company has moved to a year-based versioning model for Acrobat… So this revision is officially called the "the 2016 Release of Acrobat DC" – and the technical version number is actually 15 rather than 12.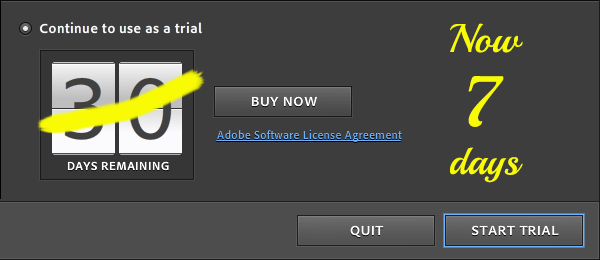 After decades of 30-day free trials for its flagship creative applications such as Photoshop, Illustrator, InDesign, and all the others, today Adobe announced that going forward, the length of the trial period for Creative Cloud (i.e., the CC 2015 desktop apps) will be standardized worldwide at 7 days.
The company has been running some tests over the past couple months, and says the changes better align with how individuals are actually using the trial software – meaning the degree and duration of time they use them the most after initial installation. By moving to seven days, Adobe feels they can follow up better with the customer when the experience is freshest than if it happened a month later. It also gives users greater incentive to bump up the priority of the new software evaluations. Given the accelerating pace of change in technology (and pretty much everything else moving faster these days), these findings aren't entirely surprising.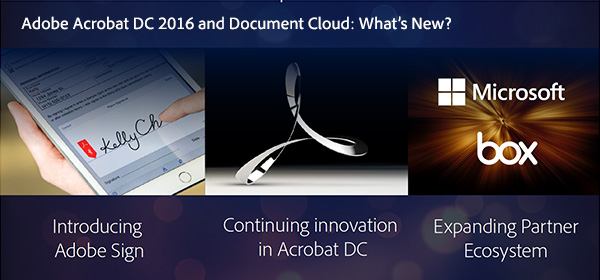 One of the most frequent upgrade questions we get is what's new, what's different, or what's changed between the new release of Acrobat and previous versions? Adobe Acrobat DC 2016 just launched today, and if you're counting numerically (… 9, X, XI, DC 2015, DC 2016), then this is the 13th major release of one of Adobe's biggest products with over 30 million customers. So put simply, what are the major new features and advance­ments in the 2016 Release of Acrobat DC (Pro or Standard), versus DC 2015, or 2012's Acrobat XI or even 2010's Acrobat X?
When the Document Cloud first arrived a year ago – and Acrobat DC 2015 along with it – there were some significant changes to how the software was purchased… While the desktop Acrobat Pro/Standard tool is still sold standalone with a perpetual (or "Classic") license, many of the newer capabilities and services are only available via the Acrobat DC subscription (or "Continuous") bundle. It's called "Continuous" because subscribers receive all ongoing product upgrades as soon as they are available, ensuring you are always running the latest-and-greatest software with the complete featureset.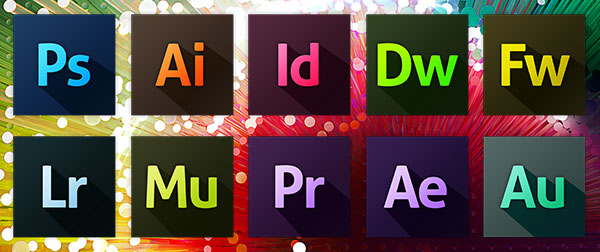 With the fast-growing adoption of Adobe's Creative Cloud and the recent release of the all-new CC 2015 versions of creative applications, some readers are telling us they're not sure if they need all the tools that are included in the complete Creative Cloud offering, or aren't quite ready to join for US$49 a month…
The complete (or All Apps) Creative Cloud membership gives you the latest-and-greatest versions of Photoshop, Illustrator, InDesign, Acrobat, Dreamweaver, Muse, Animate, Premiere, After Effects, Audition, and others – together in a well-integrated suite with ongoing product upgrades included as soon as they're available.