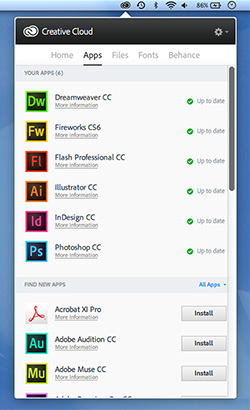 We're on the Adobe Help Forums every day and regularly see users posting queries like "CS6 doesn't download" or "Can't install Photoshop CC from the Creative Cloud," or "my product updates aren't downloading"… It could be for the 30-day free trials or for the full versions.
Often the issue is related to one or the other download managers (DLM) that Adobe uses to deliver its software install­ers. Over the years and for various tools, they have used the Akamai Download Manager, the Adobe Download Assistant (ADA), the Adobe Application Manager (AAM), and most recently the Creative Cloud (CC) Desktop App.
Adobe employs these helper utilities because their downloads are usually large – multiple gigabytes – and download managers can help correct for unreliable Internet connections, and resume a download after it has been paused or if the online connection was unexpectedly broken.
But it turns out there can be interactions between the DLM and some configuration on the user's computer, web browser, anti-virus software, Internet connection, or something else which causes it not to work… So the first step is to try something different with those.
With the increasing popularity of Adobe's Creative Cloud and the release of the new "CC" versions of creative applications replacing Creative Suite, some readers are telling us they're not sure if they need all the tools that are included in the Cloud offering, or aren't quite ready to join for US$49 a month…
Typically in these cases customers believe their only two choices are between purchasing 2012′s CS6 in the traditional way vs. the Creative Cloud. (And yes, you can still buy all of the CS6 products with perpetual licensing direct from Adobe if that's what you prefer, because the company is continuing to sell Creative Suite 6 for those who want it.)
And fortunately now there is a third option – though this is still not known by many people. There is another choice between paying $700-$1000 for Photoshop CS6, and signing on for the complete Creative Cloud…
The third route is called a Single-App Membership plan – also known as a single-tool subscription. This plan gives you full access to the very latest version of any single Adobe creative application for just $9-19 a month – including InDesign CC, Illustrator CC, Dreamweaver CC, Muse CC, Premiere Pro CC, or any of the others.
We've previously covered here how to transfer Adobe software products (like Creative Cloud, CS6, Photoshop, Lightroom, Elements, or Acrobat) between two computers, including from PC to Mac or vice versa. In this article we're going to focus on transferring the actual legal license from one person or company to another, like transferring the title to a car or home between two people.
Moving the software physically is mostly a technical task, but doesn't cover what happens if the recipient has problems, needs customer support or updates, wants to be registered with Adobe, and be recognized as the new legal owner and user of the tools. To address those needs, just follow the transfer process described below to "unregister" the program from the old owner and re-register for the new one.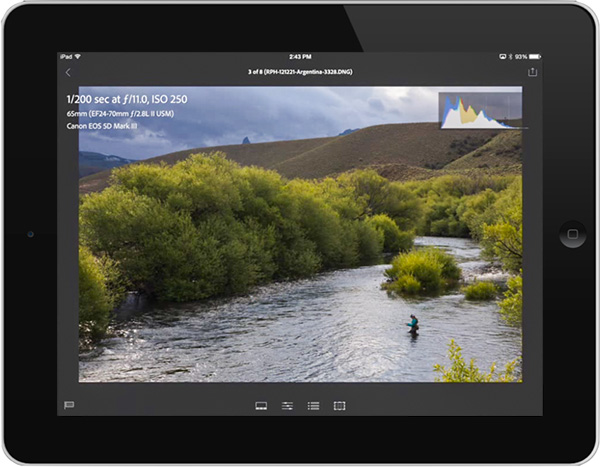 We wanted to reach out to you to let you know of some exciting news from Adobe – after years of rumors and hopes, today the company announced Lightroom Mobile, a companion app to Lightroom 5 on the desktop that frees you to work on your photos anywhere.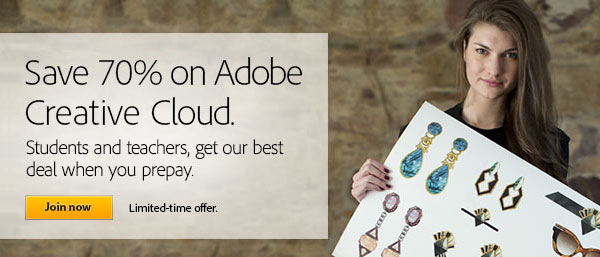 The standard pricing for Adobe's new CC release – their flagship Creative Cloud all-in-one offering – is US$50 a month with an annual membership. Recently, the company extended their intro offer for existing CS customers, which gives a 40% discount off that price…
How about for education customers? On price, the offer is even better – for a limited time, all students and teachers can now pay just US$19.99/month with an annual plan (under $1/day) – but importantly, no previous ownership of any Adobe product is required and no coupon code is necessary. Outside of North America, it's an even greater level of reduction at £15.88 or €19,99 or A$14.99 per month (including VAT), or 60-70% off:
OK, so your old computer is running out of gas, you're upgrading or changing systems, adding a new machine, or switching from a PC to a Mac, or vice versa — and you want to move over your purchased CS6 (or CS5 or CS4 or CS3 or CC/Creative Cloud or any other) Adobe software — what do you do, and how do you do it? Just follow our complete guide below.
As we've covered previously here, you are generally allowed to install and activate most Adobe software on up to two computers, with the restriction that the software can not used on both systems at the same time. So right off the bat, you might be good to go with installing the software on a second computer, although you may wish to double-check the licensing agreement for your product to be sure.
"Creative Treat" to Be Part of New Accuracy-in-Naming Initiative
SAN JOSE, Calif.—April 1, 2014—Citing ongoing confusion over the Creative Cloud name introduced two years ago, Adobe Systems announced today that it is relaunching its flagship product line as "Creative Treat."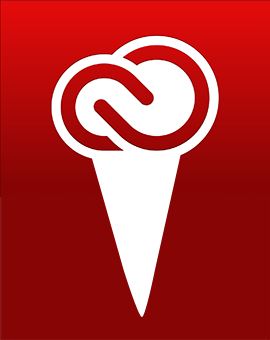 Commenting on the move, Founder John Adobe explained that too many people were still thinking Creative Cloud meant that mainline tools like Photoshop and Illustrator were run­ning as online applica­tions in a web browser – something he says will never actually happen.
"Creative Suite was the old model, and Creative Cloud is the new model," Mr. Adobe said. "And yes, it has some cloud-based services – but now with Creative Treat, we finally have a name that represents the sweet experience you should expect as a customer when using all these great tools," he added.
Origins of the New Name
"With the hundreds of innovations added since the release of CS6, plus complete access to full versions of all our top software for an affordable price, using these delicious new creative prod­ucts is really a treat, most of all," he explained.
This is one of the most common questions we get, and the answer may pleasantly surprise you… The place to look to find the answer is the Software License Agreement, also called the EULA. This agreement governs the use of your Adobe product, and is translated into 28 languages within each document. It also covers some basics about product activation.
So, in general, how many systems can you install Adobe software on, including the Creative Cloud and CS6? The answer for individuals (as opposed to businesses) in most cases is two. The catch is that both computers must be used only by you and (for CS) the two systems cannot be used at the same time. This policy was designed so that you could run (say) Creative Suite at home on your desktop PC, as well as while traveling with your laptop. But the types of computers and their usage has blurred so much now that you can just pick any two you own and the product should install and properly activate on both…
For example, here is the key text from the EULA for Photoshop CS6:
2.1.3 Portable or Home Computer Use. Subject to the important restrictions set forth in Section 2.1.4 [having to do with volume licensees], the primary user of the Computer on which the Software is installed … may install a second copy of the Software for his or her exclusive use on either a port­able Computer or a Computer located at his or her home, provided that the Software on the port­able or home Computer is not used at the same time as the Software on the primary Computer.
Some folks think it might be a good idea to try to save a few bucks and buy Adobe software off of eBay, Craigslist, Amazon Marketplace, or from any vendor who is unfamiliar. It could be CS6, Photoshop, Lightroom, Acrobat, Elements, or any other item – in a retail, student, full or upgrade version… or sometimes it's the "OEM" scam, or the "extra" volume license.
But it's actually not a very good idea at all. Why?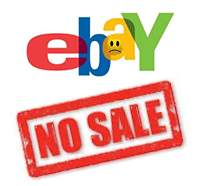 The first problem is that Adobe does not recognize these venues as valid or authorized resellers. So as a result, it's like Adobe will not officially recognize any of those buyers as actually owning their software. Yes, you read that right.
Meaning, you think you own the genuine article but effectively you don't. You can't provide an accepted proof of purchase – so you can't formally prove you own the products, can't ever legally transfer the software to someone else, may not be able to get technical support or upgrade to the next version, and so on… You also aren't able to return the software to get your money back from Adobe like you normally can.
Why doesn't Adobe recognize the people that go through those places? Doesn't that seem unfair? Can't these software vendors who you've never heard of be trusted?
No, because in this area, reputation matters… a lot. The simple reason is – and the real problem is – that 90% of the software sold on places like eBay is counterfeit! Yes, it's true. And it's not a new problem.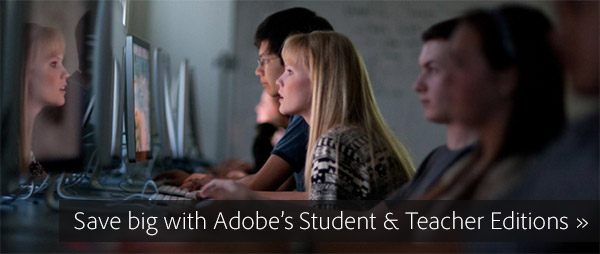 Let's face it, Adobe's traditional product prices can seem expensive, especially if you're on a student's budget. The regular prices for 2012′s Creative Suite 6 release range run from $399 for Dream­weaver through Photoshop Extended for $999 and up to $2,599 upfront for the Master Collection suite, which contains all CS6 applications – nearly twenty in all. As great and powerful as this software is, it could be hard to afford these prices when you're in school.
Fortunately, Adobe offers deep discounts for education customers – up to 70% off. So the price for Dreamweaver CS6 becomes almost a third of what it was, $149 – while for the CS6 Design Standard suite (containing Photoshop + Illustrator + InDesign + Acrobat Pro) it drops by two-thirds, to $449. For most products the price cut is similar – for example, Photoshop CS6 Extended (the most powerful edition) goes from $999 to $349. The popular CS6 Design & Web Premium suite becomes $599 instead of $1,899.