It's the season for holiday deals – and so it also can be a season for order changes and returns… Although naturally, this can happen at any time of year.
Sometimes even despite using Adobe's free trial downloads to try out the software before buying, customers may want to exchange something and get a different Adobe product instead – say swapping Lightroom for Photoshop, or returning an individual tool and getting the full CC 2014 suite instead (which includes 16 applications instead of one).
So did you know that Adobe offers a full money-back guarantee on almost all current products? This includes Creative Cloud (CC), CS6, Lightroom, Photoshop Elements, Acrobat, and so on. This offer applies even after you've already opened the box or downloaded and installed the product – however, only software purchased directly from Adobe.com worldwide can take advantage of this refund policy (not resellers, retailers, or auction sites).
Yes, it's true – you can simply contact Adobe within 30 days of your order (via live online chat is fast and convenient), and provided you follow the correct procedure they will take it back (after being uninstalled and deactivated from your computers, if applicable) and will then issue you a complete refund.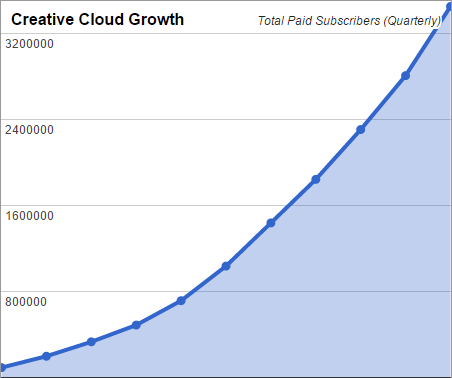 Adobe's Creative Cloud has been available for 2½ years now and continues to gain strong adoption in the marketplace, the latest published figures show.
Paid membership is accelerating – adding a record 644,000 new subscribers in the past quarter (almost 50,000 new customers per week) – which means that total subscribers have now passed 3.4 million since the CC product line replaced Creative Suite in June 2013.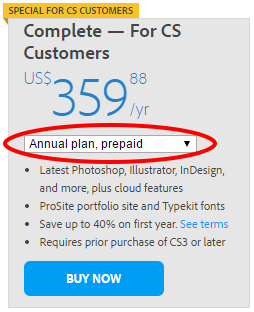 A lot of people have been asking for this, and now there is a solution for all customers worldwide… Adobe's recent CC 2014 release of creative desktop tools has been well-received, but some folks prefer not to have a monthly payment on their credit cards or would rather prepay for their Creative Cloud member­ships upfront, a year (or more) at a time. This used to be tricky, but fortun­ately there is now a very easy way to do it for all products available.
For each different Adobe subscription plan, you'll now find a dropdown menu with a One-Year Prepaid option when buying or renewing your Creative Cloud subscription. These prepaid plans are offered in up to 84 countries and allows you to make a one-time charge in advance of each year, rather than a smaller amount each month… It solves the problem for those who may have difficulties with month-by-month recurring pay­ments, and it's avail­able for all different types of memberships: Individual, Educa­tion, or Business; including upgrades from older software.
If you look at the various CC plans available, the new choice reads: "Annual plan, prepaid – One convenient payment with no monthly billing." So anyone can get this arrangement going forward, including for the popular $9.99 Photoshop/Photography Plan – and the total cost will be the same or less than the standard CC payment options:
Here's a very handy new resource out from James Wamser – a complete reference to all versions of Adobe InDesign ever released… It's called the Adobe InDesign New Features Guide, 1.0 to CC (2014), and the 90-page ebook is available for free download now: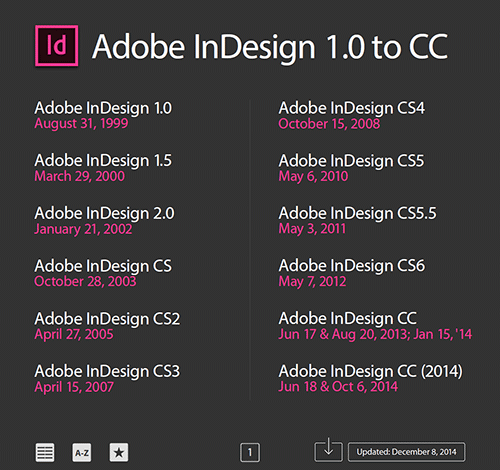 In June Adobe shipped the new CC 2014 product line, a major milestone of creative tools and services that upgrades last year's CC 2013 version, which itself replaced 2012's CS6. This latest CC 2014 release contains over 1,000 new features and advancements compared to CS6 (across all apps), and it is available only via Creative Cloud membership.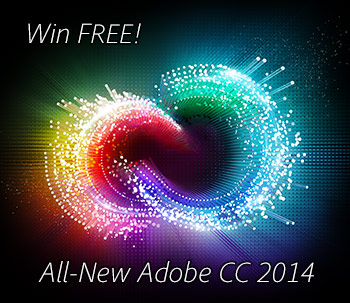 Adobe CC 2014 is also known as the Creative Cloud 2014 Release… And that is exactly what we're giving away for free below, and this offer is open to everyone world­wide.
In all, Creative Cloud 2014 comes with 15 new desk­top applica­tions (Photo­shop CC 2014, Illus­trator CC 2014, InDesign CC 2014, Muse CC 2014, and all your favorites), together with other comple­mentary tools and services (such as Acrobat Pro, Light­room, Edge, Behance ProSite, Typekit) and much more. See the entire contents of what's in Creative Cloud, where all ongoing upgrades are auto­matic­ally included at no addi­tional charge.
Now that the Adobe CC release is becoming widespread with over 3 million paid customers, some folks are asking us whether the new versions of the tools in the Creative Cloud can read or save older data/document/project file formats like CS6, CS5.5, CS5, CS4 & CS3…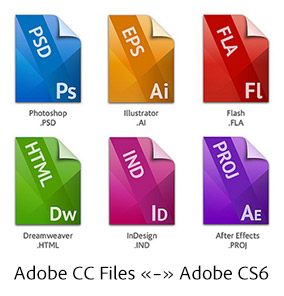 In fact, with Adobe still offering both CC 2014 (aka CS8) and 2012's CS6 for sale at the same time, file version compatibility is some­times an important decision point in choosing which release to purchase.
In the past, new Adobe product versions have often brought different or expanded file formats to support new features – and customers want to know if their existing projects will easily carry forward with them when they upgrade, or if they will be able to save back to older formats for coworkers or clients who may still be running an earlier revision of the programs…
OK then, here's how it works. Generally, your new CC tools will be able to open and use any and all earlier CS project and data files – including CS3, CS4, CS5, CS5.5, and CS6 files – with no problem or loss of information. In other words, all Adobe software is able to read or import file formats from previous versions of the same program – and it should happen seam­lessly and automatically. The only exception to this is Premiere Pro, where it's best to open/edit projects in the same versions that created them.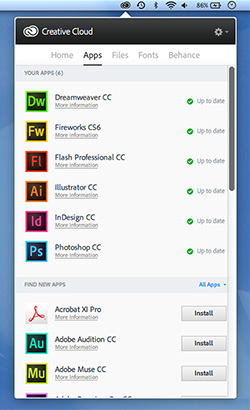 We're on the Adobe Help Forums every day and regularly see users posting queries like "Can't install Photoshop CC from the Creative Cloud" or "CS6 won't download," or "my product updates aren't working"… It could be for the 30-60 day free trials or for the full paid versions.
Often the issue is related to one or the other download managers (DLM) that Adobe uses to deliver its software install­ers. Over the years and for various tools, they have used the Akamai Download Manager, the Adobe Download Assistant (ADA), the Adobe Application Manager (AAM), and most recently the Creative Cloud's CC Desktop App.
Adobe employs these helper utilities because their downloads are usually large – multiple gigabytes – and download managers can help correct for unreliable Internet connections, and resume a download after it has been paused or if the online connection was unexpectedly broken.
But it turns out there can be interactions between the DLM and some configuration on the user's computer, web browser, anti-virus software, Internet connection, or something else which causes it not to work… So the first step is to try something different with those.
With nearly 3.5 million customers having already signed up in the 2½ years since it launched, Adobe's Creative Cloud (CC) product line has been a success exceeding even the company's own expecta­tions. Still, there are a lot of misconceptions out there that we see from time to time, or that some folks seem to believe… (do you?) Here below we dispel and debunk the top 10 most common myths we've heard – and hopefully even if you already know the scoop or use Creative Cloud you'll pick something up… read on!
Even years after it went up, a lot of people still don't know about it.
We're talking about the free online documentation for all Adobe software – a set of manuals that can answer quite a few customer questions, and also be a great resource if you don't own a product yet but want to find out more about it…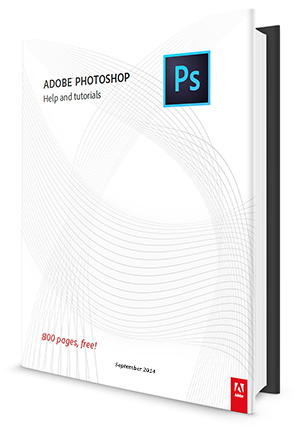 This exists in searchable and downloadable form for all major Adobe applications, including the Creative Cloud, Creative Suite, Lightroom, Acrobat, Photoshop Elements, etc. – for all recent releases on both Windows and Mac OS.
For example, around once a month we receive a question on how to save back to earlier versions from InDesign CC or CS6… Fortunately, this is answered in the "Saving Documents" section in InDesign's online manual. (And for all the cases like these, we also put together a special roadmap for CC file compatibility.)
Related: Trying to decide which is right for you? See Creative Cloud vs. CS6 Comparison
Each Adobe reference below can be downloaded as a complete offline ebook if you want (more about this below)… These books are substantial – the latest "Photoshop Help & Tutorials" hand­book is nearly 800 pages alone!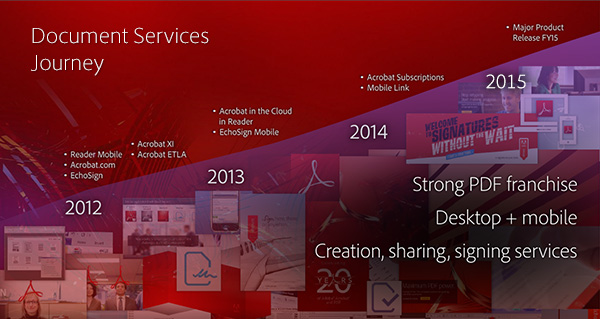 It's been a while now since Acrobat XI was released, and considering Adobe usually runs on two-year release schedules for this product, give or take, what does this imply for when Acrobat XII (Pro/Standard/Reader version 12) will be coming out?
Ordinarily, our best estimate would be simply to go with the release dates for the past few major revisions of Acrobat and then extrapolate.