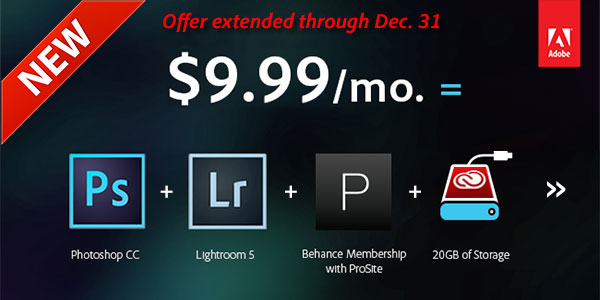 One of the most common upgrade questions we see out there is asking what's new, what's different, what's better, what's changed between Adobe's new CC release and last year's Creative Suite 6? Or more fundamentally, what are the key new features in 'CC' versus the prior version?
The CC products initially launched in June but have already been updated substantially since that time. They are available only via Creative Cloud membership (either for one tool or all), with significant discounts available for upgraders and education customers. Compared to CS6, Adobe CC contains hundreds of new or improved features and func­tions through­out the entire line, across the 15 desktop applications that comprise it.
The easiest way to look at it is by major product… For example, Photoshop CC now always contains all the 3D functions that were previously only available in the PS 'Extended' edition – and is generally packed with new features for designers, photographers and digital artists – something for everyone. You'll find all the details on these linked from the table below.
If you want to try any of the CC apps out, then just sign up for a free level of Creative Cloud membership. All of the free trials are also available for direct download.
Even years after it went up, a lot of people still don't know about it.
We're talking about the free online documentation for all Adobe software – a set of manuals that can answer quite a few customer questions, and also be a great resource if you don't own a product yet but want to find out more about it…
It exists in searchable and discussable form for all major Adobe applications, including the Creative Cloud, Creative Suite, Lightroom, Acrobat, Photoshop Elements, etc. – for all recent releases on both Windows and Mac OS.
For example, at least once a month we receive a question on how to save back to earlier versions from InDesign CC or CS6… Fortunately, this is answered in the "Saving Documents" section in InDesign's online manual. (And for all the cases like these, we also put together a special guide to CC file compatibility.)
Each Adobe reference below is downloadable as a complete e-book if you so desire (more about this below)… the substantial "Photoshop Help & Tutorials " guide is nearly 800 pages alone!
Also helpful is the ability to post comments and questions and answers on the individual documentation pages, in case something's not entirely clear.
[ Trying to decide which is right for you? See: Creative Cloud vs. CS6 Comparison ]
So here below are the direct links to all the product guides to bookmark for future reference!
Time-lapse photography videos are all the rage these days… Here is one of our favorites from Norwegian landscape photographer Terje Sorgjerd – incredibly beautiful and perfect for the solstice season (watch full-screen):
Prior to the extensive video editing tools first introduced in CS6, Photoshop wasn't normally known for its video capabilities – but in fact it's always been quite easy to take a series of still photo­graphs (manipulated as desired) and then quickly create your own timelapse video using Photoshop Extended… The technique below will work in the Photoshop CC, CS6, CS5, CS4 or CS3 releases – and Extended is not required if you have CS6 or CC, as the standard version can edit video as well. (In fact, the new CC release is always Extended, meaning you can do 3D as well.)
This June Adobe shipped the "CC" lineup of products, the new release that replaces last year's CS6. The CC version contains hundreds of new features compared to CS6, and it is available only via Creative Cloud membership… And that is exactly what we're giving away for free below, and it's open to all.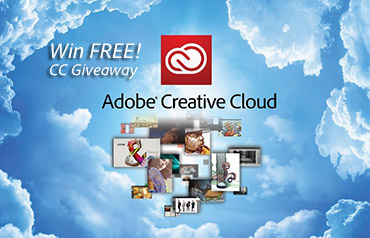 In all, the Creative Cloud comes with 15 new desktop applica­tions (Photoshop CC, Illustrator CC, InDesign CC, Muse CC, and all your favorites), together with other comple­mentary tools and services (Acrobat XI Pro, Light­room, DPS, Typekit, and many more). See the entire contents of what's in Creative Cloud, where all ongoing upgrades are auto­matic­ally included at no addi­tional charge.
Also now available are all the free CC trial downloads, if you want try them out to see what's new for yourself – and they will install and run side-by-side with any older CS versions you may have, with no problem. Even if you've tried previous Creative Suite tools, everyone is entitled to a brand new free tryout period with all of the CC apps.

[UPDATE – This special offer is available to all until 11:59pm PST on December 31st, 2013.]
Adobe has some exciting news for photographers starting today: A new offer that extends the reach of the special Photoshop Photography Program to any customer worldwide who would like to participate… Now and for the next six weeks they are opening it up to everybody!
The Photoshop Photography Program includes all of the following for US $9.99/month with an annual membership (Adobe's best deal ever on PS):
Adobe says this is the regular ongoing price for anyone who signs up for the program by December 31, 2013. So if you join in December 2013, then if/when you renew in December 2014, the price will still be $9.99 per month. They do not have plans to change this price.
Now that the Adobe "CC" release is out there with over one million paid customers, some folks are asking us whether these new versions of the applications in the Creative Cloud can read or save older file data/document formats like CS6, CS5, CS4 & CS3…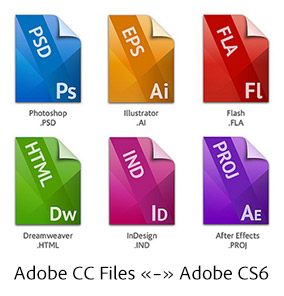 In fact, with Adobe currently offering both CC (aka CS7) and last year's CS6 for sale at the same time, file version compatibility is some­times a key decision point in choosing which release to purchase.
In the past, new Adobe product versions have often brought different or expanded file formats to support new features – and customers want to know if their existing projects will easily carry forward with them when they upgrade, or if they will be able to save back to older formats for coworkers or clients who may still be running an earlier version of the tools…
OK then, here's how it works. Generally, your new CC tools will be able to open and use any and all earlier CS project and data files – including CS3, CS4, CS5, CS5.5, and CS6 files – with no problem or loss of information. In other words, all Adobe software is able to read or import file formats from previous versions of the same program – and it should happen seam­lessly and automatically.
We've previously covered here how to transfer Adobe software products (like Creative Cloud, CS6, Photoshop, Lightroom, Elements, or Acrobat) between two computers, including from PC to Mac or vice versa. In this article we're going to focus on transferring the actual legal license from one person or company to another, like transferring the title to a car or home between two people.
Moving the software physically is mostly a technical task, but doesn't cover what happens if the recipient has problems, needs customer support or updates, wants to be registered with Adobe, and be recognized as the new legal owner and user of the tools. To address those needs, just follow the transfer process described below to "unregister" the program from the old owner and re-register for the new one.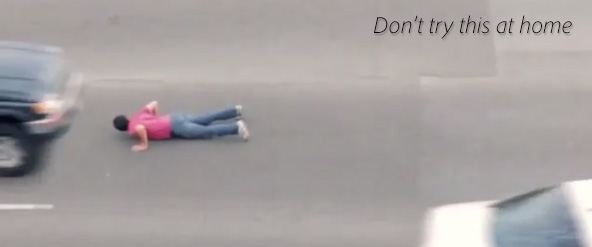 Check out the video below – 11 seconds of heart-stopping footage just posted on Instagram by daring Adobe artist Shaun Saperstein:
It's been a busy year with the launch of the new "CC" release in the spring and many (included) product upgrades released since that time, but recently Adobe confirmed they are going to be extending their popular Creative Cloud 40%-off discount upgrade offer for existing customers of CS3, CS4, CS5, CS5.5, or CS6:
"Based on strong customer demand, Adobe will continue to provide Creative Suite customers worldwide (CS3 and later) the option of joining Creative Cloud Complete for 40% off or $29.99 / £27.34 / €36,89 / A$29.99 a month for the first year."
The updated terms and conditions show that this upgrade discount offer for CS3 through CS6 to CC will be available until May 30, 2014:
If you don't feel you're ready for the full Cloud or would just need/use one Adobe tool at this time, there's also the option of individual product subscriptions such as getting Photoshop CC or Illustrator CC or After Effects CC (historically $600-$1000) for $19.99 a month with a Single-App Kembership. And if you're upgrading from a previous release of Photoshop then you may qualify for the new PS Photography Bundle which includes Photoshop CC + Lightroom 5 and more for just $9.99/month (which is 50% off the regular price of just Photoshop by itself).
Adobe's recent and regrettable data security breach has been getting a lot of headlines, but not always for the right reasons…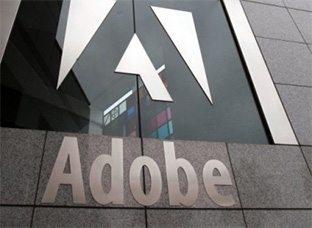 Although the sizeable breach has nothing to do in particular with Adobe's new Creative Cloud offering, it has nonethe­less been scapegoated here.
A popular online photography site wrote, "The attack exposes a weakness in the company's new Creative Cloud subscription model…"
Well, not really.
Adobe Forum posters say things like, "This makes me like Creative Cloud less."
But in fact, the breach was not only for Creative Cloud customers, but rather for Adobe ID accounts generally – which most customers have for any type of product, including CS6 and earlier, Acrobat, Lightroom, and so on.
Creating such an account is/was required for Creative Suite 6 starting in May 2012. It also happens during product registration and if you want to interact online with Adobe in almost any way.