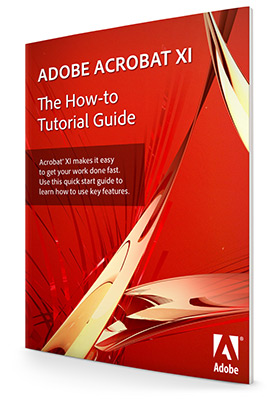 Next to Photoshop, Acrobat Pro & Standard is Adobe's top-selling product line of all time: it's offered standalone plus included in all the Creative Suites as well as the new Creative Cloud – so clearly there are a lot of people out there using it. The two books below will help you learn how to use it better and more powerfully…
The first book is all about the latest Acrobat XI release, and the second is for the older Acrobat X from 2010. Both these guides contain dozens of helpful tutorials that will help you discover the advantages of using Acrobat and how to get the most out of it… Following the easy walkthroughs will quickly introduce you to new ways to save time and simplify complex projects.
Each chapter includes step-by-step instructions for performing common tasks efficiently. Keep a copy of either ebook access­ible on your computer as an easy–to–use resource for learning new techniques.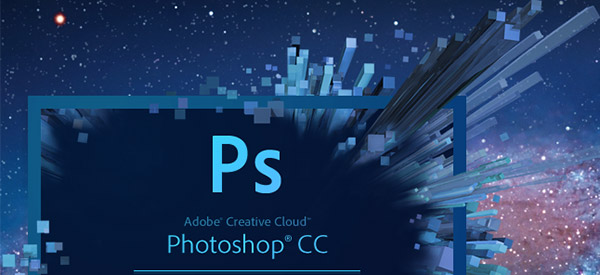 The Creative Cloud has been Adobe's flagship product line since the launch of the CC release last May – but ever since the Cloud was first announced in 2011, there has been persistent confusion over what the name actually means…
Even today there are still misconceptions out there that "Creative Cloud" means you're now running Photoshop over the network or as a web application in your browser, as some cloud software providers do with their offerings.
However this is not the case with Adobe – and never will be, based on what we've just now learned… Photoshop and other major creative tools will continue to download, install and run locally on your computer the same as before, although these programs are increasingly being improved and enhanced by cloud-based storage and services such as Typekit and Behance.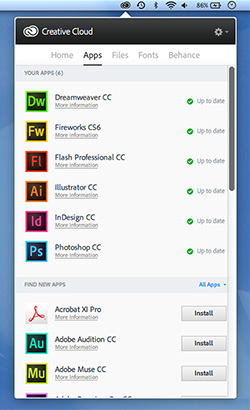 One of the biggest strengths of the Adobe CC release is receiving a complete set of creative tools with an ongoing stream of updates included at no extra cost… We no longer have to wait 1-2 years for our products to innovate and keep pace with evolving technologies; instead we get the latest & greatest features and improvements as soon as they are ready.
Since the initial launch of CC last June, Adobe has issued new upgrades for each individual app about once every 3-4 months, bringing new power and capabilities to all subscribers.
Normally the Creative Cloud works seamlessly with these ongoing product updates… The CC Desktop App runs quietly in the System Tray and gracefully notifies the customer that a new upgrade is avail­able for any of the included applications like Photoshop CC, and (optionally whenever desired) the user clicks one button to auto­matically download and install the update smoothly in the back­ground.
Sometimes, however, subscribers want or need more control for various reasons – Read more…
The Creative Cloud and Creative Suite 6 are the most sophisticated and powerful toolsets Adobe has ever developed and we're seeing continued demand for solid training materials to learn how to best use these applications…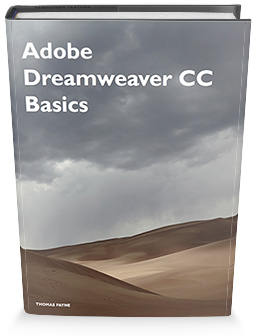 Last year we spread the word on over 30 hours of free video tutorials for CS6, and last week we published details on a fantastic new ebook for getting started learning the Adobe CC/CS6 Design Suite (202 pages). But if you're looking for a solid primer or helpful beginner's lessons for Adobe Dreamweaver, that's harder to find.
Fortunately there are two new books you can download that will teach you the essentials of Adobe Dreamweaver for free, thanks to the generosity of author Professor Thomas Payne… He writes:
"These tutorials are designed to get you through the basics of making web sites in Dreamweaver with the most flexibility and the least amount of work. Think of them as supplying you with a toolbox full of tools to start making good websites.

Charting strong growth since its initial release and receiving near-five-star ratings from customers, Adobe's new all-in-one Creative Cloud offering has also been benefiting from high renewal rates from current and returning customers, the company divulged during a recent business presentation…
This is the first time that Adobe has publicly disclosed this information. In response to the audience question, "What statistics can you share with us on Creative Cloud renewal trends?" CFO Mark Garrett said:
So back in 2011 when we announced this transition, we had modeled 80% retention – which we thought was conservative – and that's planning out to be true, meaning our retention is better than 80%. We haven't disclosed exact numbers yet, but the reten­tion is well within the constraints of the model that we set and the guidance that we set. So we're really pleased with that.
With the worldwide return of Adobe's ultra-popular Photoshop Photography Program where anybody can get both Photoshop CC and Lightroom 5 for just 10 bucks a month, we've had some readers asking us the best ways to learn these two top imaging tools…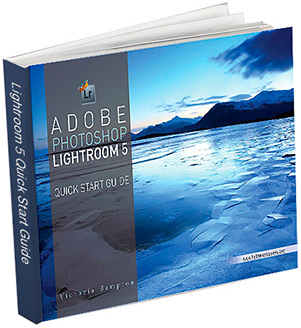 We always mention about the free bite-sized video tutorials on Adobe TV, as well as the super­lative, compre­hensive courses offered on Lynda.com – but now we can also recom­mend two new terrifi­cally helpful ebooks that you can work through step-by-step at your own pace. And fortun­ately, both books are completely free.
The first is the Adobe CC/CS6 Design Basics book that we recently featured, which is 200+ pages taking you through the core essentials of Photoshop CC, Illustrator CC, and InDesign CC.
The second book now is Victoria Bramp­ton's excellent Lightroom 5 Quick Start Guide, which really tells you everything you need to know to get going with Adobe Lightroom 5 from the ground up.
The Creative Cloud is the most powerful and versatile toolset Adobe has ever produced and we're seeing a lot of demand for good training resources to learn how to best use this fast-growing product…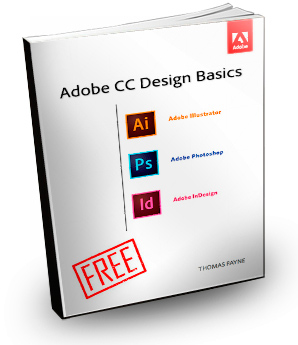 A year ago we posted details on over 1,000 pages of free ebooks for CS6. But if you're just getting started with Adobe's core CC design tools, what's better than a step-by-step book that will teach you the essentials of Photoshop, Illustrator, and InDesign from the ground up?
Fortunately there's a very helpful new book you can download that will teach you all of this for free, courtesy of author Professor Thomas Payne… The way the book does this is by intro­ducing and explain­ing the tools in a logical way that builds upon what is previ­ously learned. These applica­tions present a vast array of buttons and gadgets that can be over­whelming to the new user. This book makes sense of it all, not showing how every­thing works, but instead giving a found­ation and a path to learn about all those controls and what they can do for you.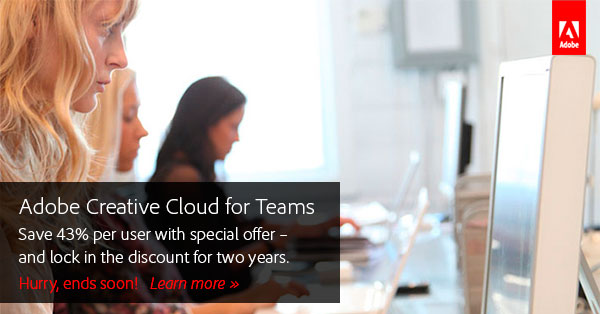 We have a special Creative Cloud promotion from Adobe for you. For a limited time, you can save over 40% on Creative Cloud for Teams with a price lock for two years. That comes out to US$39.99 a month! This promotion is available worldwide with similar discounts in other countries… See below for offer details and links.
Now that the Adobe "CC" release is out there with over 1.4 million paid customers, some folks are asking us whether the new versions of the applications in the Creative Cloud can read or save older file data/document formats like CS6, CS5, CS4 & CS3…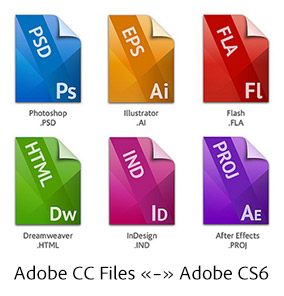 In fact, with Adobe still offering both CC (aka CS7) and 2012′s CS6 for sale at the same time, file version compatibility is some­times an important decision point in choosing which release to purchase.
In the past, new Adobe product versions have often brought different or expanded file formats to support new features – and customers want to know if their existing projects will easily carry forward with them when they upgrade, or if they will be able to save back to older formats for coworkers or clients who may still be running an earlier version of the tools…
OK then, here's how it works. Generally, your new CC tools will be able to open and use any and all earlier CS project and data files – including CS3, CS4, CS5, CS5.5, and CS6 files – with no problem or loss of information. In other words, all Adobe software is able to read or import file formats from previous versions of the same program – and it should happen seam­lessly and automatically.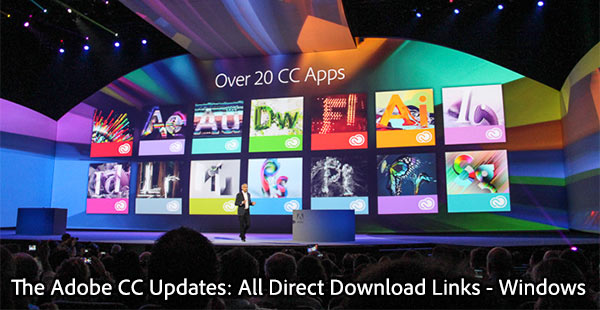 One of the great benefits of the Adobe CC release is receiving an ongoing stream of product updates at no extra cost… No longer do we have to wait 1-2 years for our tools to innovate and keep pace with evolving technologies; instead we get the latest & greatest features and improvements as soon as they are ready.
Since the initial launch of CC in June, Adobe has issued new upgrades for each individual app about once every 3-4 months, bringing new power and capabilities to all subscribers.
Normally these upgrades happen smoothly and automatically for customers via the Creative Cloud Desktop app or Adobe Application Manager. But as with any software, there occa­sionally can be exceptions. Sometimes the new updates don't show up in the CC desktop or manager apps, hindering the upgrade. Other times, there may be the rare need to rebuild, restore, or rollback to a specific earlier CC version for various reasons.