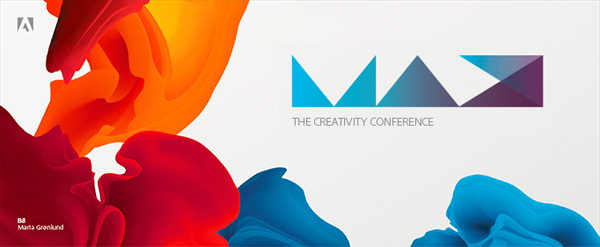 MAX 2014 – the big annual conference for all-things-Adobe – is coming up this fall in Los Angeles, California… And continuing our long tradition of free Adobe giveaways, we've got one free regular full conference pass (worth US$1,495) to give away, plus one US$400-off ticket discount, both courtesy of our friends at Adobe Systems!
Adobe MAX 2014, The Creativity Conference – running from October 4-8 – will be chock full of expert keynotes and presentations, technical ses­sions and talks, product announce­ments and sneak peeks, evening events and get-togethers, and possibly some surprises. The show is an amazingly intense experience where they really take care of you from start to finish while you soak up all the growth and learning you can.
With the worldwide return of Adobe's ultra-popular Creative Cloud Photography Plan where anybody can get both Photoshop CC and Lightroom 5 for just 10 bucks a month, we've had some readers asking us the best ways to learn these two top imaging tools…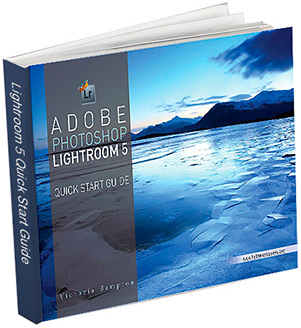 We always mention about the free video tutorials on Adobe TV, as well as the super­lative, compre­hensive courses offered on Lynda.com – but now we can also recom­mend two new terrifi­cally helpful ebooks that you can work through step-by-step at your own pace. And fortu­nately, both books are completely free.
The first is the Adobe CC/CS6 Design Basics book that we recently featured, which is 200+ pages taking you through the core essentials of Photoshop CC, Illustrator CC, and InDesign CC.
The second book now is Victoria Bramp­ton's excellent Lightroom 5 Quick Start Guide, which really tells you everything you need to know to get going with Adobe Lightroom 5 from the ground up.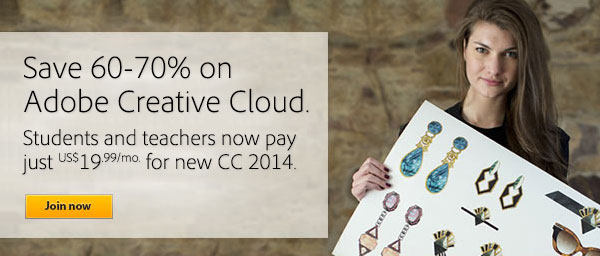 The standard pricing for Adobe's new CC 2014 release – their flagship Creative Cloud all-in-one offering – is US$50 a month with an annual membership. Recently, the company extended their intro offer for existing CS customers, which gives a 40% discount off that price…
How about for education customers? On price, the offer is even better – all students, teachers, and education staff can now pay just US$19.99/month with an annual plan (under $1/day) for your first year – but importantly, no previous ownership of any Adobe product is required and no coupon code is necessary. Outside of North America, it's an even greater level of reduction at £15.88 or €19,99 or A$14.99 per month (including VAT), or 60-70% off:

Previously available only as a special promotion (starting on Black Friday), and originally only offered to existing customers who were upgrading from older versions of Photoshop, Adobe has now made permanent a low-cost Photoshop/photography product bundle that anyone worldwide can take advantage of, with no prior purchase or software ownership necessary…
The new Creative Cloud Photography Plan includes the latest and greatest desktop releases of both Photoshop CC and Lightroom 5, plus other related tools and services. It includes all of the following components for only US$9.99/month with an annual membership (Adobe's best deal ever on PS):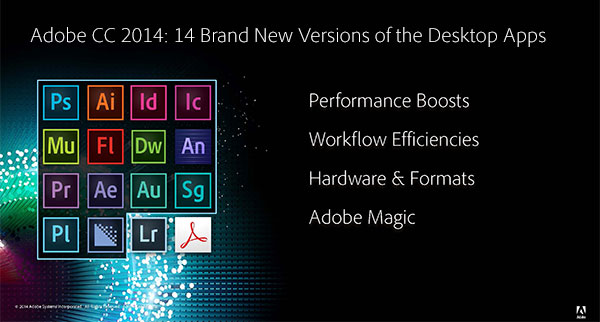 The all-new Adobe CC 2014 release was announced earlier today, with hundreds of new features compared to earlier creative versions… And there's no wait: the CC 2014 software is available immediately for worldwide download via the CC Desktop App… This means everyone gets either a free upgrade or a free trial – but some folks would like or need to access the new tools directly without using Adobe's download manager.
So below we've curated a complete set of Adobe CC 2014 direct download links for all the new products on Windows and Mac OS, for instant access (plus the ability to use your own download manager) if you have any difficulty with what Adobe normally employs and want to get the trials without it… These can also come in quite handy if you want offline CC 2014 installers to use, store, or back up with (i.e., copy to USB flash drive, burn to DVD, etc).
One of the most common upgrade questions we see out there is asking what's new, what's different, what's better, what's changed between Adobe's just-launched CC 2014 release and the previous CC 2013, or 2012′s Creative Suite 6, or even the older CS5, CS4, CS3? Or more fundamentally, what are the key new features in CC 2014 versus prior versions?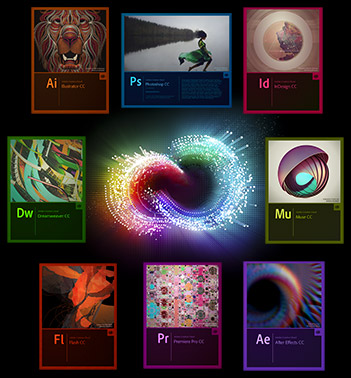 Now that the new CC 2014 mile­stone release is out world­wide, everyone is entitled to either a free upgrade or a free 30-day trial (possibly up to 60 days). Ongoing access to these tools requires a Creative Cloud mem­ber­ship (either for one app or for all), with signif­icant discounts available for upgrad­ers and education custom­ers. Adobe says that if you look at all of the changes since CS6 to the current CC 2014 release, there have been almost 1,000 updates – new and improved features, added capabil­ities, and perfor­mance improve­ments – to the key creative applications.
There are 20 different desktop tools included in Creative Cloud 2014, so the easiest way to look at it is by product… For example, Photoshop CC 2014 contains all the 3D functions that were previously only available in the PS 'Extended' edition – and overall is packed with new features for designers, photographers and digital artists – something for everyone. You'll find the details on these additions in the table below.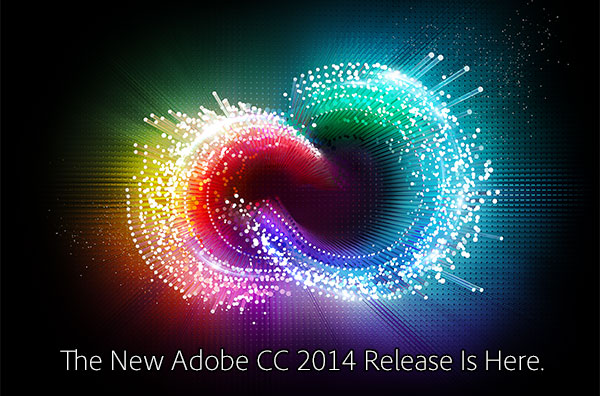 BREAKING NEWS (New York) — Adobe has just announced the immediate availability of the all-new CC 2014 release, with hundreds of new features and enhancements across their creative product line (all tools) focusing on workflow, performance, and connectivity. In this fast-paced and rapidly evolving world of technology and platforms, CC 2014 succeeds the CC 2013 version which launched last June, which in turn replaced CS6 from 2012. So thinking in the old terms, this would roughly be equivalent to CS8 (and more).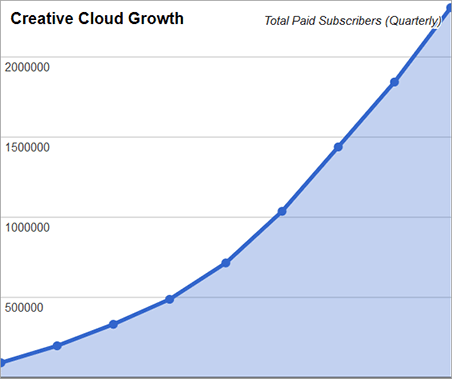 Adobe's Creative Cloud has been available for 24 months now and continues to gain strong adoption in the marketplace, the latest published figures show.
Paid membership is accelerating and has now passed 2.3 million subscribers (adding 35,000+ new customers each week), since the new CC release replaced Creative Suite one year ago.
[UPDATE – Also see our new Adobe CC 2014 Giveaway!]
Last June Adobe shipped the CC lineup of creative tools, the new product line that replaces 2012′s CS6. The CC version contains hundreds of new features compared to CS6, and it is available only via Creative Cloud membership.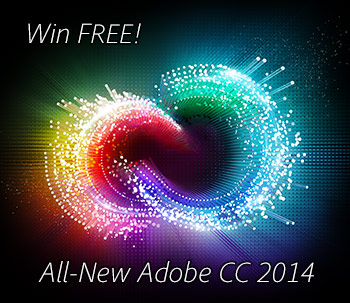 Last week, Adobe announced that they will soon be shipping a major milestone upgrade to CC that will be called the Creative Cloud 2014 Release… And that is exactly what we're giving away for free below, and it's open to everyone world­wide.
In all, Creative Cloud 2014 will come with 15 new desk­top applica­tions (Photo­shop CC 2014, Illus­trator CC 2014, InDesign CC 2014, Muse CC 2014, and all your favorites), together with other comple­mentary tools and services (such as Acrobat Pro, Light­room, DPS, Behance ProSite, Typekit) and much more. See the entire contents of what's in Creative Cloud, where all ongoing upgrades are auto­matic­ally included at no addi­tional charge.
So this means that all current Creative Cloud subscribers will automatically receive the new CC 2014 Release whenever they want it. We expect this software will be available to download immediately on the CC 2014 launch date, and you'll be able to install and run it alongside any older applica­tions you may have, including CS6 and CC 2013.
This week we're celebrating our 5th anniversary here at PDT, and proud of it! So it seems the perfect time to put together a comprehensive review of the best and most-shared articles and resources published here since our site launched in 2009.
These are the top posts that consistently have the highest readership on our site, month after month, covering all major Adobe software products… They're broken out by topic below in case you've missed any, or are new here – so bookmark, share, and enjoy!
Free Adobe Books

Creative Cloud (CC)