In June Adobe shipped the new CC 2014 product line, a major milestone of creative tools and services that upgrades last year's CC 2013 version, which itself replaced 2012's CS6. This latest CC 2014 release contains over 1,000 new features and advancements compared to CS6 (across all apps), and it is available only via Creative Cloud membership.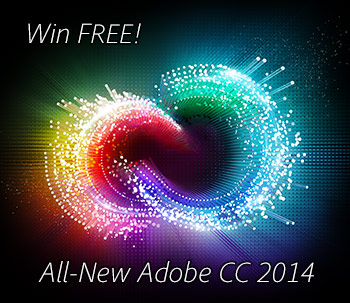 Adobe CC 2014 is also known as the Creative Cloud 2014 Release… And that is exactly what we're giving away for free below, and this offer is open to everyone world­wide.
In all, Creative Cloud 2014 comes with 15 new desk­top applica­tions (Photo­shop CC 2014, Illus­trator CC 2014, InDesign CC 2014, Muse CC 2014, and all your favorites), together with other comple­mentary tools and services (such as Acrobat Pro, Light­room, Edge, Behance ProSite, Typekit) and much more. See the entire contents of what's in Creative Cloud, where all ongoing upgrades are auto­matic­ally included at no addi­tional charge.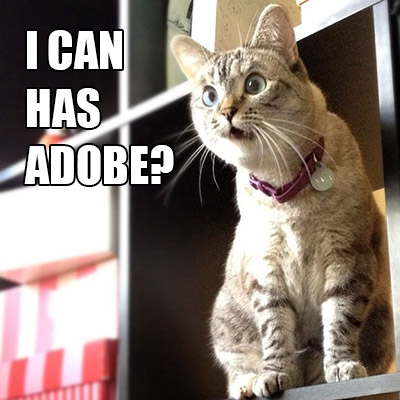 Adobe is having a worldwide sale with money-saving deals lined up for Black Friday 2014 (though not Cyber Monday this year), and we've got a sneak preview… There are some nice offers on tap for major products in this "season of savings" – with discounts as much as 68% off the regular price!
The company will be running two Creative Cloud (CC 2014) promotions from now through Black Friday. The holiday deals will begin on Monday, Nov­ember 17th at 12:00pm US Pacific Time and will run contin­uously until Friday, November 28th at 11:59pm US Pacific Time.
The two largest offers are:
» Creative Cloud Complete: Normally $49.99/month for new customers signing up for an annual plan – this package will be available at a introductory discounted rate of $39.99/month (or £37.50/€49.19/A$39.99) for your first year. No previous software ownership or other qualifications are necessary to receive this reduction. For customers upgrading from any CS3-CS6 tool or suite, you will receive an even lower introductory price of $29.99/month for your first year.
Now that the Adobe CC release is becoming widespread with almost 3 million paid customers, some folks are asking us whether the new versions of the tools in the Creative Cloud can read or save older data/document/project file formats like CS6, CS5.5, CS5, CS4 & CS3…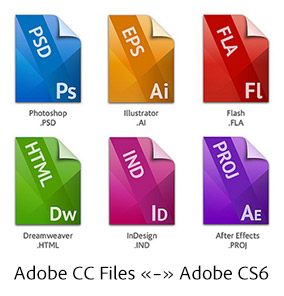 In fact, with Adobe still offering both CC 2014 (aka CS8) and 2012's CS6 for sale at the same time, file version compatibility is some­times an important decision point in choosing which release to purchase.
In the past, new Adobe product versions have often brought different or expanded file formats to support new features – and customers want to know if their existing projects will easily carry forward with them when they upgrade, or if they will be able to save back to older formats for coworkers or clients who may still be running an earlier revision of the programs…
OK then, here's how it works. Generally, your new CC tools will be able to open and use any and all earlier CS project and data files – including CS3, CS4, CS5, CS5.5, and CS6 files – with no problem or loss of information. In other words, all Adobe software is able to read or import file formats from previous versions of the same program – and it should happen seam­lessly and automatically. The only exception to this is Premiere Pro, where it's best to open/edit projects in the same versions that created them.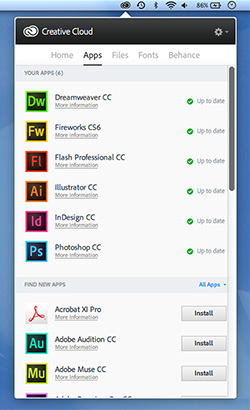 We're on the Adobe Help Forums every day and regularly see users posting queries like "Can't install Photoshop CC from the Creative Cloud" or "CS6 won't download," or "my product updates aren't working"… It could be for the 30-60 day free trials or for the full paid versions.
Often the issue is related to one or the other download managers (DLM) that Adobe uses to deliver its software install­ers. Over the years and for various tools, they have used the Akamai Download Manager, the Adobe Download Assistant (ADA), the Adobe Application Manager (AAM), and most recently the Creative Cloud's CC Desktop App.
Adobe employs these helper utilities because their downloads are usually large – multiple gigabytes – and download managers can help correct for unreliable Internet connections, and resume a download after it has been paused or if the online connection was unexpectedly broken.
But it turns out there can be interactions between the DLM and some configuration on the user's computer, web browser, anti-virus software, Internet connection, or something else which causes it not to work… So the first step is to try something different with those.
With nearly 3 million customers having already signed up in the two years since it launched, Adobe's Creative Cloud (CC) product line has been a success exceeding even the company's own expecta­tions. Still, there are a lot of misconceptions out there that we see from time to time, or that some folks seem to believe… (do you?) Here below we dispel and debunk the top 10 most common myths we've heard – and hopefully even if you already know the scoop or use Creative Cloud you'll pick something up… read on!
Even years after it went up, a lot of people still don't know about it.
We're talking about the free online documentation for all Adobe software – a set of manuals that can answer quite a few customer questions, and also be a great resource if you don't own a product yet but want to find out more about it…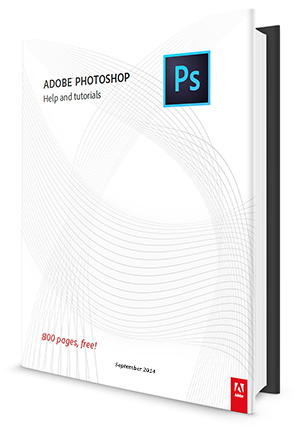 This exists in searchable and downloadable form for all major Adobe applications, including the Creative Cloud, Creative Suite, Lightroom, Acrobat, Photoshop Elements, etc. – for all recent releases on both Windows and Mac OS.
For example, around once a month we receive a question on how to save back to earlier versions from InDesign CC or CS6… Fortunately, this is answered in the "Saving Documents" section in InDesign's online manual. (And for all the cases like these, we also put together a special roadmap for CC file compatibility.)
Related: Trying to decide which is right for you? See Creative Cloud vs. CS6 Comparison
Each Adobe reference below can be downloaded as a complete offline ebook if you want (more about this below)… These books are substantial – the latest "Photoshop Help & Tutorials" hand­book is nearly 800 pages alone!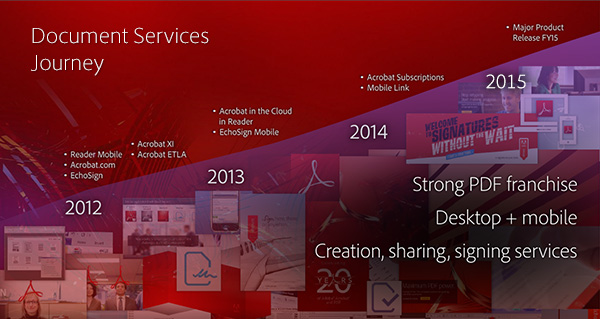 It's been a while now since Acrobat XI was released, and considering Adobe usually runs on two-year release schedules for this product, give or take, what does this imply for when Acrobat XII (Pro/Standard/Reader version 12) will be coming out?
Ordinarily, our best estimate would be simply to go with the release dates for the past few major revisions of Acrobat and then extrapolate.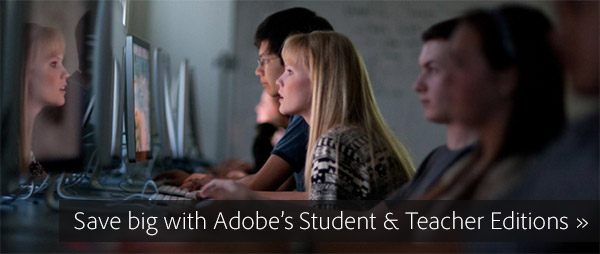 Let's face it, Adobe's traditional product prices have seemed expensive over the years, espe­cially if you're on a student's budget. Many folks don't realize it, but the last perpetual version available, Creative Suite 6 from 2012, is still being sold direct by the company – with standard prices ranging from $399 for Dream­weaver through $999 for Photoshop Extended and on up to $2,599 upfront for the Master Collection suite, which contains all CS6 applications – nearly twenty in all. As cool and powerful as this software is, it can be hard to afford these prices when you're in school.
Fortunately, Adobe offers deep discounts for education customers – up to 70% off – including for the CS6 Student & Teacher Editions. So the price for Dreamweaver CS6 becomes almost a third of what it was, now $149, while the CS6 Design Standard suite (containing Photoshop + Illustrator + InDesign + Acrobat Pro) drops by almost two-thirds, to $449. For most products the price cut is similar – for example, Photoshop CS6 Extended (the most powerful edition) goes from $999 to $349. The popular CS6 Design & Web Premium suite becomes $599 instead of $1,899.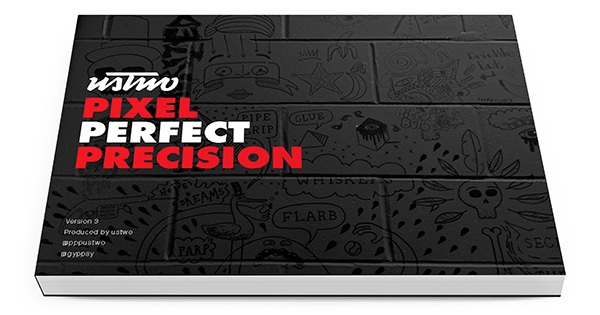 The newly-expanded 3rd edition of Pixel Perfect Precision for Photoshop is out – and it's better than ever plus still free – so if you don't have it yet, go grab it now…
This designer bible comes to us from respected Adobe partner ustwo, the digital design studio who just won a 2014 Apple Design Award for their gorgeous Escher-inspired app, Monument Valley.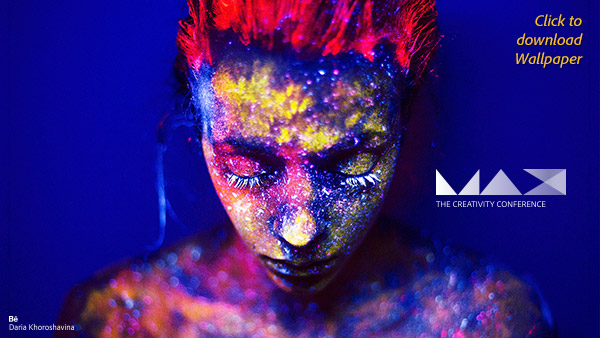 The Adobe MAX 2014 conference was held earlier this month, and as in previous experiences, it's always the three most intense days of the year…
It comes complete with major product announcements from the company, inspirational key­notes from creative wizards, scores of learn-till-you-drop training sessions, plentiful opportunities for networking with colleagues, checking out the latest cool technology on the pavilion floor, meeting the Adobe product teams in person, the great buzz over "Sneak Peek" demos of mind-blowing features under development, and of course the all-out MAX Bash party with 6,000 of your peers.