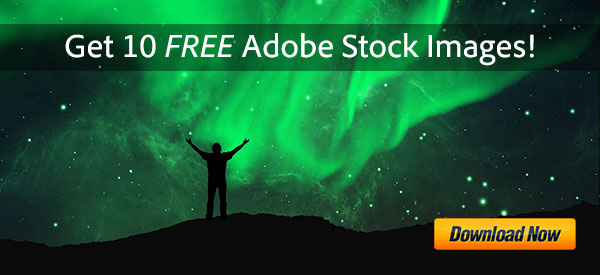 Archive for October, 2015
Now that the Adobe CC release is becoming widespread with over 9 million paid customers, some folks are asking us whether the new versions of the tools in the Creative Cloud can read or save older data/document/project file formats like CS6, CS5.5, CS5, CS4 & CS3…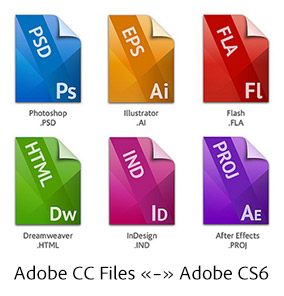 In fact, now that Adobe's flagship creative toolset CC 2015 (aka CS9) is three major releases past CS6 from 2012, file version compatibility can some­times be an important decision point in moving forward.
In the past, new Adobe product versions have often brought different or expanded file formats to support significant new features – and customers want to know if their existing projects will easily carry forward with them when they upgrade, or if they will be able to save back to older formats for coworkers or clients who may still be running an earlier revision of the programs…
OK then, here's how it works. Generally, your new CC tools will be able to open and use any and all earlier CS project and data files – including CS3, CS4, CS5, CS5.5, and CS6 files – with no problem or loss of information. In other words, all Adobe software is able to read or import file formats from previous versions of the same program – and it should happen seam­lessly and automatically. The only exception to this is Premiere Pro, where it's best to open/edit projects in the same versions that created them.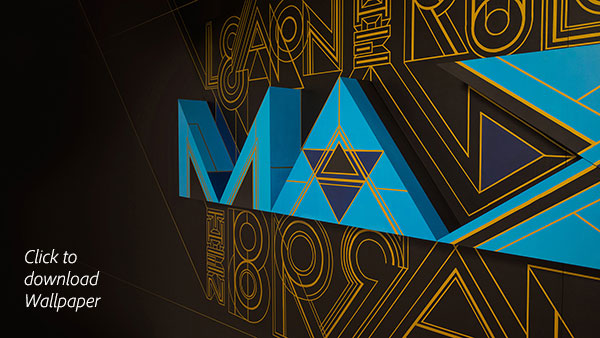 [UPDATE (Nov. 2016) – Watch 235 hours of new training & tutorials from MAX 2016!]
Did you make it to MAX this year? Adobe's Creativity Conference broke all records with 7,000 attendees coming together in Los Angeles earlier this month, up from 5,000 just a couple years ago… And that was despite an increase in the cost of a full conference pass to US$1,595.
For the price of that ticket, participants enjoyed major new product launches, inspirational key­notes from creative luminaries, hundreds of enriching training sessions, plentiful opportunities for networking with colleagues, access to the latest cool technology on the pavilion floor, meeting the Adobe product teams in person, the highly-anticipated "Sneak Peek" demos of jaw-dropping new features under development, and of course the famous MAX Bash party. And this year, all attendees also received a free year of Adobe Stock as well as a new FUJIFILM X-T10 camera.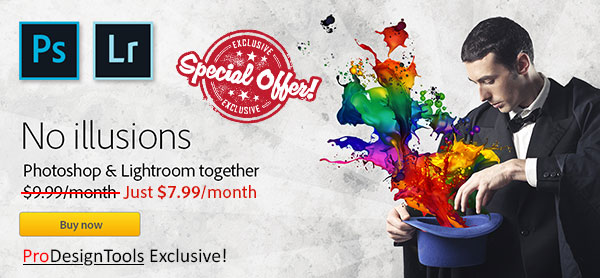 U

PDATE
– This special one-time promotional offer has ended. Please join through one of the current CC membership plans:
— See Latest Offers »
— Try for Free »
____________________
We've got a terrific new deal for you, one that is only available here to readers of ProDesignTools… For a limited time and while our allocation lasts, you can get an annual membership to the CC Photography plan – which includes the latest-and-greatest releases of both Photoshop CC and Lightroom CC – for 20% off the regular price worldwide. That works out to just US$7.99, £5.71, €7.99, or A$7.99 per month (plus applicable taxes or VAT) in several major currencies.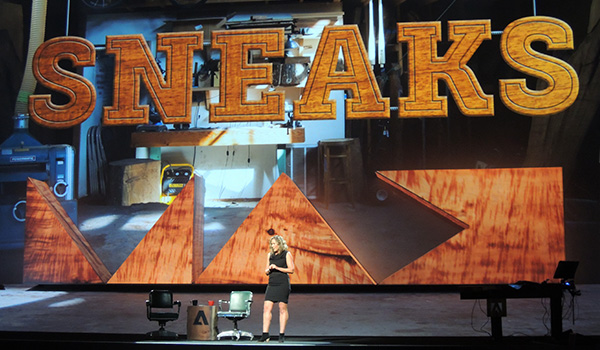 SAN JOSE, Calif.—October 13, 2015—At the record-breaking MAX conference last week, Adobe revealed 11 sneak peeks of technol­ogies they are working on but haven't released yet. Some of these new features are absolutely mind-blowing and defy belief, yet the company did not web­cast the sneak peeks. But good news, you will find complete videos of each of them captured below!
Naturally, the Adobe says there aren't any guarantees for what will appear in a production release, or when: "See the coolest demos of what we're cooking up in the Adobe development labs, and be the first to get a peek at technologies that may (or may not) make it into future products and services." But never­the­less, major new product features very often appear in these previews before they make it into the real tools (cases in point: Content-Aware Fill, Perspective Warp, Image Deblurring, and Defog/Dehaze).