Not Ready for Full Cloud? Subscribe to Any CC App for $9-19/Month
With the increasing popularity of Adobe's Creative Cloud and the release of the new "CC" versions of creative applications replacing Creative Suite, some readers are telling us they're not sure if they need all the tools that are included in the Cloud offering, or aren't quite ready to join for US$49 a month…
Typically in these cases customers believe their only two choices are between purchasing 2012's CS6 in the traditional way vs. the Creative Cloud. (And yes, you can still buy all of the CS6 products with perpetual licensing direct from Adobe if that's what you prefer, because the company is continuing to sell Creative Suite 6 for those who want it.)
And fortunately now there is a third option – though this is still not known by many people. There is another choice between paying $700-$1000 for Photoshop CS6, and signing on for the complete Creative Cloud…
The third route is called a Single-App Membership plan – also known as a single-tool subscription. This plan gives you full access to the very latest version of any single Adobe creative application for just $9-19 a month – including InDesign CC, Illustrator CC, Dreamweaver CC, Muse CC, Premiere Pro CC, or any of the others.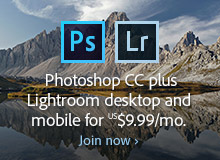 One of the most attractive offerings is the special Photoshop Photography Plan where for the regular price of only $9.99/month you can get both Photoshop CC plus Lightroom 5 and Lightroom Mobile, together with the other benefits described below.
Importantly, these CC programs do not run online or "in the cloud" – your single-app member­ship lets you download and install the software directly on your own computer desktop, providing you all the features and functionality of that Creative Suite products have in the past. Included with the plan you also get a free sign-up with the Creative Cloud, as well as 20GB of online storage and the ability to sync and share your work on virtually any device, as well as a customized online portfolio with Behance ProSite, letting you publish your work to the world's leading creative community.
Recently Adobe also added access to the entire Typekit library of fonts for use in desktop applications and websites (an over $25,000 value if purchased traditionally), at no extra cost for all single-app subscribers except the Photography Plan.
You can run the new CC software on up to two of your computers, including both a PC and a Mac. You can even still download and use the older CS6 version of the tool if you want to (in addition to this year's CC release) on the same system(s). For more than two machines, a multiple user edition of the single-app membership is available via the Creative Cloud for Teams plan.
The single-app option is available worldwide, making these tools more affordable to everyone without the large upfront cost… The best news is all major new releases plus ongoing upgrades are included and are immedi­ately available for you to download and use as a member at no additional cost – there's no more waiting or wondering or paying extra to upgrade! You can always be running the best and most current version (like Photoshop CC with its newly-added Generator function­ality or the 3D printing and Perspective Warp features), and be your most productive.
There are both annual and month-to-month plans for increased flexibility. The month-by-month option costs more, but you can stop and start access as needed. So if there's a period of time where you won't need to use the software, you can simply turn it off and pay nothing – then reactivate when you want to run it again, without needing to reinstall.
Generally, the math works out pretty attractively – for example, instead of needing to come up with $1000 for a static version of After Effects CS6, you can get over four years of the latest and most powerful releases of After Effects (today's CC and beyond) with the annual plan.
15 different Adobe applications are now offered this way – see the complete list of products you can get. And if you want to upgrade from a single app to the full Creative Cloud down the line, that's no problem as Adobe will credit your account for your unused amount.
All of the standard CC free trials can also be converted to single-app memberships without reinstalling the software. And if for some reason you should decide within 30 days of joining that it's not for you, you can easily cancel for a full refund.
Do you have any questions about Adobe's single-app subscription editions, or CC in general? Just ask them below and we'll get you answers fast!
---
See Also

Share This