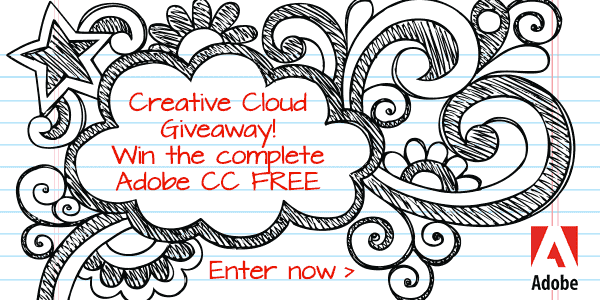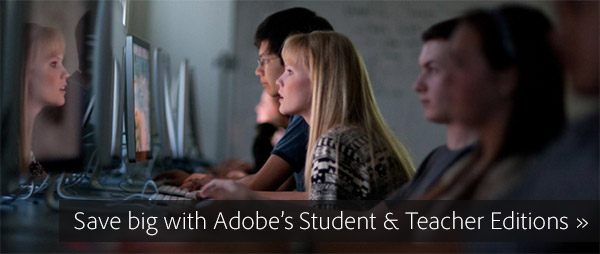 Let's face it, Adobe's traditional product prices have seemed expensive over the years, espe­cially if you're on a student's budget. The last perpetual version available, Creative Suite 6 from 2012, historically had full prices ranging from $399 for Dream­weaver through $999 for Photoshop Extended and on up to $2,599 upfront for the Master Collection suite, which contained all CS6 applications. As cool and powerful as this software was, it's hard to afford when you're in school – even after the student/teacher discount.
Adobe has stopped selling CS6, as the version reached EOL and end of support – but fortunately the company still offers deep discounts for education customers on the newer CC release which replaced CS6. Not long ago, in fact, they increased the discount on Creative Cloud to up to 70% off the regular prices. And while there are a lot of misconceptions about CC, the main products like Photoshop, Illustrator, InDesign, etc., still download and run on your desktop as normal.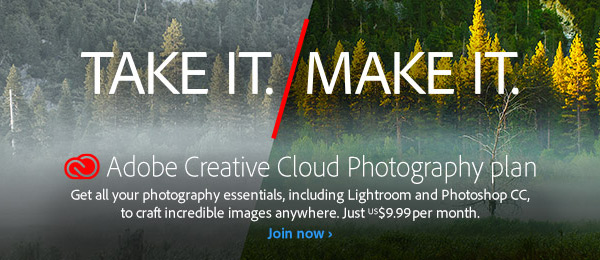 Previously available only as a special promotion (on Black Friday), and originally only offered to existing customers who were upgrading from older versions of Photoshop, Adobe has now made permanent a low-cost Photoshop/photography product bundle that anyone worldwide can take advantage of, with no prior purchase or software ownership necessary…
The new Creative Cloud Photography Plan comes with the latest and greatest full desktop releases of both Photoshop CC and Lightroom CC, plus other integrated tools and services. It includes all of the following components for only US$9.99/month with an annual membership (Adobe's best deal ever on PS):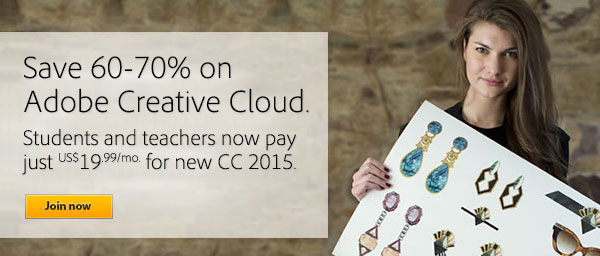 The standard pricing for Adobe's new CC 2015 release – their flagship Creative Cloud all-in-one offering – is US$50 a month with an annual membership. Recently, the company extended their intro offer for existing CS customers, which gives a 40% discount off that price…
How about for education customers? On price, the offer is even better – all students, teachers, and education staff can now pay just US$19.99/month with an annual plan (under $1/day) for your first year – but importantly, no previous ownership of any Adobe product is required and no coupon code is necessary. Outside of North America, it's an even greater level of reduction at £15.88 or €19,99 or A$16.99 per month (including VAT), or 60-70% off: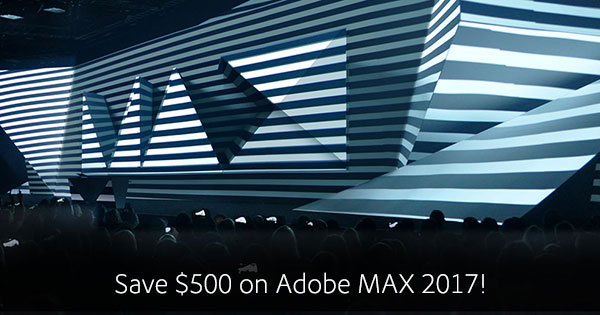 Adobe MAX—The Creativity Conference is lined up for October 16–20 this year at The Venetian in Las Vegas, Nevada – and planning is already underway to make the 2017 MAX experience better than ever: "Join over 10,000 like-minded creatives from around the world for a week of sessions, labs, speakers, events, inspiration and fun — everything you need to keep you creative for the rest of the year. Can't wait to see what we come up with for Las Vegas in 2017!"
Adobe has also quietly launched a free MAX 2017 pre-registration portal where you can quickly guarantee a US$500 discount off the regular price if you decide to go.

Some exciting news for photographers: Adobe has just brought back a special offer that opens up the popular Photoshop Photography Program to any customer worldwide who would like to participate… This was Adobe's big "Black Friday Deal" that is now making a surprise return – meaning for the next few months, this new discounted plan is available to everybody!
The Photoshop Photography Program includes all of the following for only US$9.99/month with an annual membership (Adobe's best deal ever on PS):
Adobe says this is the regular ongoing price for anyone who signs up for the program by June 30, 2014. So if you join now, then if/when you renew in a year's time, the price will still be $9.99 per month. They do not have plans to change this price.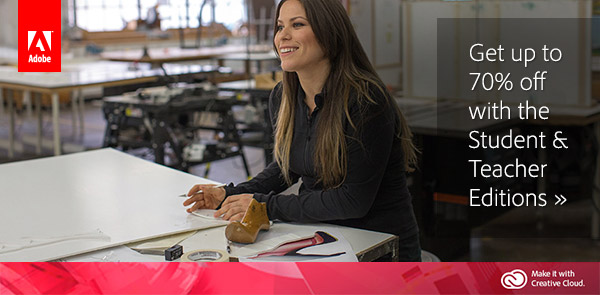 The Adobe Student and Teacher Editions look like a great deal. They offer big discounts, as much as 70% off normal prices. They're available for most of Adobe's most popular products, including the Creative Cloud (CC), Creative Suite 6, Lightroom 5, Acrobat XI, and Elements 13. They can be purchased by anyone who qualifies – primary, middle, and secondary school students, homeschoolers, college or university students, faculty, teachers, and administrators. Even part-time students or teachers can be eligible, and there is no maximum age limitation. They're available pretty much worldwide in many languages on both Windows and Mac OS, and you don't need any kind of coupon or promotion code to get the deep discounts.
So what's the catch? Is the Academic software different or limited somehow? Read more…

Adobe has been hinting at introducing a new "photographer's offering" in Creative Cloud since the launch of the all-new CC release in May:
"Photographers and photo-enthusiasts are looking for a more tailored Creative Cloud offering that focuses on their particular needs… We are looking at potential CC bundles to recognize this."
So now, an incredible new package called the Photoshop Photography Program was just announced by Adobe at the Photoshop World conference today:
Since introducing Photoshop CC we've listened to feedback from a spectrum of our customers, from advanced pros to casual enthusiasts. One common request was a solution specifically tailored for photographers. We listened and are announcing a special offer for our loyal Photoshop customers. Beginning today, all customers who own Photoshop CS3 or higher are eligible for a special Creative Cloud membership offer that includes all of the following for just $9.99/month (available worldwide; pricing varies outside the US):

This is the ongoing price for anyone who signs up by June 30, 2014. So if you sign up now, then when you renew next year, the price will still be $9.99 per month. We do not currently have any intention of raising this price.
Adobe is having a worldwide sale with money-saving deals lined up through Black Friday and Cyber Monday 2016 (and beyond), and we've got the complete guide below… There are some nice offers on tap for major products in this "season of savings" – with discounts as much as 68% off the regular prices!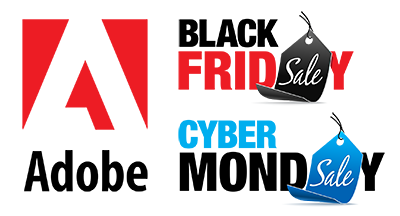 The company is running two major promo­tions for the all-new Creative Cloud (CC) 2017. Both are the lowest prices ever offered on these popular products. The holiday deals begin today and will run continuously until Friday, Decem­ber 2nd at 11:59pm Pacific Time. (Extended!)
The two big offers are:
— Creative Cloud 20% Off: Normally $49.99/month for new customers signing up for an annual plan – now the complete Adobe CC member­ship will be available at a special discounted rate of $39.99/month (or £36.59/€47.59/A$45.99 including VAT) for one year. To go one better, you can save $10/month on the best package available, Creative Cloud 'All Apps' together with Adobe Stock. No previous software owner­ship or other qualifications are necessary to receive these reductions.
[UPDATE – See all of Adobe's current deals & discounts!]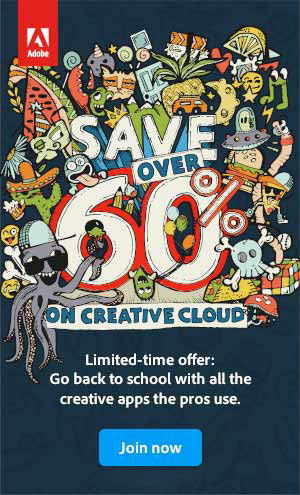 Here we are, it's that time of year again – it's back to school, and the sales that often come with it… So for a limited time, Adobe is offering a special deal for students and teachers. In addition to the regular education discount of 60-70% off of the standard price for an annual CC membership, you can now also get one month free when you prepay for your first year of Creative Cloud.
And you get the complete Creative Cloud – the latest CC 2015 desktop releases of all of the tools and services contained in the collection, including Photoshop CC, Illustrator CC, InDesign CC, Lightroom CC, Dream­weaver CC, Premiere Pro CC, After Effects CC, Muse CC, Edge Animate CC, Acrobat DC, and more. These CC 2015.5 versions contain thousands of new features and improve­ments compared to 2012's CS6.
This back-to-school offer is valid inter­nationally and worldwide – including North America, UK/Europe, Australia/NZ, and more – until Sept. 2nd. The extra bonus means the savings in some countries reaches 73% off the normal price in the first year… To get the discount, just visit the online Adobe Education Store and purchase with a credit card or PayPal: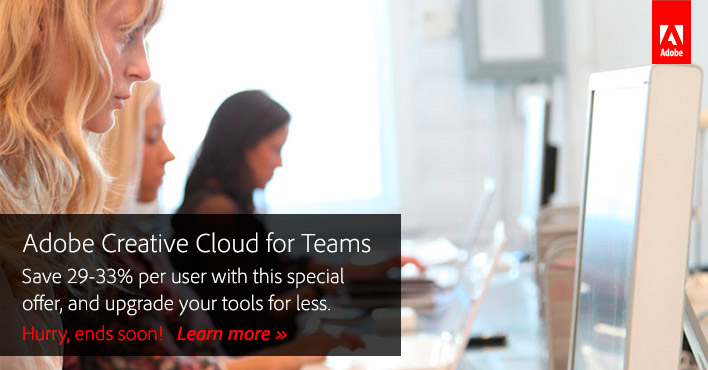 [UPDATE – See all of Adobe's current deals & discounts!]
We have a special Creative Cloud promotion from Adobe for you. For a limited time, you can save US$20/month (almost 30%) on Creative Cloud for Teams for your first year. That comes out to under US$50 a month for the entire CC collection of tools and services, including thousands of new features and performance improvements, as well as ongoing product updates! This promotion is available in many countries worldwide with similar discounts… See below for offer details and links.