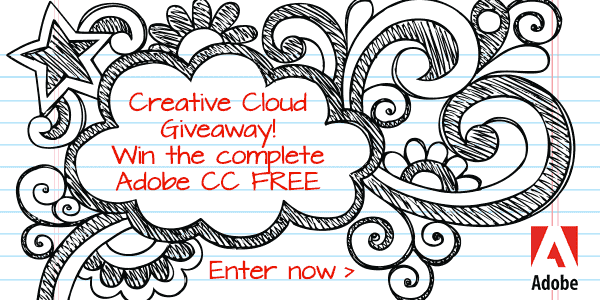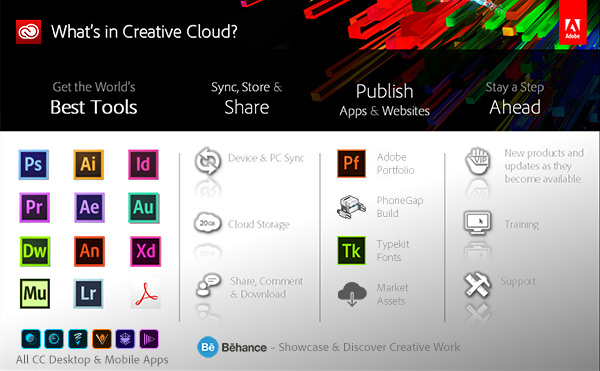 With over 10 million customers having already signed up in the five years since it launched, Adobe's Creative Cloud (CC) product line has been a success exceeding even the company's own expecta­tions. Still, there are a lot of misconceptions out there that we see from time to time, or that some folks seem to believe… (do you?) Here below we dispel and debunk the top 10 most common myths we've heard – and hopefully even if you already know the scoop or use Creative Cloud you'll pick something up… read on!
The Adobe Research team is exploring what Photoshop would be like with a 3D canvas instead of 2D… With the Interactive Sculpting project shown the video above, instead of drawing and manipu­lating pixels, the tool operates on three-dimensional voxels. An artist uses all the familiar tools from Photoshop like brushes, layers, and filters to sculpt 3D objects. It also showcases some innovative tablet interaction model that uses simultaneous touch and pen input: the user rotates objects with one hand while sculpting with a pen at the same time.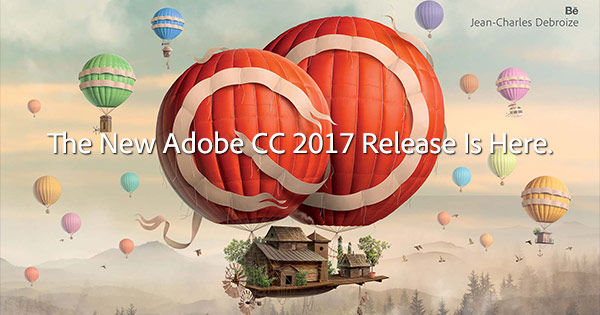 Adobe just announced the immediate availability of the all-new CC 2017 release, with hundreds of new features and enhancements across their creative product line focusing on innovative new tools, improved performance, smoother workflow & connectivity, and some of that Adobe magic… Creative Cloud 2017 is the next major release following the CC 2015, CC 2014, and CC 2013 versions, which in turn replaced CS6 from 2012.
The 15 upgraded desktop applications are Photoshop, Illustrator, InDesign, InCopy, Animate (formerly Flash Pro), Muse, Dreamweaver, Premiere Pro, After Effects, Character Animator, Audition, Prelude, Media Encoder, Bridge, and Experience Design (XD). All current Creative Cloud members receive an automatic upgrade to the 2017 Release, and all of the new free trial downloads are also now live online. As before, the new tools and services are available via budget-friendly annual or monthly memberships. Creative Cloud membership continues to expand at an acceler­ating pace around the world, with now over 10 million paid customers having signed up.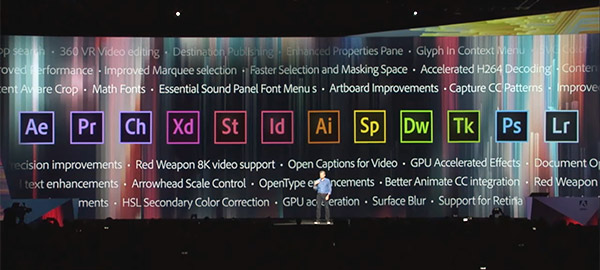 One of the most common upgrade questions we see out there is asking what's new, what's different, what's better, what's changed between Adobe's just-launched CC 2017 release and the previous CC 2015.5, CC 2015, CC 2014, CC 2013, or 2012's Creative Suite 6 – or even the older CS5, CS4, CS3? Or more fundamentally, what are the key new features and advancements in CC 2017 versus prior versions?
Now that the new CC 2017 mile­stone release is shipping world­wide, everyone is entitled to either a free upgrade or a new free trial for 7 days. Ongoing access to these tools requires a Creative Cloud mem­ber­ship (either for one app or for all of them), with discounts available for education custom­ers. Adobe says that if you look at all of the changes since CS6 to the current CC 2017 release, there have been thousands of significant updates – meaning new and enhanced features, added capabil­ities, and perfor­mance boosts – to the key creative applications.
Four years ago, Adobe acquired Behance – the leading online community and social media plat­form for creative professionals, which is often referred to as "The LinkedIn for Creatives." Back then, Behance had about 1 million members. Since that time, with Behance's inclusion into Creative Cloud (even with the free version), growth and participation have exploded – and the Behance community now boasts over 8 million members receiving 66+ million project views per month.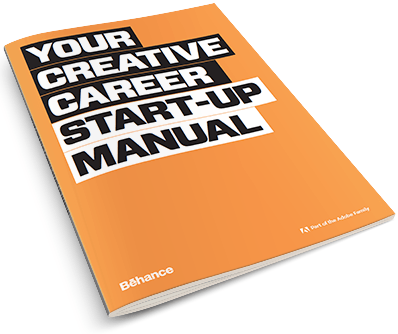 With Behance, you can easily upload your photo­graphs, projects, or portfolios and gain a fantastic way to showcase, share, and get exposure for your work as well as receive feedback from your creative peers, and get inspired for future work. You can publish many types of media such as images, text, illustrations, video and audio, and follow statistics on how many views your projects are getting, and potentially make money. There's even a helpful job list for creatives and freelancers, with hundreds of employment opportunities.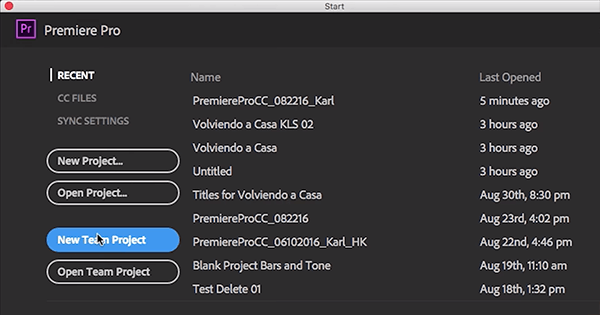 Adobe's pro video tools have made enormous advancements in recent years. So much so, that the older CS versions are hardly recognizable when compared to the newest CC editions, in terms of new features and performance improvements added since then. Adobe has really poured a lot of effort into these tools, and it shows: the current video suite has gained significant adoption and is widely considered a leader in the industry. All of their video applications are available/included in the complete Creative Cloud ("All Apps") subscription offering direct from the company.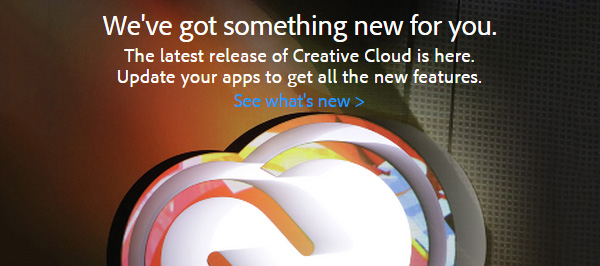 [UPDATE (October 2016) – We have some very good news – Adobe has finally published the new installers. Please see our new post here: At Last! The Adobe CC 2015.5 Direct Download Links (2016 Release) We're sorry about the delay!]
[UPDATE (November 2016) – The newer CC 2017 direct links are also now available!]
Early this morning, Adobe launched major updates to its flagship Creative Cloud tools and services. This June 2016 release includes dramatic new features in Adobe's key desktop applications, performance enhancements across Creative Cloud (CC) and exciting updates to Adobe Stock. As always, all upgrades to all CC desktop apps are available for download by Creative Cloud members as part of their membership at no additional cost.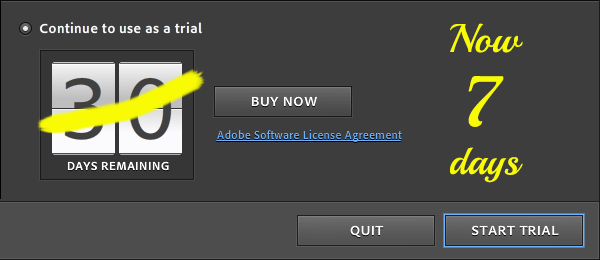 After decades of 30-day free trials for its flagship creative applications such as Photoshop, Illustrator, InDesign, and all the others, today Adobe announced that going forward, the length of the trial period for Creative Cloud (i.e., the CC 2015 desktop apps) will be standardized worldwide at 7 days.
The company has been running some tests over the past couple months, and says the changes better align with how individuals are actually using the trial software – meaning the degree and duration of time they use them the most after initial installation. By moving to seven days, Adobe feels they can follow up better with the customer when the experience is freshest than if it happened a month later. It also gives users greater incentive to bump up the priority of the new software evaluations. Given the accelerating pace of change in technology (and pretty much everything else moving faster these days), these findings aren't entirely surprising.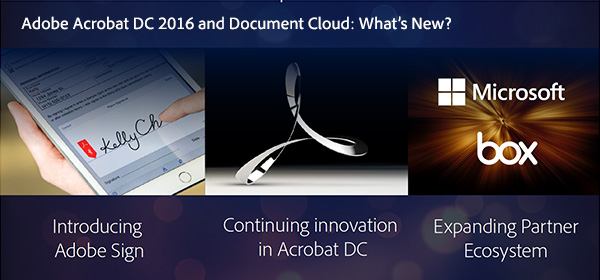 One of the most frequent upgrade questions we get is what's new, what's different, or what's changed between the new release of Acrobat and previous versions? Adobe Acrobat DC 2016 just launched today, and if you're counting numerically (… 9, X, XI, DC 2015, DC 2016), then this is the 13th major release of one of Adobe's biggest products with over 30 million customers. So put simply, what are the major new features and advance­ments in the 2016 Release of Acrobat DC (Pro or Standard), versus DC 2015, or 2012's Acrobat XI or even 2010's Acrobat X?
When the Document Cloud first arrived a year ago – and Acrobat DC 2015 along with it – there were some significant changes to how the software was purchased… While the desktop Acrobat Pro/Standard tool is still sold standalone with a perpetual (or "Classic") license, many of the newer capabilities and services are only available via the Acrobat DC subscription (or "Continuous") bundle. It's called "Continuous" because subscribers receive all ongoing product upgrades as soon as they are available, ensuring you are always running the latest-and-greatest software with the complete featureset.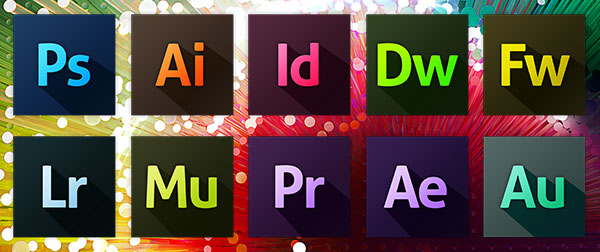 With the fast-growing adoption of Adobe's Creative Cloud and the recent release of the all-new CC 2015 versions of creative applications, some readers are telling us they're not sure if they need all the tools that are included in the complete Creative Cloud offering, or aren't quite ready to join for US$49 a month…
The complete (or All Apps) Creative Cloud membership gives you the latest-and-greatest versions of Photoshop, Illustrator, InDesign, Acrobat, Dreamweaver, Muse, Animate, Premiere, After Effects, Audition, and others – together in a well-integrated suite with ongoing product upgrades included as soon as they're available.