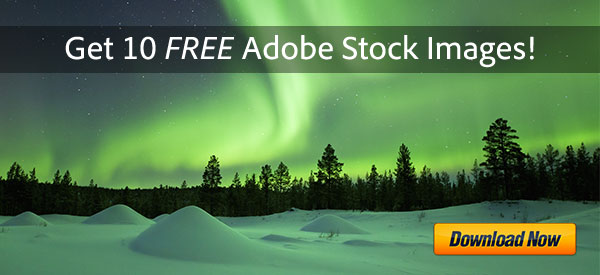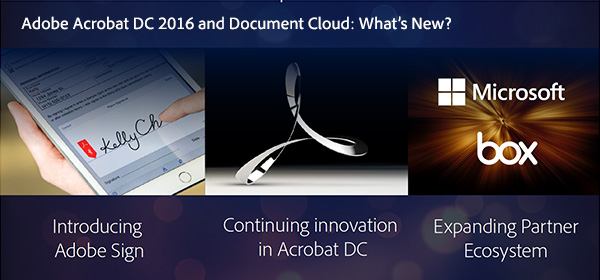 One of the most frequent upgrade questions we get is what's new, what's different, or what's changed between the new release of Acrobat and previous versions? Adobe Acrobat DC 2016 just launched today, and if you're counting numerically (… 9, X, XI, DC 2015, DC 2016), then this is the 13th major release of one of Adobe's biggest products with over 30 million customers. So put simply, what are the major new features and advance­ments in the 2016 Release of Acrobat DC (Pro or Standard), versus DC 2015, or 2012's Acrobat XI or even 2010's Acrobat X?
When the Document Cloud first arrived a year ago – and Acrobat DC 2015 along with it – there were some significant changes to how the software was purchased… While the desktop Acrobat Pro/Standard tool is still sold standalone with a perpetual (or "Classic") license, many of the newer capabilities and services are only available via the Acrobat DC subscription (or "Continuous") bundle. It's called "Continuous" because subscribers receive all ongoing product upgrades as soon as they are available, ensuring you are always running the latest-and-greatest software with the complete featureset.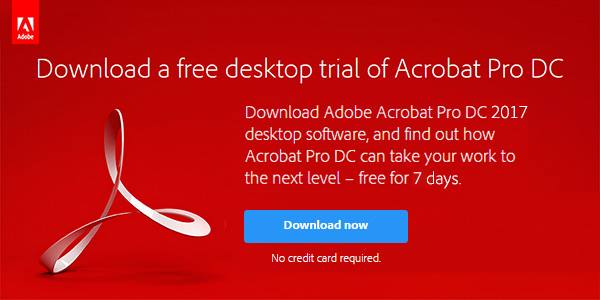 Adobe Acrobat DC 2016 is now shipping! "DC" stands for Document Cloud, which is Adobe's new set of integrated online services that helps people and businesses better manage critical documents. At the heart of Document Cloud is Acrobat DC – the industry standard for creating, sharing and editing PDFs – which was completely reengineered last year for the initial DC 2015 milestone release.
This new version of Acrobat continues as a desktop product in both Pro or Standard editions, and is available either via subscription or with a perpetual license. Adobe has incorporated many new features and improvements to bring Acrobat up the modern day. Further, the company has moved to a year-based versioning model for Acrobat… So this revision is officially called the "the 2016 Release of Acrobat DC" – and the technical version number is actually 15 rather than 12.
Company Takes Microsoft's Lead and Does Hundreds Better
SAN JOSE, Calif.—April 1, 2015—Following a recent software trend for skipping version numbers, reliable sources indicate that Adobe Systems will be foregoing the long-anticipated Acrobat 12 and leaping hundreds of releases higher instead.
When reached for comment, Founder John Adobe confirmed the rumors. "Hey, everyone thought it was the cat's pajamas when old Microsoft skipped a version going from Windows 8 to the future Windows 10," Adobe said. "Well forget about it, you ain't seen nothing yet – we're going to take that little bump and shoot it to the moon!"
So what in fact will the next release of Acrobat be called? Adobe himself was reluctant to give further details, but a leaked company document clearly indicates the next release will be dubbed Acrobat 600 – leap­frogging a full 588(!) revisions over the widely-expected Acrobat XII.
Why Acrobat 600?
When confronted with the internal memo, Mr. Adobe relented. "Okay, you got me," he said. "We're calling it that because it's going to be hundreds of times better than the old Acrobat – and if you don't believe me then just upgrade and see for yourself," Adobe explained.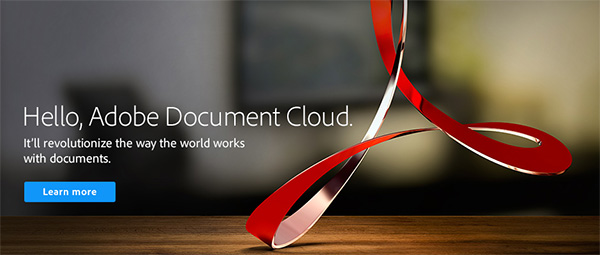 It's been quite some time since the last release of Adobe Acrobat – it's Acrobat XI, which shipped in October 2012 – so we've been eagerly awaiting to see what the next major version of this core product line would bring…
And now, we finally have some answers, announced by Adobe not as "Acrobat XII" or "Acrobat 12" – but as Acrobat DC, where "DC" stands for Document Cloud.
The Adobe "Document Cloud"? What does that mean? Is this the same brand of Acrobat toolset that we know and love, and use daily? Are there still Pro and Standard desktop tools, and perpetual licenses? Or is this a new type of web-based application or service that we can only use online, or via subscription?
Not to worry. Everything is as you want, only better. It looks like this long wait for Acrobat DC was actually worth it… This is Acrobat XII or 12, only raised to the next level.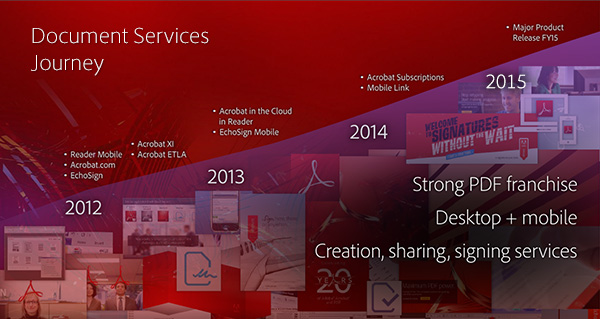 [UPDATE (April 2015) – The next major release of Adobe Acrobat – the new Acrobat DC – is now shipping… Download a free trial!]
It's been a while now since Acrobat XI was released, and considering Adobe usually runs on two-year release schedules for this product, give or take, what does this imply for when Acrobat XII (Pro/Standard/Reader version 12) will be coming out?
Ordinarily, our best estimate would be simply to go with the release dates for the past few major revisions of Acrobat and then extrapolate.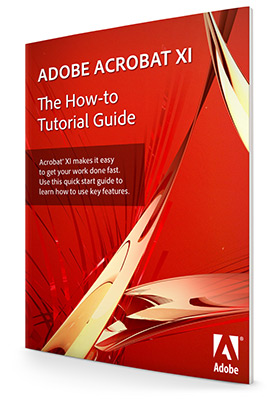 Next to Photoshop, Acrobat Pro & Standard is Adobe's top-selling product line of all time: it's offered standalone plus included in all the Creative Suites as well as the newer Creative Cloud – so clearly there are a lot of people using it worldwide. The two free books below will help you learn how to use it better and more effectively…
The first book is all about the Acrobat XI release, and the second is for the older Acrobat X from 2010. Both these guides contain dozens of helpful tutorials that will help you discover the advantages of using Acrobat and how to get the most out of it… Following the easy walkthroughs will quickly introduce you to new ways to save time and simplify complex projects.
Each chapter includes step-by-step instructions for performing common tasks efficiently. Keep a copy of either ebook access­ible on your computer as an easy–to–use resource for learning new techniques.
With one year wrapped up and a new one just beginning, it seemed a great time to put together a comprehensive review of the best and most-shared posts published here since our site launched in 2009, including some very popular free books.
These are the top posts that consistently have the highest readership on our site, month after month, covering all major Adobe software products… They're broken out by topic below in case you've missed any, or are new here – so bookmark, share, and enjoy!
Free Adobe Books

Creative Cloud (CC)


[UPDATE (April 2015) – The next major release of Adobe Acrobat – the new Acrobat DC – is now shipping… Download a free trial!]
Yes – Adobe Acrobat XI has just been announced with all the details… A bit ahead of the timeframe we forecast, you can learn more about and order the new product line, as well as download the free trials. For this 11th generation of the industry standard for PDF creation tools, Adobe returns to offering two versions – Standard and Pro – plus two services that now tightly integrate with the new release: EchoSign for easily enabling legally-binding electronic signatures in your documents and FormsCentral for complete end-to-end manage­ment of online forms and surveys.
The very first version of Acrobat came out in 1993 and there have been 41 million total Acrobat units sold since then, Adobe's biggest product ever… Acrobat and PDF continue to grow, and the statistics are impressive. Today there are more than 733 million PDF files on the public Internet and this is just a small slice of PDF usage overall, since there are many more PDF files that exist inside of companies. Over 1 billion copies of the free Adobe Reader have been distrib­uted worldwide, and over 80 million copies of Reader for Mobile devices have been downloaded, remaining the top Business App in the Apple and Android Stores.
[UPDATE (April 2015) – These still work to download the older Acrobat XI trials. We also now have the all-new Acrobat DC Direct Download Links!]
Adobe Acrobat XI (Acrobat 11) is now shipping! Adobe has really listened to users with this release and incorporated many new features and improvements that will make customers happy. And continuing in our custom of providing the direct download links for major Adobe products such as Creative Cloud, CS6, Lightroom 6/CC, Captivate 10, and Elements 2018, below you'll find the direct links for the brand new Acrobat XI…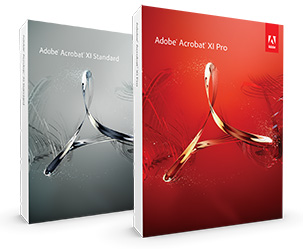 The links given below go to the authentic and secure files residing on Adobe's servers, are guaranteed genuine, safe, legal, and will not change. They are especially useful when you are unable to download these products via other means – perhaps due to issues with the Adobe Download Assistant or the Akamai Download Manager. Here the access is open and you can just use your browser, or anoth­er download manager (DLM) of your choice.
And there's big news – after many years and customer requests, Adobe is officially making a free trial of Acrobat Pro available for Mac OS! For Windows, the Acrobat XI download below is in the form of a single .exe file, and for Mac OS it's a single .dmg file. There is no actual trial version of Acrobat XI Standard for any platform, but Pro includes all Standard features – so you can try out Pro for free and then decide which version you want at the time of purchase. Languages offered here are Chinese, Czech, Danish, Dutch, English, Finnish, French, German, Hungarian, Italian, Japanese, Korean, Norwe­gian, Polish, Portuguese, Russian, Slovak, Slovenian, Spanish, Swedish, Turkish and Ukranian.
[UPDATE (April 2015) – The next major release of Adobe Acrobat – the new Acrobat DC – is now shipping! Download a free trial instantly or check out what's new in Acrobat DC vs. XI.]
One of the most frequent upgrade questions we're seeing asked is what's new, what's different, or what's changed between the new Adobe Acrobat XI (Acrobat 11) and previous versions? Or more simply put, what are the major new features in Acrobat X (Pro or Standard), versus Acrobat X or 9? Adobe calls it, "a powerful new PDF solution that rises to today's complex document challenges," so these kinds of answers can help decide about upgrading…
There aren't any complete, formal reviews out yet, but here's what some early test users are saying: "Being able to do complex things on the fly, like signing a document electron­ically or commenting on a document on an iPad, is very attractive," and "makes it even easier and faster to create PDF forms and to auto­matically distribute and collect information with new online forms services," plus "offers advanced document protection capabilities that are easier than ever for our staff to uniformly secure our documents."
[ What's the difference between the editions? See: Acrobat XI Pro vs. Standard vs. Reader ]
Adobe had four overarching goals for this release: (1) increase end-user productivity, (2) streamline collab­oration, (3) lock down information security, and (4) support working with documents on mobile devices.