You know all the usual reasons software makers give to register your software – to receive tech support, news, updates, offers, bug fixes, and so on.  It also protects your investment because it gives you permanent access to your registered serial number in case something ever happens to your computer or software.
Adobe adds another reason – to get free gifts. They're called "complimentary benefits," and they're offered worldwide…
For example, if you register your Creative Suite product, depending on what you own you could choose from one of these bonuses:
a free copy of onOne Software's PhotoTools 2.5 Standard plug-in for Photoshop,
a complimentary copy of Red Giant Software's Magic Bullet Quick Looks plug-in for video,
30 days of free training at Lynda.com with more than 1,500 hours of Adobe training,
a free download of the new and versatile text typeface font family Adobe Text, or
a 30-day trial of the Creative Edge online library with thousands of books and videos.
Doing the same for Adobe Acrobat X gets you some similar choices – or a 10% discount coupon for anything at the Adobe Store, or four special edition Acrobat X PDF Portfolio themes, or discounts plus free access to Safari Books Online, Total Training, or Peachpit. Registering Acrobat also enables you to use services at Acrobat.com.
"Adobe MAX is an experience unlike any other — an opportunity to learn from the experts and connect with thousands of the most influential designers, developers, and decision-makers in our industry."
If you'd like to go to Adobe MAX this year in L.A. (October 1-5) and save $400 in the process, just purchase (full or upgrade) any one of the products listed below from the Adobe online store and you'll receive a special promo code that will discount your regular full confer­ence pass price by US$400…
But since the upgrade price for many of these products is less than $400, basically you're getting the software for more than free!
[UPDATE (June 6th) – MAX registration is now open! Save $200 with an early-bird discount – or an even better promotion, save $400 with coupon code from Adobe product purchased.]
MAX is the big annual conference for all-things-Adobe. One of the best aspects of MAX last year was the key presentations and announcements were webcast live, and most of the rest of the talks and lectures were offered later on-demand. These sessions are still available for viewing and are a fantastic free resource (see the list) for learning about Adobe software. There are more than 200 recorded videos on topics ranging from Photoshop Tips, Techniques & Power Shortcuts to "Deep Dives" for Dreamweaver and Flash.
This year, MAX will happen from October 1-5 at the Los Angeles, CA Convention Center. It's a great time to tune in online or to attend in person for the news, excitement, training, gather­ings, and giveaways (last year all attendees received free Motorola Droid 2 smartphones and Google TVs) – plus the chance to meet the experts and ask your own questions.
(…not to mention, enjoy all the hilarious fake commercials for Adobe products!)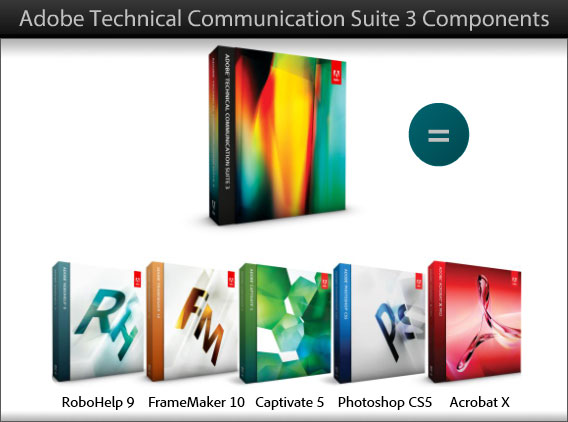 Following up last summer's new version of Captivate, this morning Adobe is releasing three new products for technical communicators, instructional designers, documentation creators, help system authors, and eLearning professionals – and they are RoboHelp 9, FrameMaker 10, and Technical Communication Suite 3. The last of these, TCS 3, is a fully-integrated suite that comprises five major Adobe applications – with the other three components being Captivate 5, Photoshop CS5 and the recent Acrobat X Pro.
This year, as in years past, Adobe is sharing a holiday greetings card online that's attracting thousands of visitors… And their card this year is all about finding inspiration.
Only this year, the tradition is even better – because for each viewer, Adobe will make a $1 donation to Mercy Corps to help children around the world. Mercy Corps is a global aid agency dedicated to helping people in the world's toughest places through crises of natural disaster, poverty, and conflict.
So please take a moment to view Adobe's Holiday Card 2010 (and be inspired), and you'll also be helping Adobe and Mercy Corps help millions of young people around the globe.
Adobe's big annual user conference MAX has been going on this week and you can watch all the keynotes and hundreds of sessions free, online, and on-demand – but one of the best bits was the assortment of parody commercials that highlighted yesterday's keynote, User Experience: The Next Generation.
Some of these were truly hilarious and we've put together a reel of the best ones below. Perhaps the funniest of the 10-minute collection is the first one about new Adobe Acrobat X, but we'll let you decide… Here's the playlist:
AcrobatWOW!
Go Away Spray
Save the Users
Geico Upgrade
Catalyst Perfume
ColdFusion Lawyer
"I Code in Flex"
Johnny Encore
Which one was your favorite? Share your vote and thoughts below…
[UPDATE (Nov. 2016) – Watch 235 hours of new training & tutorials from MAX 2016!]
Adobe MAX 2010 – the worldwide user conference – runs this week and if you aren't in Los Angeles, the two major keynotes will be broadcast live plus all of the conference sessions will be available on demand for free… A full attendance pass with these informative technical sessions normally goes for $1,500, so this is a great deal (see a full listing of the hundreds of programs offered below).
Adobe InDesign tweets, "don't be the last to know… if you can't be at Adobe MAX, you can still watch the keynotes LIVE for some exciting announcements!"
One of these announcements is sure to be the arrival of the long-awaited preview release of the new Digital Publishing Suite on Adobe Labs, just out… Read all about it in the press release here.

There's a cool new art museum that's just opened, and it's available to anyone, anytime, anywhere, at no cost… It's the Adobe Museum of Digital Media, a first-of-its-kind, all-digital venue created to showcase all forms of digital art and media. As digital media is Adobe's business, we've been looking forward to this space opening its doors…
And the setting does not disappoint. You get the idea like you're at a museum of the future, with a stunning cityscape intro to the unique building and its exhibit hall. The striking structure was designed and modeled by an architect even though it exists only in cyberspace. Holo­graphic videos from the curator and a cyborg jellyfish (with a euro-diva voice) are your primary guides, and you have the feeling like you've snuck into your very own "night at the museum" with a cavernous, futuristic, even cinematic atmosphere.
We've previously written about how you can save $400 on Adobe MAX 2010, the big annual conference for all things Adobe, that's happening this year from October 23-27 in Los Angeles, California… Now, there's a short time left to save $200 with another promotion code EBX100:
Did you know that people spend over $7 billion each year printing, faxing, and overnighting documents just because a signature is needed? Adobe has just introduced a free solution aiming to crush those expenses… It's called Adobe eSignatures™ and it's live now, a new online service allowing you to electronically sign contracts, NDAs – any Acrobat PDF document that requires a signature.
If you already have an Adobe.com ID or login, you're good to go – just sign in and start signing (electronically)! If you don't yet have an Adobe ID, just take a minute to create one; it's easy and free. Then it's a very simple guided process that allows you to upload your document, enter the email address(es) for all parties, and click to sign. You don't need any special tokens or smartcards. Once signed, the final eSignatures document is certified by Adobe to ensure that no one has modified it, providing an authentic copy that is protected against alterations. And it's entirely legal, valid, and lawfully accepted, being used to sign everything from real estate and sales contracts to judicial orders.
Adobe actually has a lot of experience in this area, with a big, well-established business pro­viding a highly-secure digital signature capability into large banks, the military and a number of governments. In fact, the first digitally-signed judicial order was executed using Adobe technology, and the FY 2011 U.S. Federal Budget was electronically certified using the same technology that underlies eSignatures. They've been a market leader in digital signatures for over a decade, and are now extending this service out to the rest of the world for everyday documents… (Read how it works.)
Did we mention it's free?