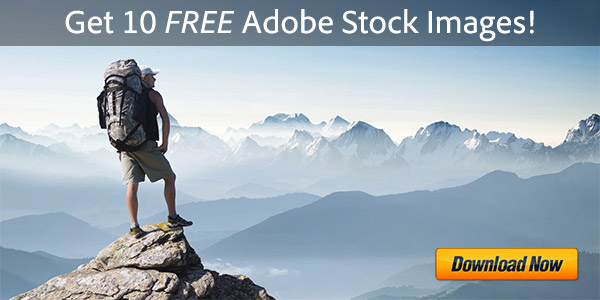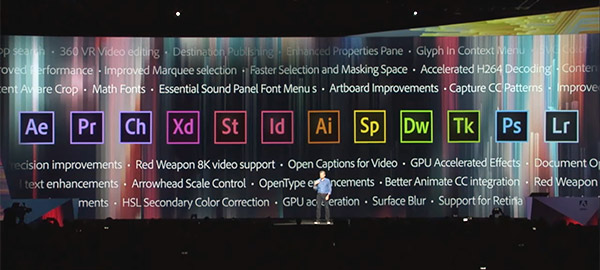 [UPDATE (Oct. 2017) – The all-new Adobe CC 2018 release has launched and is now available! See what's new in features and all the differences compared to older versions and CS6.]
One of the most common upgrade questions we see out there is asking what's new, what's different, what's better, what's changed between Adobe's just-launched CC 2018 release and the previous CC 2015.5, CC 2015, CC 2014, CC 2013, or 2012's Creative Suite 6 – or even the older CS5, CS4, CS3? Or more fundamentally, what are the key new features and advancements in CC 2017 versus prior versions?
Now that the new CC 2017 mile­stone release is shipping world­wide, everyone is entitled to either a free upgrade or a new free trial for 7 days. Ongoing access to these tools requires a Creative Cloud mem­ber­ship (either for one app or for all of them), with discounts available for education custom­ers. Adobe says that if you look at all of the changes since CS6 to the current CC 2017 release, there have been thousands of significant updates – meaning new and enhanced features, added capabil­ities, and perfor­mance boosts – to the key creative applications.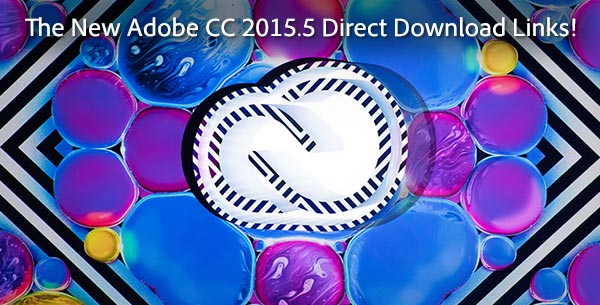 [UPDATE (Nov. 2017) – These still work to download the original CC 2015.5 installers. If you're looking for direct links to the newest CC 2018 versions, then see this post.]
Back in June, Adobe rolled out major updates to its flagship Creative Cloud tools and services. The CC 2015.5 release, as it's commonly called, includes significant new features in Adobe's key desktop applications and performance advancements across Creative Cloud. The new versions were available immediately for worldwide download via the CC Desktop App only, because many of the tools began using a proprietary installation technology. The challenge was that many folks want or need to access the new tools directly without using Adobe's download/app manager, and so we have been working with the company to help make standard, standalone installers publicly available (as has been the practice for all their previous creative software products).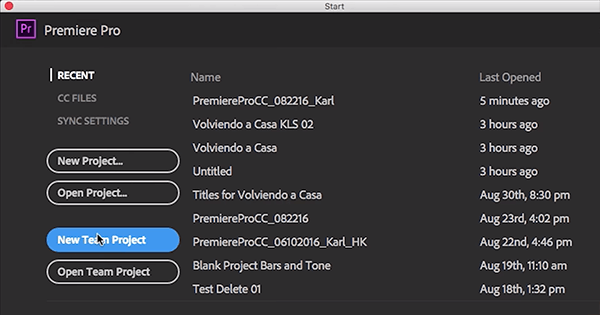 Adobe's pro video tools have made enormous advancements in recent years. So much so, that the older CS versions are hardly recognizable when compared to the newest CC editions, in terms of new features and performance improvements added since then. Adobe has really poured a lot of effort into these tools, and it shows: the current video suite has gained significant adoption and is widely considered a leader in the industry. All of their video applications are available/included in the complete Creative Cloud ("All Apps") subscription offering direct from the company.
The new Creative Cloud (CC) is the most sophisticated and powerful toolset Adobe has ever released and recently readers have been asking for solid training materials to learn how to best use these applications…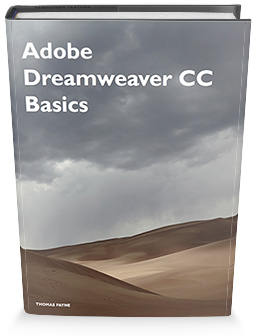 A while back, we spread the word on over 30 hours of free video tutorials for CS6, and last year we published details on a fantastic new ebook for getting started learning the Adobe CC/CS6 Design Suite (202 pages). But if you're looking for a solid primer or helpful beginner's lessons for Adobe Dreamweaver, that's harder to find.
Fortunately there are two new books you can download that will teach you the essentials of Adobe Dreamweaver for free, thanks to the generosity of author Professor Thomas Payne… He writes:
"These tutorials are designed to get you through the basics of making web sites in Dreamweaver with the most flexibility and the least amount of work. Think of them as supplying you with a toolbox full of tools to start making good websites.
[UPDATE – See all of Adobe's current deals & discounts!]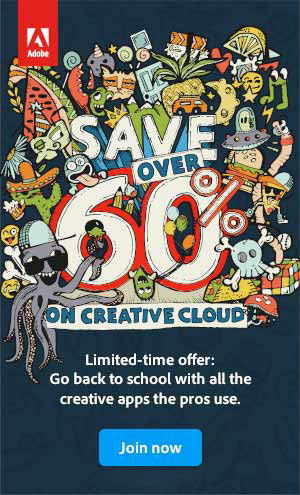 Here we are, it's that time of year again – it's back to school, and the sales that often come with it… So for a limited time, Adobe is offering a special deal for students and teachers. In addition to the regular education discount of 60-70% off of the standard price for an annual CC membership, you can now also get one month free when you prepay for your first year of Creative Cloud.
And you get the complete Creative Cloud – the latest CC 2015 desktop releases of all of the tools and services contained in the collection, including Photoshop CC, Illustrator CC, InDesign CC, Lightroom CC, Dream­weaver CC, Premiere Pro CC, After Effects CC, Muse CC, Edge Animate CC, Acrobat DC, and more. These CC 2015.5 versions contain thousands of new features and improve­ments compared to 2012's CS6.
This back-to-school offer is valid inter­nationally and worldwide – including North America, UK/Europe, Australia/NZ, and more – until Sept. 2nd. The extra bonus means the savings in some countries reaches 73% off the normal price in the first year… To get the discount, just visit the online Adobe Education Store and purchase with a credit card or PayPal: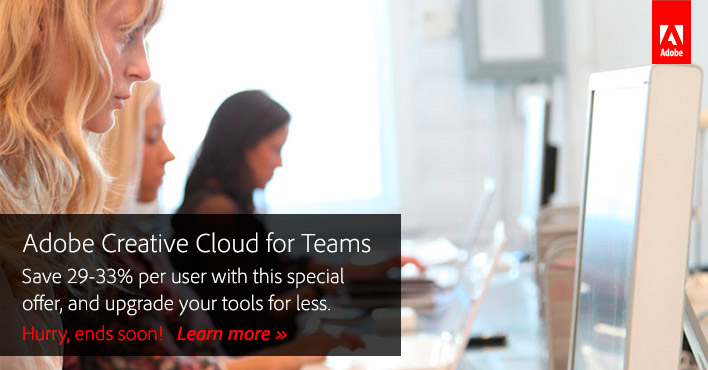 [UPDATE – See all of Adobe's current deals & discounts!]
We have a special Creative Cloud promotion from Adobe for you. For a limited time, you can save US$20/month (almost 30%) on Creative Cloud for Teams for your first year. That comes out to under US$50 a month for the entire CC collection of tools and services, including thousands of new features and performance improvements, as well as ongoing product updates! This promotion is available in many countries worldwide with similar discounts… See below for offer details and links.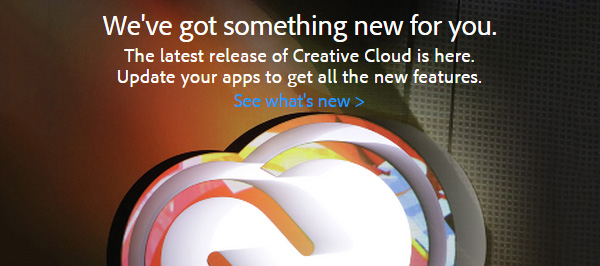 [UPDATE (October 2016) – We have some very good news – Adobe has finally published the new installers. Please see our new post here: At Last! The Adobe CC 2015.5 Direct Download Links (2016 Release) We're sorry about the delay!]
[UPDATE (November 2017) – The newer CC 2018 direct links are also now available!]
Early this morning, Adobe launched major updates to its flagship Creative Cloud tools and services. This June 2016 release includes dramatic new features in Adobe's key desktop applications, performance enhancements across Creative Cloud (CC) and exciting updates to Adobe Stock. As always, all upgrades to all CC desktop apps are available for download by Creative Cloud members as part of their membership at no additional cost.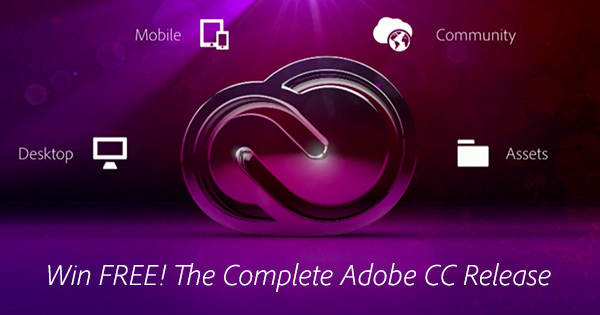 [UPDATE – Also see our new Holiday CC 2018 Giveaway!]
Last June, Adobe shipped the new CC 2015 set of tools and services – a milestone marking the third major release of the CC product line, which replaced CS6 from 2012. This latest CC version contains thousands of new features and advancements compared to CS6 (across all creative applica­tions), and it is available only via Creative Cloud membership – a community which now surpasses 12 million paid members.
CC 2015 is also known as the Creative Cloud 2015 Release… Since its initial launch, Adobe has issued many updates to further upgrade the functionality and capabilities of the different tools – and all ongoing upgrades are auto­matic­ally included at no addi­tional charge. Sometime this year, the company is expected to ship the next major milestone release of the product line (e.g., CC 2015.5 or CC 2016), and this will also be included for current members.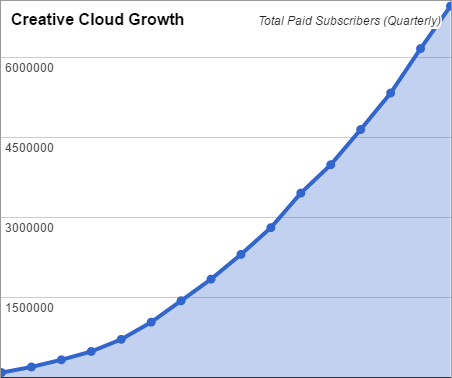 [UPDATE (December 2017) – Analysts now estimate the total number of Creative Cloud customers to be approx. 12 million: "We expect Adobe to end the year with 12 million subscribers for its CC services, which translates into a year-on-year growth rate of 29%".]
Adobe's Creative Cloud has been available for several years now and continues to gain strong adoption in the marketplace, the latest published figures show.
Lately the rate of paid memberships has approached almost 1 million per quarter – adding 798,000 new subscribers in the past quarter alone (or 57,000 new customers each week) – which means that total number of subscribers has now reached 12 million since the CC product line replaced Creative Suite in June 2013.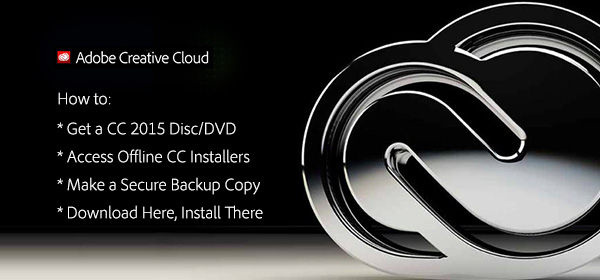 The Creative Cloud is cool because it offers access all major tools that Adobe makes at an affordable price… But here are four recurring challenges we still see out there since Adobe discontinued boxes and switched over to Cloud-only application downloads: