In continuing to provide the direct download links for such major Adobe products as CC, CS6, Acrobat DC, Elements 15, and Lightroom 6/CC, below you'll find the DDL for the brand new just-released Adobe Flash Player 11.9 (the final version). This is important because the free Flash Player is the most widely-used and often-downloaded software in world, and some folks find it easier to access it quickly and directly, without a download manager (e.g., Akamai), or with their own DLM, and without additional products or toolbars included.
Check your current Adobe Flash Player: What version are you running now?
What's New in Flash Player 11?
Flash Player 11.9 contains dozens of sophisticated new features and enhancements over FP version 10, here are some of the major ones – for more, and more details, see the Official Release Notes:
Improved Security through Sandboxing Enhancements
Concurrency (ActionScript Background Workers)
Expanded Hardware and Driver Support
Full screen complete keyboard input
Low latency audio support (Sound API)
Protected Mode for Firefox
Mouse-Lock, 360-Rotation, and Infinite Scrolling
Added Support for Middle-Click & Right-Click
Automatic Background Updates (Windows & Mac)
Protected HTTP Dynamic Streaming (HDS)
Stage 3D Accelerated Graphics Rendering
Native 64-bit Support Available
H.264/AVC Software Encoding for Cameras
Asynchronous Bitmap Decoding
TLS Secure Sockets Support
Cubic Bezier Curves
Updated iOS native extensions
Native text input UI for Android
[UPDATE (October 2016) – These still work to download the old Elements 12 trials. We also now have the new Elements 15 Direct Download Links!]
In keeping with our custom of publishing the direct download links for major Adobe products such as Creative Cloud, CS6, Lightroom 6/CC, and Acrobat DC, below you'll find the direct links from Adobe's servers for the free trials of the new releases of Photoshop Elements 12 and Premiere Elements 12, for both Windows and Mac OS.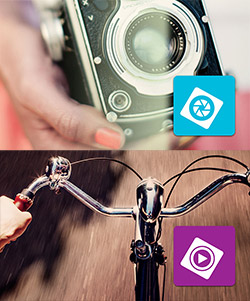 These links go to the authentic and secure files residing on Adobe's servers, are guaranteed genuine, safe, legal, and will not change. They are especially useful when you are unable to down­load Adobe's free trials via other means – often due to difficulties with the Akamai Download Manager or Adobe Download Assistant…
With the links provided below, you can use your own browser's download capability (without DLM), or another download manager of your choice.
For setting up PSE 12 and/or PRE 12 on Windows, each program consists of two down­loaded files: an .exe and a 7-Zip file (.7z). The .exe file will only work (and install) once the .7z file is fully down­loaded and resides in the same folder. For the Mac, it's just a single .dmg file for each program.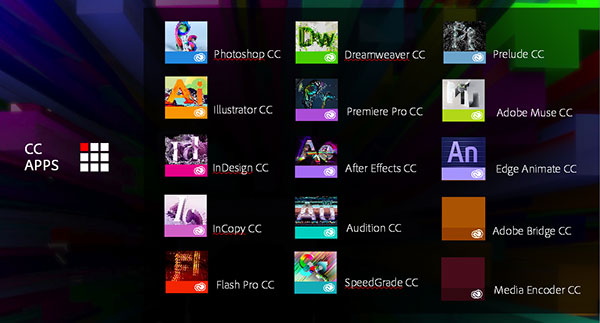 [UPDATE (November 2016) – These still work to download the older CC 2013 trials. We also now have Adobe's all-new CC 2017 Direct Download Links!]
The new Adobe "CC" release is now available for instant download worldwide and there are many important differences in this release compared to Creative Suite 6, including hundreds of new features added to the individual desktop applications…
Here we've put together a complete set of Adobe CC (2013) direct download links for all the new products (Windows and Mac OS), for instant access and the ability to use your own download manager or download assistant if you have any difficulty with what Adobe normally employs (AAM, ADA, Akamai DLM, CCD, ACC) and need to get the trials without it… These can also come in quite handy if you want offline CC installers to use, store, or back up with (i.e., copy to USB flash drive, burn to DVD or disc media, etc).
[UPDATE (Nov. 2016) – The all-new Adobe CC 2017 release has launched and is now available! See what's new in features and all the differences compared to CS6, CS5, CS4 & CS3.]
Six weeks after its official introduction, Adobe today has rolled out the the new "CC" release, with hundreds of new features and improvements across the product line centering on productivity, performance, and connectivity – see our guide to what's new in CC…
[UPDATE (April 2015) – The new Adobe Lightroom 6/CC release is now shipping! Download a free trial instantly or check out what's new in Lightroom 6 vs. 5.]
Yes – the final Adobe Photoshop Lightroom 5 is just out and now shipping! Pretty much on the time­frame we forecast, you can download a free trial today… And the new product will work side-by-side with any previous releases of Lightroom you may own. If you have an earlier version installed on your system(s), Lightroom 5 will ask if you'd like to upgrade your catalog and copy everything over.
After a 50% price drop for LR4, the price for Lightroom 5 standalone continues to be US$149 for the full version, and $79 to upgrade from any previous release (LR1, LR2, LR3, or LR4)… Students and teachers can get the full education edition for $79.
If you've joined the Creative Cloud, then the full release of Lightroom 5 is already available for you to download and use now as part of your membership – it comes automatically and at no additional cost.
Install now: Get all new Adobe CC 2017 direct download links and free trials.
Also, if you happened to purchase Lightroom 4 within the past 30 days, then if you like you can return it under Adobe's Refund Policy and order Lightroom 5 instead. It's not an official "grace period," but it works.
[UPDATE (April 2017) – These still work to download the old Captivate 7 trials. We also now have the all-new Captivate 2017 Direct Download Links!]
In surprise news this morning, Adobe introduced and announced the immediate availability of Captivate 7, a major upgrade to its industry-leading eLearning authoring software for rapidly creating a wide range of interactive eLearning and HTML5-based mobile Learning content [see full details of the annoucement].
[UPDATE (June 10th) – The Lightroom 5 final release is now shipping!]
Adobe has just announced a free public beta release of the eagerly-anticipated Photoshop Lightroom 5, with new tools and advancements to develop, enhance and share your digital photographs… Lightroom 5 provides photographers with an elegant and efficient way to work with their growing digital image collections, bring out the best in their images, and make an impact from raw capture to creative output, all while maintaining the highest possible quality each step of the way.
"The Lightroom team is proud to introduce the fifth major version of the product designed for and by photographers. We've been hard at work improving an application that's intended to be as easy to use as it is powerful. This release builds on the image quality improvements in Lightroom 4 to provide a truly complete workflow and imaging solution. We encour­age you to try the beta release and provide your feedback to the product team."
Available as a free public download for Windows and Mac, the Lightroom 5 beta is a limited-time preview of new features and capabilities that will be offered in the final release of LR5, expected in mid-2013 and available separately as well as part of the Creative Cloud.
This week the web has been buzzing over a rumor of Adobe offering the eight-year-old Creative Suite 2 software for free download to all, including Photoshop CS2. "Adobe releases Creative Suite 2 for free," "Grab Photoshop and CS2 Absolutely Free," and, "Free! Download Adobe Creative Suite 2, Photoshop CS2, or other Adobe software at no cost," have read some of the headlines around the blogosphere.
The programs in question are 2005-vintage Adobe and Macromedia tools such as Photoshop CS2, Illustrator CS2, InDesign CS2, Dreamweaver MX 2004, Flash MX 2004, Acrobat 7.0, Captivate 1.0, and others. The software is pretty dated, originally written for 32-bit Windows 2000/XP and PowerPC Macs – and won't run optimally or at all on current computer systems, especially [Intel] Macs. CS2 is "EOL" (end-of-life), no longer officially supported, and not updateable nor upgrade­able. Nevertheless Adobe has put these downloads out there on an open page – full versions in 15 languages with accom­panying universal serial numbers, and seemingly freely available for what it's worth – but the company says they're not. So what's the story?
[UPDATE (April 2015) – These still work to download the older Acrobat XI trials. We also now have the all-new Acrobat DC Direct Download Links!]
Adobe Acrobat XI (Acrobat 11) is now shipping! Adobe has really listened to users with this release and incorporated many new features and improvements that will make customers happy. And continuing in our custom of providing the direct download links for major Adobe software such as Creative Cloud, CS6, Lightroom 6/CC, Captivate 10, and Elements 15, below you'll find the direct links for the brand new Acrobat XI…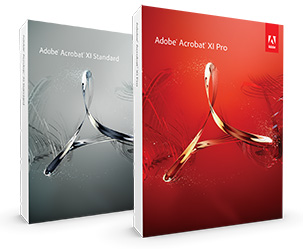 The links given below go to the authentic and secure files residing on Adobe's servers, are guaranteed genuine, safe, legal, and will not change. They are especially useful when you are unable to download these products via other means – perhaps due to issues with the Adobe Download Assistant or the Akamai Download Manager. Here the access is open and you can just use your browser, or anoth­er download manager (DLM) of your choice.
And there's big news – after many years and customer requests, Adobe is officially making a free trial of Acrobat Pro available for Mac OS! For Windows, the Acrobat XI download below is in the form of a single .exe file, and for Mac OS it's a single .dmg file. There is no actual trial version of Acrobat XI Standard for any platform, but Pro includes all Standard features – so you can try out Pro for free and then decide which version you want at the time of purchase. Languages offered here are Chinese, Czech, Danish, Dutch, English, Finnish, French, German, Hungarian, Italian, Japanese, Korean, Norwe­gian, Polish, Portuguese, Russian, Slovak, Slovenian, Spanish, Swedish, Turkish and Ukranian.
[UPDATE (February 2013) – Adobe has just released a free software upgrade and everyone can now get Edge Animate 1.5 (still) for free! (download it here) They've also now made available for all users a free preview version of Edge Reflow, their new responsive-web design tool.]
Perhaps the biggest news from Adobe's Create the Web event earlier this week is how much they're giving away their new mobile-ready web development software… The new Edge Tools & Services collection includes some great products for free download and use, including the final official release of Edge Animate 1.0 – the full and permanent version at no charge (regularly US$499) – for creating interactive and animated web content.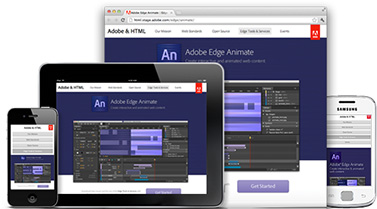 Edge Animate (formerly known as "Adobe Edge" during its long Preview period) is effectively Adobe's "Flash Pro for the HTML5/CSS3 world" – this new application works similarly to how Flash Professional does for creating rich media – but instead of generating Flash, it outputs standards-based HTML that can be viewed in browsers all across the web, on desktops and laptops as well as mobile devices and tablets.