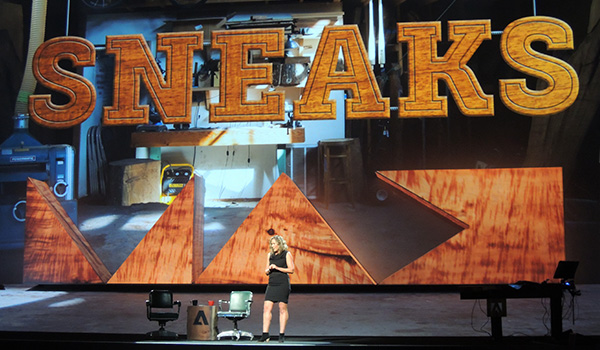 SAN JOSE, Calif.—October 13, 2015—At the record-breaking MAX conference last week, Adobe revealed 11 sneak peeks of technol­ogies they are working on but haven't released yet. Some of these new features are absolutely mind-blowing and defy belief, yet the company did not web­cast the sneak peeks. But good news, you will find complete videos of each of them captured below!
Naturally, the Adobe says there aren't any guarantees for what will appear in a production release, or when: "See the coolest demos of what we're cooking up in the Adobe development labs, and be the first to get a peek at technologies that may (or may not) make it into future products and services." But never­the­less, major new product features very often appear in these previews before they make it into the real tools (cases in point: Content-Aware Fill, Perspective Warp, Image Deblurring, and Defog/Dehaze).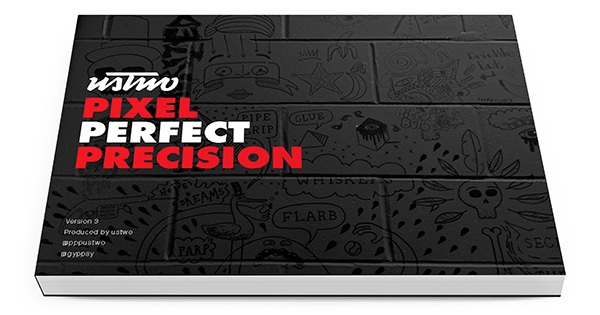 The newly-expanded 3rd edition of Pixel Perfect Precision for Photoshop is out – and it's better than ever plus still free – so if you don't have it yet, go grab it now…
This designer bible comes to us from respected Adobe partner ustwo, the digital design studio who just won a 2014 Apple Design Award for their gorgeous Escher-inspired app, Monument Valley.
The 2015 edition of the Creative Cloud is the most powerful and versatile toolset Adobe has ever produced and we're seeing a lot of demand for good training resources to learn how to best use this fast-growing product…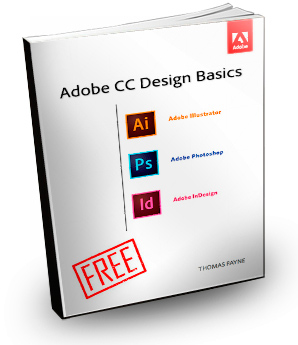 Last year we posted details on over 1,000 pages of free ebooks for CS6. But if you're just getting started with the core CC 2015 design tools, what's better than a step-by-step book that will teach you the essentials of Photoshop, Illustrator, and InDesign from the ground up?
Fortunately there's a very helpful new book you can download that will teach you all of this for free, courtesy of author Professor Thomas Payne… The way the book does this is by intro­ducing and explain­ing the tools in a logical way that builds upon what is previ­ously learned. These applica­tions present a vast array of buttons and gadgets that can be over­whelming to the new user. This book makes sense of it all, not showing how every­thing works, but instead giving a found­ation and a path to learn about all those controls and what they can do for you.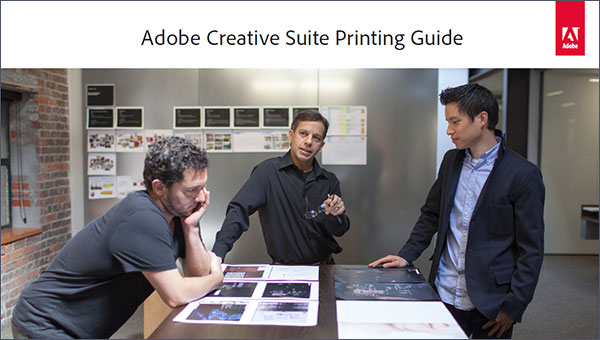 Adobe has made available an excellent resource that's now updated for CS6 (and CC) – a free printing handbook in the form of a 149-page downloadable e-book: The Adobe Creative Suite 6 Printing Guide. Earlier editions of this book have been out for previous releases (see the older CS5.x, CS4 and CS3 links below), but now this is fully refreshed and upgraded for the most recent versions of the products.
Adobe Evangelist Terry White has a great new training session out showing you how to get started achieving immediate and productive results using new Illustrator CS6… This 42-minute class covers all the basics and walks through how to accomplish the top 10 techniques that beginners always want to know how to do. Earlier Terry did similar introductory primers for Photoshop, Lightroom, and InDesign – and now it's Illustrator's turn.
Here's the overview:
[UPDATE – Also see our new Adobe CC 2018 Giveaway!]
Welcome 2013! Last year we gave away a lot of software, so to kick off the new year right, we're going to be giving away brand new boxed copies of Adobe Photoshop CS6, Illustrator CS6, and InDesign CS6 – with a collective value of US$2,000!
Creative Suite 6, Adobe's flagship product line, has been doing very well in recent months… Available standalone for instant download or direct shipping, or as the core component of their new Creative Cloud offering, there are many important differences in this release compared to Creative Suite 5, including hundreds of new features added to the individual applications, major performance improvements, and much more.
And now we're thrilled to give away brand new boxed copies of Adobe's top-of-the-line CS6 products to our terrific readers who have helped build our site to what it is today… Just check out our most popular posts over the past four years to see what you've helped create!
[UPDATE (April 23rd) – Creative Suite 6 is out!]
With a barrage of Photoshop sneak peeks plus many for other CS6 products, you knew that finally Adobe Illustrator was bound to get more love of its own… Adobe has now slipped out two cool looks at the new Illustrator CS6, the next generation of the industry-leading vector graphics tool.
Similar to Photoshop, it's been two years now since a major new version was released – and similar to Photoshop CS6, the new edition of Illustrator will also have a redesigned user interface that is both darker and more modern. The idea here is by making the background darker and the controls more streamlined, the content itself will more readily shine through and stand out.
Here below AI Product Manager Brenda Sutherland shares two quick peeks into a bit of what's new for Illustrator CS6 as part of the upcoming Creative Suite 6 – a terrific new Gradients on Strokes feature that lets you create artwork that looks complex but is easy to edit, plus an exciting new way to create seamless, repeating vector patterns… check them out:
[UPDATE – Download the newer free Adobe CS6 books (over 1,000 pages)!]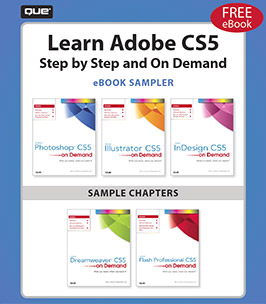 The fine folks over at Que Publishing, who have over thirty years of experience writing good books about software and technology, have put out a free sampler edition of their new series of books on learning Adobe Creative Suite 5… This "CS5 on Demand" e-book runs 172 pages (11.3 MB to download, in PDF format) and includes five full chapters on Photoshop, Dreamweaver, InDesign, Illustrator, and Flash Professional.
This collection has been designed to teach CS5 through step-by-step tutorials with easy-to-follow instructions, to be rich in illustrations for those who want to learn visually, and to be complete and in-depth references for those seeking a trusted desk resource to quickly provide the answers you need.
Nicely complementing the new HTML5 and CSS3 capabilities recently added to Dreamweaver CS5, Adobe today announced the availability of the Illustrator CS5 HTML5 Pack. This free add-on provides initial support for HTML5 and CSS3, extends Scalable Vector Graphics (SVG) capability in Illustrator CS5, and helps you easily design web and device content to take advantage of the latest advancements in these technologies.
Back about six months ago (before CS5 was released), there was a lot of buzz surrounding sneak-peek videos about multiscreen authoring with HTML5 and CSS3, plus a new "Smart Paste" capability between Illustrator and Dreamweaver. These features are now becoming realized with some pretty cool tools to create and place inter­active vector-based content in live web pages across multiple devices and screen sizes, without the use of Flash or Silverlight. All that's needed is HTML5 canvas support along with JavaScript.
Over the next six weeks Adobe is launching a new series of in-depth online seminars to learn the best and get the most out of some top CS5 products, including InDesign, Illustrator, Premiere Pro, and Flash Professional…
The presentations are 90-minute live "deep dives" with Adobe product experts where you can get firsthand detailed information on the new features of these releases, see demonstrations, and get direct answers to your questions. All sessions are from 11:30 AM – 1:00 PM ET on upcoming Tuesdays, and will be presented in English:
Deep Dive: Adobe Illustrator CS5
Tuesday, July 13, 11:30am – 1:00pm US/Eastern
Complimentary Registration
Deep Dive: Adobe InDesign CS5
Tuesday, July 27, 11:30am – 1:00pm US/Eastern
Complimentary Registration
Deep Dive: Adobe Flash Professional CS5
Tuesday, August 10, 11:30am – 1:00pm US/Eastern
Complimentary Registration
Deep Dive: Adobe Premiere Pro CS5
Tuesday, August 24, 11:30am – 1:00pm US/Eastern
Complimentary Registration