Here's the new and updated edition of a very handy resource from James Wamser – a complete reference to all versions of Adobe InDesign ever released… It's called the Adobe InDesign New Features Guide, 1.0 to CC (2017), and this 111-page ebook is available for free download now: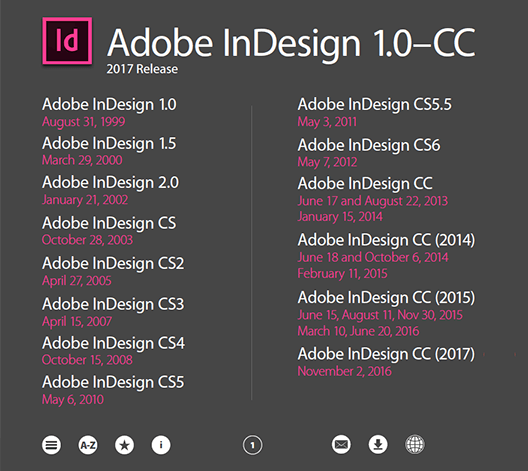 The 2015 edition of the Creative Cloud is the most powerful and versatile toolset Adobe has ever produced and we're seeing a lot of demand for good training resources to learn how to best use this fast-growing product…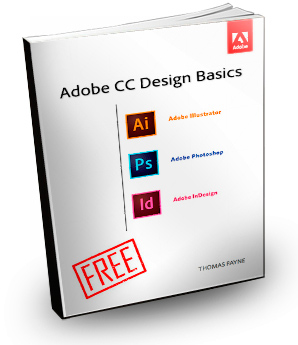 Last year we posted details on over 1,000 pages of free ebooks for CS6. But if you're just getting started with the core CC 2015 design tools, what's better than a step-by-step book that will teach you the essentials of Photoshop, Illustrator, and InDesign from the ground up?
Fortunately there's a very helpful new book you can download that will teach you all of this for free, courtesy of author Professor Thomas Payne… The way the book does this is by intro­ducing and explain­ing the tools in a logical way that builds upon what is previ­ously learned. These applica­tions present a vast array of buttons and gadgets that can be over­whelming to the new user. This book makes sense of it all, not showing how every­thing works, but instead giving a found­ation and a path to learn about all those controls and what they can do for you.
[UPDATE (May 6th) – Major news out: Adobe Unveils New "CC" Release (CS7)…]
Adobe just slipped out a brief sneak peek of the upcoming new version (perhaps CS7?) of its popular InDesign application, "InDesign Sneak Peek: See What's Coming Next." This short preview shows a revamped user interface demoing a new "Generate QR Code" feature.
Based on public information, we've previously written on how the next release of InDesign will be a native Cocoa app with full 64-bit support for high performance, and – if it's been fully rearchitected like the similar changes coming for Flash Pro – then it should be much faster.
There's also a customizable new user interface with light and dark themes (similar to what Photoshop got in CS6), as well as the long-awaited support for HiDPI displays (like the MacBook Pro Retina).
Finally, there's now the capability to add and edit QR codes directly in any document, with a new command on the Object menu: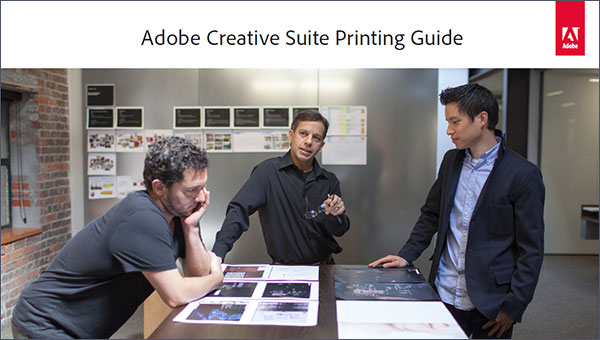 Adobe has made available an excellent resource that's now updated for CS6 (and CC) – a free printing handbook in the form of a 149-page downloadable e-book: The Adobe Creative Suite 6 Printing Guide. Earlier editions of this book have been out for previous releases (see the older CS5.x, CS4 and CS3 links below), but now this is fully refreshed and upgraded for the most recent versions of the products.
[UPDATE – Also see our new MAX 2017 Ticket Giveaway!]
Welcome 2013! Last year we gave away a lot of software, so to kick off the new year right, we're going to be giving away brand new boxed copies of Adobe Photoshop CS6, Illustrator CS6, and InDesign CS6 – with a collective value of US$2,000!
Creative Suite 6, Adobe's flagship product line, has been doing very well in recent months… Available standalone for instant download or direct shipping, or as the core component of their new Creative Cloud offering, there are many important differences in this release compared to Creative Suite 5, including hundreds of new features added to the individual applications, major performance improvements, and much more.
And now we're thrilled to give away brand new boxed copies of Adobe's top-of-the-line CS6 products to our terrific readers who have helped build our site to what it is today… Just check out our most popular posts over the past four years to see what you've helped create!
[UPDATE (April 23rd) – Creative Suite 6 is out!]
Similar to how they did before the launch of CS5.5, Adobe has been quietly slipping out a bevy of "sneaks" (now numbering 16 videos including those for Photoshop CS6) for new features that may be in a forthcoming release of the Creative Suite…
"Check out what new technologies, features and innovations the Adobe product teams are working on behind the scenes. Stay tuned to get an early glimpse of what could be next from Adobe."
The latest CS6 products previewed include: Dreamweaver, InDesign (2), Premiere Pro, Audition, Flash Profes­sional, Illustrator (previously), and of course Photoshop.
The drumbeat has been getting louder with plenty of news lately about Creative Suite 6:
So things are starting to get a little exciting.
Here now are some of the significant new preview demos… For the complete set, please see the Adobe Technology Sneaks 2012 page.
This very cool InDesign "sneak" comes fresh from the big Adobe MAX conference earlier this month… What's a sneak?
We've gone through the company and found the 11 coolest demos of technology that are at work within Adobe. These are things that are on the cutting edge of the technology. They may show up in a product, they may not. The demo may work, it may not. But this is your chance to get closer and really understand where we're going and what we're doing.
OK fair enough. Here's the set up:
"I want to show you some things we're thinking about on the InDesign Team. As you know, it's actually been about a year since we launched Digital Publishing Suite, and we've had fantastic traction in terms of getting great-looking content on tablet devices. So I have an iPad here and as you see I can turn it over and tilt it, let the accelerometer do its trick. We're actually seeing two different layouts here – two different layouts – which creates two different files. So designers actually have to create two separate InDesign files for this one device.
[UPDATE (April 11th) – Adobe CS5.5 is out!]
We just got confirmation from Adobe that a "mid-cycle release" of Creative Suite 5 will be out later this year, perhaps in the coming months.
The definitive word came from a conference call on Tuesday afternoon with financial analysts, where the Adobe CEO Shantanu Narayen stated:
We will continue to expand our content authoring offerings by providing a mid-cycle release to CS5.
[ Read the full transcript here ]
We've known for some time now (see our October piece) that a "dot release" of Creative Suite 5 would be coming and due to incorporate the new version of Acrobat X Pro – similarly to how CS2 and CS3 had mid-cycle upgrades for that exact reason…
But here Adobe has been working quite a bit harder and longer, with no "CS5.3" at the November ship date of Acrobat X… So instead, we have clear indications of a larger upgrade in store – and here's what's going to be in it:
[UPDATE – Download the newer free Adobe CS6 books (over 1,000 pages)!]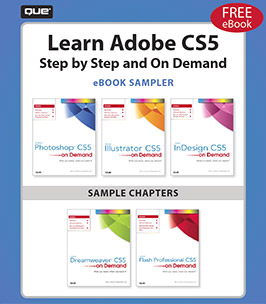 The fine folks over at Que Publishing, who have over thirty years of experience writing good books about software and technology, have put out a free sampler edition of their new series of books on learning Adobe Creative Suite 5… This "CS5 on Demand" e-book runs 172 pages (11.3 MB to download, in PDF format) and includes five full chapters on Photoshop, Dreamweaver, InDesign, Illustrator, and Flash Professional.
This collection has been designed to teach CS5 through step-by-step tutorials with easy-to-follow instructions, to be rich in illustrations for those who want to learn visually, and to be complete and in-depth references for those seeking a trusted desk resource to quickly provide the answers you need.
Yesterday at the big MAX conference, Adobe finally announced their Digital Publishing Suite – a new publishing solution that allows authors to deliver innovative digital reading experiences that attract readers and advertisers. This set of end-to-end, turnkey hosted services plus viewer technology build on the foundation of Creative Suite (including InDesign CS5) and allows publishers to use existing staff, skills, and workflows to design and deliver engaging, digital content direct to consumers, through content retailers or leading mobile marketplaces. You may have seen this already being used very successfully by magazines such as WIRED and The New Yorker.
The Digital Publishing Suite will be released in the second quarter of 2011, likely in conjunction with a CS5.5 point release update. In the meantime, Adobe Labs has made some tools available now for writers to get started and create, preview and share their content in the new format. The tools include the Digital Content Bundler and Interactive Overlay Creator, plus the Digital Publishing Plug-in for InDesign, which allows InDesign to interface with and transfer information to the Digital Content Bundler.