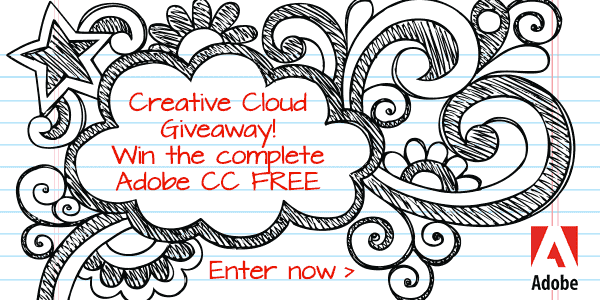 [UPDATE (Nov. 2016) – Watch 235 hours of new training & tutorials from MAX 2016!]
Just back from Adobe MAX 2013 and as in previous experiences, it's always the three most intense days of the year… It's wall-to-wall with larger-than-life presentations, keynotes with creative luminaries, diverse educational sessions, connecting with other leaders in the Adobe space, hands-on with the latest design tools, meeting the product teams, feeling the energy of the show floor, the buzz over "Sneak Peek" demos of cool new technology, and of course the fantastical MAX Bash party with 5,000 of your closest friends.
[UPDATE – Also see our new Adobe CC 2018 Giveaway!]
MAX 2013 – the big annual conference for all-things-Adobe – is coming up in just 3 months in Los Angeles, California… And continuing our long tradition of free Adobe giveaways, we've got one free and full conference pass (worth US$1,495) to give away, plus one $400-off ticket discount, both courtesy of our friends at Adobe Systems!
And great news: included together with that first prize pass — and in fact with all MAX 2013 full conference passes — is also an annual Creative Cloud membership for you (containing all fourteen CS6 Master Collection tools plus much more, and valued at $600) – or 12 months added to your account if you're already a Cloud member… You'll get immediate access to the latest products and exclusive features, plus an entire library of training videos. It's every­thing you need to create anything.
Install now: Get all new Adobe CC 2017 direct download links and free trials.
Adobe MAX 2013 will be chock full of expert keynotes and presentations, technical ses­sions and talks, surprise announcements and sneak peeks, evening events and get-togethers, and possibly some freebies. The show is an amazingly intense experience where they really take care of you from start to finish while you soak up all the growth and learning you can.
The big annual MAX conference for all-things-Adobe is traditionally held each fall. The company has just revealed the major story of the MAX 2012 show – and to our surprise it's… see you next year!
MAX was originally scheduled to be held from October 20-24 in Los Angeles, California. The venue will remain the same, but the date has now changed to May 2013:
The next Adobe MAX is May 4–8, 2013

A lot of exciting changes have happened at Adobe since last year's MAX. And one of the best places to learn about innovations in the industry and within Adobe will be at Adobe MAX 2013! The conference originally scheduled for October is now moving to May.

Be among the first to know about our plans for this must-attend conference for designers, developers, and business decision-makers:



Arguably the biggest announcement to come out of the annual Adobe MAX Conference last month was the unveiling of the Adobe Creative Cloud…
It was the major focus of the first day's keynote address, and then different components of it were covered in greater detail in a number of the later educational sessions.
What Is the Creative Cloud?
Adobe CTO Kevin Lynch describes it as an optional membership-based program formed of three pillars: Creative Services, Creative Community, and Creative Applications.
Last week Adobe revealed 11 sneak peek videos of technology they are working on but haven't released yet, and while Photoshop Image Deblurring and InDesign Liquid Layout got much of the attention, there were still some amazing developments in the video realm as well – and all three of those are covered below.
Naturally, Adobe says there are never any guarantees for what may or may not appear in a production release, or when… (maybe CS6?) But nevertheless, major new product features very often appear in these previews before they make the real tools (case in point, Content-Aware Fill).
[UPDATE (April 2013) – Confirmed: Image Deblurring is coming soon in Photoshop!]
Here is the latest news on Photoshop Image Deblurring: In response to some of your questions here at ProDesignTools, we contacted Adobe and requested they help "bring into focus" the new Deblur feature that could be in a future Photoshop. We got in touch with Dr. Jue Wang, Adobe senior research scientist, and as a direct result his team has provided more examples of the technology using notable photographs. Most of these are well-known from history or come from independent sources, and thus began with natural camera blur.
For those just joining us on the story, here's a quick review: Earlier this month we ran a feature article on this "sneak peek" of an amazing new capability revealed at Adobe MAX. Several blurry photographs were processed through a new Photoshop plug-in to give before-and-after results that wowed the crowd, even more than the other popular sneak demos at the show. [See the full video in HD]
Why did controversy later arise? For the last brief image of his demonstration, intending to be entertaining and relevant to the audience, Dr. Wang used a photo of Adobe CTO Kevin Lynch that had been synthetically blurred. Creation of synthetic inputs is common practice across the research in this field, but out of simplicity, Dr. Wang did not go into those origins at the time.
The original sharp version was found online, and even though the other images came from real-world blur due to camera shake, this opened the door for some to raise questions about the efficacy of the developing technology. After we contacted them, Adobe added an update to their Photoshop.com blog post explaining why synthetic blurring was used for that example, but some skepticism remained.
This very cool InDesign "sneak" comes fresh from the big Adobe MAX conference earlier this month… What's a sneak?
We've gone through the company and found the 11 coolest demos of technology that are at work within Adobe. These are things that are on the cutting edge of the technology. They may show up in a product, they may not. The demo may work, it may not. But this is your chance to get closer and really understand where we're going and what we're doing.
OK fair enough. Here's the set up:
"I want to show you some things we're thinking about on the InDesign Team. As you know, it's actually been about a year since we launched Digital Publishing Suite, and we've had fantastic traction in terms of getting great-looking content on tablet devices. So I have an iPad here and as you see I can turn it over and tilt it, let the accelerometer do its trick. We're actually seeing two different layouts here – two different layouts – which creates two different files. So designers actually have to create two separate InDesign files for this one device.
[UPDATE (April 2013) – Confirmed: Image Deblurring is coming soon in Photoshop!]
Can you imagine a new feature in Photoshop that could automatically deblur photographs to restore the originally-intended subject material to clarity and focus? Adobe can…
[UPDATE (Nov. 2016) – Watch 235 hours of new training & tutorials from MAX 2016!]
Just back from Adobe MAX 2011 and it was sensational… The keynote presentations were larger than life and filled with news and demos of new Adobe software and initiatives. The hundreds of diverse product sessions were incredibly educational. The show floor was a buzzing activity of experts, partners, and vendors… And the renowned "MAX Bash" party did not disappoint.
But perhaps the best part for those who weren't there is the majority of the sessions were captured on video and are now offered online for free… In other words, pick your favorite Adobe product(s) and you can learn the latest tips, tricks, and techniques from the top instructors in the field from the comfort of your desktop. There are three major tracks below (Design, Develop, and Envision) with scores of different topics; most sessions are about an hour long and the collection runs to over 160 hours of video in total.
[UPDATE (Nov. 2016) – Watch 235 hours of new training & tutorials from MAX 2016!]
Adobe MAX 2011 – the worldwide user conference – runs this week and if you aren't in Los Angeles, the two major keynotes will be broadcast free, with both live and on-demand streaming… The company is promising lots of big news and announcements, so if you can't join us there in person, you can see it all unfold online.
What's more, over 160 free hours of the best training and tutorial sessions from this year's show will also be available.
Adobe Dreamweaver tweets, "To hear BIG Adobe MAX announcements, register now to listen LIVE to the keynote presentations Monday & Tuesday morning…"
Adobe Creative Suite posts, "The countdown has officially begun for Adobe MAX! Even if you can't make it to the live event, you can still join in on the fun! To hear the BIG announcements we have planned, register now to listen LIVE to the MAX keynotes Monday & Tuesday morning."