With the continuing popularity of Adobe's Creative Cloud Photography Plan where anybody can get both Photoshop CC and Lightroom CC for just 10 bucks a month, we've had some readers asking us the best ways to learn these two top imaging tools…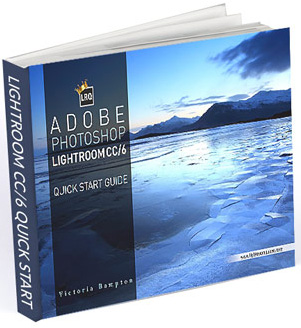 We always mention about the free video tutorials on Adobe TV, as well as the super­lative, compre­hensive courses offered on Lynda.com – but we can also recom­mend two new terrifi­cally helpful ebooks that you can work through step-by-step at your own pace. And fortu­nately, both books are completely free.
The first is the Adobe CC/CS6 Design Basics book that we've featured before on this site, which is 200+ pages taking you through the core essentials of Photoshop CC, Illustrator CC, and InDesign CC.
The second book is Victoria Bampton's excellent Lightroom Quick Start Guide, just out in a new 81-page edition which tells you every­thing you need to know to get going with Lightroom from the ground up.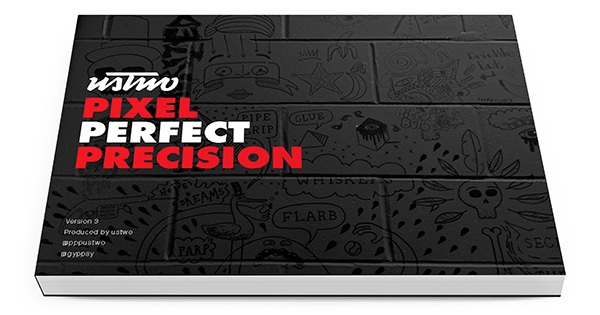 The newly-expanded 3rd edition of Pixel Perfect Precision for Photoshop is out – and it's better than ever plus still free – so if you don't have it yet, go grab it now…
This designer bible comes to us from respected Adobe partner ustwo, the digital design studio who just won a 2014 Apple Design Award for their gorgeous Escher-inspired app, Monument Valley.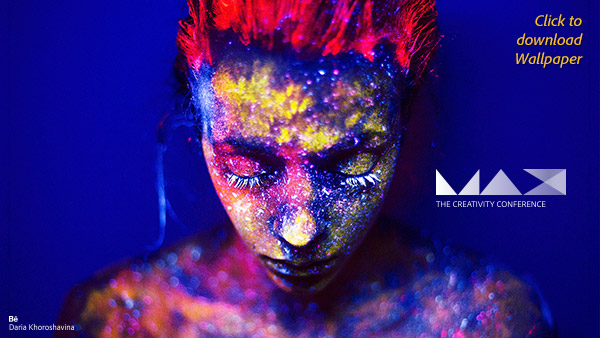 [UPDATE (Nov. 2016) – Watch 235 hours of new training & tutorials from MAX 2016!]
The Adobe MAX 2014 conference was held earlier this month, and as in previous experiences, it's always the three most intense days of the year…
It comes complete with major product announcements from the company, inspirational key­notes from creative wizards, scores of learn-till-you-drop training sessions, plentiful opportunities for networking with colleagues, checking out the latest cool technology on the pavilion floor, meeting the Adobe product teams in person, the great buzz over "Sneak Peek" demos of mind-blowing features under development, and of course the all-out MAX Bash party with 6,000 of your peers.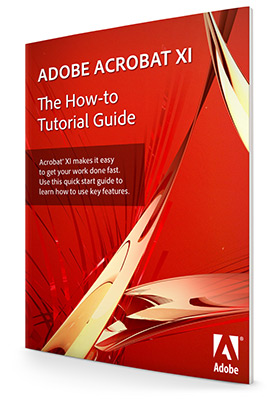 Next to Photoshop, Acrobat Pro & Standard is Adobe's top-selling product line of all time: it's offered standalone plus included in all the Creative Suites as well as the newer Creative Cloud – so clearly there are a lot of people using it worldwide. The two free books below will help you learn how to use it better and more effectively…
The first book is all about the Acrobat XI release, and the second is for the older Acrobat X from 2010. Both these guides contain dozens of helpful tutorials that will help you discover the advantages of using Acrobat and how to get the most out of it… Following the easy walkthroughs will quickly introduce you to new ways to save time and simplify complex projects.
Each chapter includes step-by-step instructions for performing common tasks efficiently. Keep a copy of either ebook access­ible on your computer as an easy–to–use resource for learning new techniques.
The new Creative Cloud (CC) 2014 is the most sophisticated and powerful toolset Adobe has ever released and recently readers have been asking for solid training materials to learn how to best use these applications…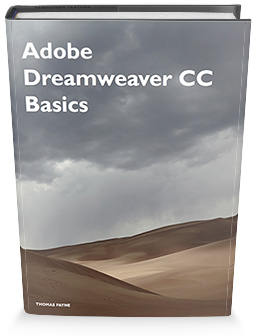 Last year we spread the word on over 30 hours of free video tutorials for CS6, and last month we published details on a fantastic new ebook for getting started learning the Adobe CC/CS6 Design Suite (202 pages). But if you're looking for a solid primer or helpful beginner's lessons for Adobe Dreamweaver, that's harder to find.
Fortunately there are two new books you can download that will teach you the essentials of Adobe Dreamweaver for free, thanks to the generosity of author Professor Thomas Payne… He writes:
"These tutorials are designed to get you through the basics of making web sites in Dreamweaver with the most flexibility and the least amount of work. Think of them as supplying you with a toolbox full of tools to start making good websites.
The 2015 edition of the Creative Cloud is the most powerful and versatile toolset Adobe has ever produced and we're seeing a lot of demand for good training resources to learn how to best use this fast-growing product…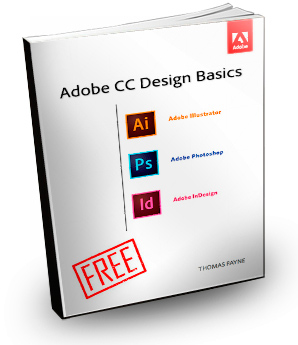 Last year we posted details on over 1,000 pages of free ebooks for CS6. But if you're just getting started with the core CC 2015 design tools, what's better than a step-by-step book that will teach you the essentials of Photoshop, Illustrator, and InDesign from the ground up?
Fortunately there's a very helpful new book you can download that will teach you all of this for free, courtesy of author Professor Thomas Payne… The way the book does this is by intro­ducing and explain­ing the tools in a logical way that builds upon what is previ­ously learned. These applica­tions present a vast array of buttons and gadgets that can be over­whelming to the new user. This book makes sense of it all, not showing how every­thing works, but instead giving a found­ation and a path to learn about all those controls and what they can do for you.
Adobe's finally done it. In case you haven't heard yet about the new Photoshop Playbook, you should.
After years of offering free video tutorials – and following on to Senior Product Manager Bryan O'Neil Hughes' success with his "Hidden Gems" series – Adobe has built a new collection of bite-sized lessons that cover exactly the kinds of things that many, many people want to (know how to) do with Photoshop.
[UPDATE (Nov. 2016) – Watch 235 hours of new training & tutorials from MAX 2016!]
Just back from Adobe MAX 2013 and as in previous experiences, it's always the three most intense days of the year… It's wall-to-wall with larger-than-life presentations, keynotes with creative luminaries, diverse educational sessions, connecting with other leaders in the Adobe space, hands-on with the latest design tools, meeting the product teams, feeling the energy of the show floor, the buzz over "Sneak Peek" demos of cool new technology, and of course the fantastical MAX Bash party with 5,000 of your closest friends.
Summer is coming and school will be out soon… But if you want to take the break as an oppor­tunity to learn new skills, did you know that Adobe offers free full-year curriculums on print, web, and video design? The three extensive, project-based courses are downloadable to anyone for building career and communica­tion expertise using industry-leading tools, although naturally you can go at your own speed. The programs include presentations, technical guides, project guidelines, reproducible student materials and select media assets, and each project builds on lessons learned previously. Time-saving new features in CS6 are high­lighted within the 2,400+ pages of total content.
Adobe collaborated with a community of educators across the US and UK to develop the appropriate depth and breadth of each project. Additionally, Adobe co-developed the classes with the International Society of Technology Education (ISTE) to create standards-aligned, career-track, course materials that focus on the major fields below. They are recommended for use when preparing for Adobe certification (Adobe Certified Associate, or ACA).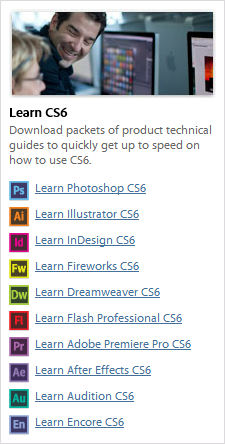 Creative Suite 6 and the Creative Cloud are the most powerful and sophisticated toolsets Adobe has ever released and so there is a lot of demand for training resources to learn how to best use these products…
Last month we posted details on over 30 hours of free video tutorials for CS6. But printed materials are also nice, to use side-by-side at your own pace. So how about a collection of free e-books to go along with those, which you can instantly download and learn from whenever you want?
There are 10 volumes of 169 chapters in total with over 1,000 pages for most CS6 products. Some tools receive more coverage than others, but the basics are reviewed for all. You can download in the ebooks in PDF format after signing in with your Adobe ID (which is easy to create if you don't already have one).
If you don't have the software yet, just download a free working trial for any CS6 product for Windows or Mac (or try the whole Creative Cloud) – then install, run, and start your training…
Here's how the files break out. Click on the title to download the e-book, or the trial to get the free product tryout. The book file sizes range from 4-10 MB each, so shouldn't take long to download. The contents of each volume are listed below the table: