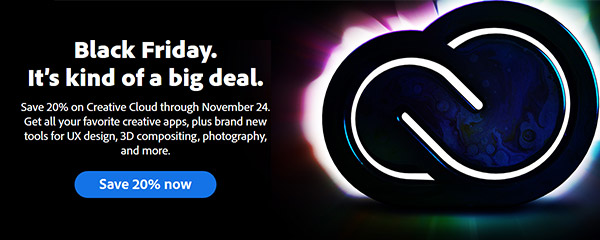 If you'd like to learn how to use Adobe's Creative Suite tools to easily and portably create websites and apps for tablets, smartphones, and mobile devices there's a new 2¼-hour course you'll be interested in…
Guru Paul Trani teaches an extensive free class with 18 video chapters that will take you step-by-step on how to create portable content that will run on both Apple iOS and Google Android devices with a wide variety of screen sizes using a single code base. Basic usage of HTML5 and CSS3 is covered, as well as how to bring in Adobe's recent additions PhoneGap (for building fast, cross-platform mobile applica­tions) and Typekit (for delivering custom web fonts).
The first half of the video series employs Adobe Dreamweaver CS5.5 to develop both websites and apps, with steps on how to convert a website into a portable mobile app. The tutorials then move on to using Flash-based tools (with Adobe AIR) to build multi-platform mobile apps. We already know that Flash Professional CS5 can be used to build apps for the iPad and iPhone, but this takes it a step further. The videos guide you all the way through to how to publish your app to your device and to the Android Market (which shows immediately) or to the Apple App Store.
[UPDATE (October 2012) – Looking for CS6 tutorials? Check out this Photoshop CS6 primer, or 1,000 pages of free CS6 ebooks, or 30 hours of free CS6 videos.]
Adobe Photoshop is a sophisticated tool with a 21-year history and a seemingly-endless array of powerful capabilities. And after spending $549 for the product with discounts (or $199 for students), who wants to pay a lot more to learn how to use it all?
Fortunately there are a number of avenues to get great training and tutorials for free. The first stop is Adobe TV, which has nearly four hours and 37 chapters of 100% free tutorials for Photoshop CS5 alone. There is also a wealth of content for prior versions like Photoshop CS3 and CS4. It's a good place to get started and orient yourself with the major functions, and all of it is gratis.
For learning how to use the best new features added in Photoshop CS5, take a look at our collection of articles with tours of:
We also have a regular page here on the site with a rotating selection of tuts for all versions of Photoshop, stepping through various tips and tricks. And for a terrific set of little-known but very handy techniques, check out Adobe's Photoshop "Hidden Gems" series with Product Manager Bryan O'Neil Hughes.
Knowing how to make a good mask is one of the most important things you can learn to do in Photoshop. With accurate masks you can completely control the placement and movement of all the elements of your image. The techniques shared in these videos will help you get the most out of the new masking capabilities in Photoshop CS5… And when you combine them with the new content-aware fill feature to magically fill backgrounds of moved or deleted objects, well then you've really got something.
The first video is a two-part playlist, New Masking Basics: Get up-to-speed with the great new masking tools and techniques in Photoshop CS5, to quickly and easily create professional quality masks, including a photograph with challenging hair.
The second video, to the right, also plays in two parts – New Advanced Masking: Learn some of Photoshop guru Russell Brown's favorite methods for masking out the background from a really difficult image.
The third and final video is Advanced Motion Blur Masking and Blending: This tutorial will get you through the toughest motion blur with flying colors… Also learn some advanced blending tips and techniques.
[UPDATE – Elements 11 is out! Get free tutorials for the new version.]
We've previously covered 17+ hours of free video tutorials for Creative Suite 5, plus three hours for Lightroom 3 – so here are some brand new training resources for the just-released Adobe Photoshop Elements 10… Most of these tutorials also apply to Photoshop Elements 9, which shares the same interface but just doesn't have as many features.
In these three courses the experts share how to get started, the basics of the software, new features, how to use key tools and functions, plus their favorite tips and techniques. In sum, there is over four hours of free content, with 46 separate chapters.
[ Bonus! Here also are 70 minutes of free tutorials for Premiere Elements 10 for taking care of your video. ]
If you need a copy of Photoshop or Premiere Elements 10 to get going right away, just download the free trial and it will work fully for 30 calendar days, which should be plenty of time to get through the classes.
If you prefer learning in written form, we've got the Adobe Photoshop Elements Guide – a free 95-page e-book you can download as well.
Last week Adobe revealed 11 sneak peek videos of technology they are working on but haven't released yet, and while Photoshop Image Deblurring and InDesign Liquid Layout got much of the attention, there were still some amazing developments in the video realm as well – and all three of those are covered below.
Naturally, Adobe says there are never any guarantees for what may or may not appear in a production release, or when… (maybe CS6?) But nevertheless, major new product features very often appear in these previews before they make the real tools (case in point, Content-Aware Fill).
[UPDATE (April 2013) – Confirmed: Image Deblurring is coming soon in Photoshop!]
Here is the latest news on Photoshop Image Deblurring: In response to some of your questions here at ProDesignTools, we contacted Adobe and requested they help "bring into focus" the new Deblur feature that could be in a future Photoshop. We got in touch with Dr. Jue Wang, Adobe senior research scientist, and as a direct result his team has provided more examples of the technology using notable photographs. Most of these are well-known from history or come from independent sources, and thus began with natural camera blur.
For those just joining us on the story, here's a quick review: Earlier this month we ran a feature article on this "sneak peek" of an amazing new capability revealed at Adobe MAX. Several blurry photographs were processed through a new Photoshop plug-in to give before-and-after results that wowed the crowd, even more than the other popular sneak demos at the show. [See the full video in HD]
Why did controversy later arise? For the last brief image of his demonstration, intending to be entertaining and relevant to the audience, Dr. Wang used a photo of Adobe CTO Kevin Lynch that had been synthetically blurred. Creation of synthetic inputs is common practice across the research in this field, but out of simplicity, Dr. Wang did not go into those origins at the time.
The original sharp version was found online, and even though the other images came from real-world blur due to camera shake, this opened the door for some to raise questions about the efficacy of the developing technology. After we contacted them, Adobe added an update to their Photoshop.com blog post explaining why synthetic blurring was used for that example, but some skepticism remained.
This very cool InDesign "sneak" comes fresh from the big Adobe MAX conference earlier this month… What's a sneak?
We've gone through the company and found the 11 coolest demos of technology that are at work within Adobe. These are things that are on the cutting edge of the technology. They may show up in a product, they may not. The demo may work, it may not. But this is your chance to get closer and really understand where we're going and what we're doing.
OK fair enough. Here's the set up:
"I want to show you some things we're thinking about on the InDesign Team. As you know, it's actually been about a year since we launched Digital Publishing Suite, and we've had fantastic traction in terms of getting great-looking content on tablet devices. So I have an iPad here and as you see I can turn it over and tilt it, let the accelerometer do its trick. We're actually seeing two different layouts here – two different layouts – which creates two different files. So designers actually have to create two separate InDesign files for this one device.
[UPDATE (April 2013) – Confirmed: Image Deblurring is coming soon in Photoshop!]
Can you imagine a new feature in Photoshop that could automatically deblur photographs to restore the originally-intended subject material to clarity and focus? Adobe can…
Similar to how they did before the launch of CS5, Adobe has been quietly slipping out a bevy of "sneaks" (now numbering 16 videos) for new features that may be in a forthcoming release of the Creative Suite…
"Check out what new technologies, features and innovations the Adobe product teams are working on behind the scenes. Stay tuned to get an early glimpse of what could be next from Adobe."
The products covered include: InDesign, Dreamweaver, After Effects, Premiere Pro, Audition, Adobe Story, Media Encoder, Flex, Flash Pro, Flash Builder and Flash Catalyst.
Given the recent news of a "mid-cycle release to CS5" (e.g., CS5.5), and a forecast for when CS6 could be out, one question might be in which future version might we see these new capabilities?
Well, Adobe tips their hand once again – because at the end of a couple of these videos they flash the graphic, "CS5 is Evolving: April 11th, 2011″……
Which says to us, you might expect some of these features soon, in fact you might expect more about them next week!
The company has scheduled a special session with Creative Suite Evangelists on Monday, and is tweeting: "CS5 is getting even better. Stay tuned to #Adobe.com on 4/11, and join this Q&A"
If you're interested in learning about the best web and interaction design techniques, there's a free new 2½-hour course you'll find worthwhile…
It's the third installment in the excellent Classroom series, which features free expert training in well-designed sessions with high-quality production values. Previous classes have been an in-depth Dreamweaver CS5 tutorial and a terrific After Effects CS5 tutorial.
This latest presentation details how to design your interfaces in the most effective way with the behavior of the user in mind. Some of the topics include crafting effective navigational systems, creating a liquid layout, how to best deliver images and media, designing forms and dialogs to smoothly guide users through a positive user experience, and more. The best practices covered here will help you make better design decisions in your work going forward.