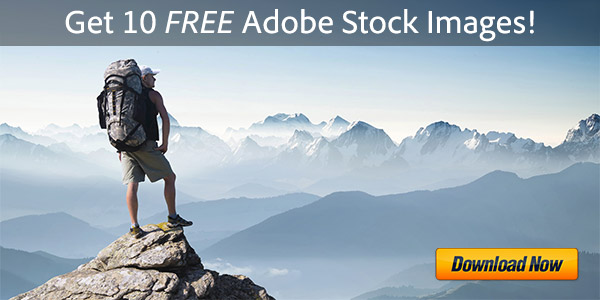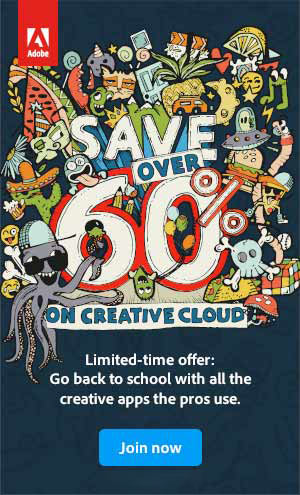 Here we are, it's that time of year again – it's back to school, and the sales that often come with it… So for a limited time, Adobe is offering a special deal for students and teachers. In addition to the regular education discount of 60+% off of the standard price for an annual CC membership, you can now also get two months free when you prepay for your first year of Creative Cloud.
And you get the complete Creative Cloud – the latest CC 2019 desktop releases of all of the tools and services contained in the collec­tion, including Photoshop CC, Illustrator CC, InDesign CC, Lightroom CC, Dream­weaver CC, Premiere Pro CC, After Effects CC, Audi­tion CC, Acrobat DC, and more. These CC 2019 versions contain thousands of new features and improve­ments compared to 2012's CS6.
This back-to-school offer is available in North America and South America until August 30th. In the UK, Europe, and Australia/NZ, the current special gives the low prices £16.24, 19,34€, and A$21.99 per month. The extra bonus means the savings in some countries exceeds 70% off the normal price in the first year… Read more…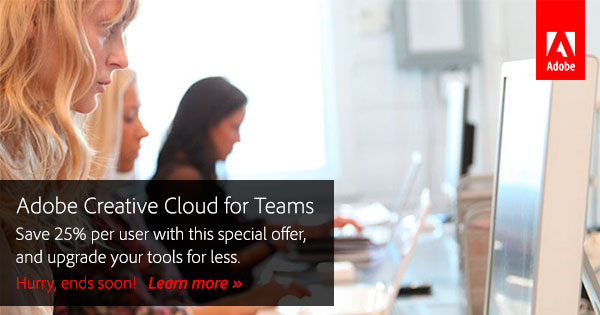 Adobe is running a special (and rare) Creative Cloud promotion… For a limited time, you can save US$20/month – a reduction of 25% – on Creative Cloud for Teams for your first year. That comes out to under $60 a month ($80/user/month regular price) for the entire CC collection of tools and services ("All Apps"), including thousands of new features and performance improvements, as well as ongoing product updates!
The 25% discount also applies to the Creative Cloud for Teams "Single App" plans for just $25/user/month per app ($34/user/month standard price). This promotion is available in the United States, Canada excluding Quebec, and Mexico… The lower pricing will be activated by this link – but hurry, this coupon offer ends August 16th, 2019: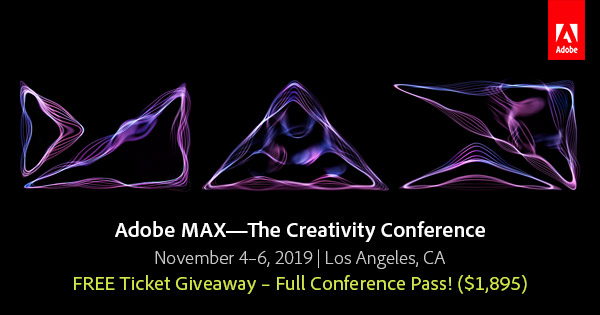 MAX 2019 – the big annual conference intersecting creativity and Adobe technology – is happening this fall in Los Angeles, California… And continuing our longtime custom of free Adobe giveaways, we've got one free regular full conference pass (worth US$1,895) to give away, courtesy of our friends at Adobe Systems! Plus, an exclusive US$400-off MAX ticket discount code that's usable for everyone… (details below)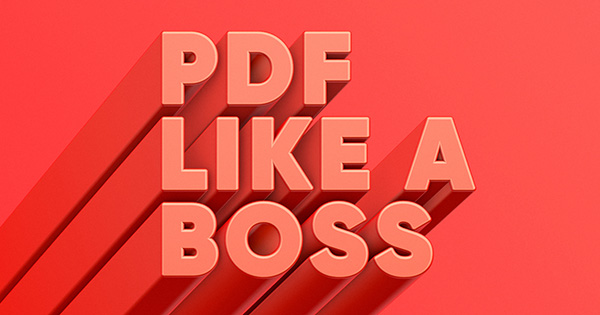 Next to Photoshop, Acrobat Pro & Standard is Adobe's top-selling product line of all time. Acrobat DC is offered via standalone subscription ("Single-App"), as well as included in the Creative Cloud ("All Apps") – so there are many millions of customers using it worldwide, with a broad audience for training materials on how to get going with this essential software.
Fortunately, there are some great tutorials out there. Below, you will find a free two-hour instructional video series that will help you learn how to use Acrobat DC better and more effectively. This training session covers all the basics, and demonstrates how you can achieve immediate and powerful results with the tools. Read more…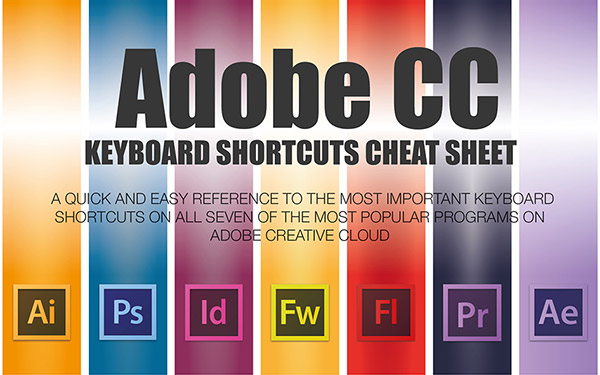 Here's a very handy resource from Jamie Spencer – the complete set of essential keyboard shortcut cheat sheets for every major Adobe CC application… These comprehensive sheets can save you loads of time every day by speeding up your work and allowing you to bypass the need for mouse clicks and movements, getting you to the function you need in the fastest possible way. They are extremely helpful assets to have in your arsenal – and can easily be consulted anytime as an instant reference, or printed out in high resolution and posted, or even used as desktop wall­paper. They are completely free and available for download here: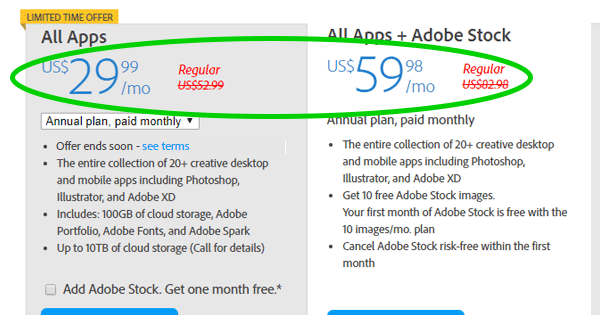 Something very rare is going on this week, and we thought you should know about it. For one of the first times ever outside of the traditional Black Friday / Cyber Monday sale period, Adobe is currently offering a large discount on Creative Cloud to the general public…
For a limited time (until Friday, July 19th), first-time subscribers to the Creative Cloud 'All Apps' plan can score a 40%-45% discount off the regular prices for your first year. This promotion beats the all-time lowest prices ever offered on these popular products.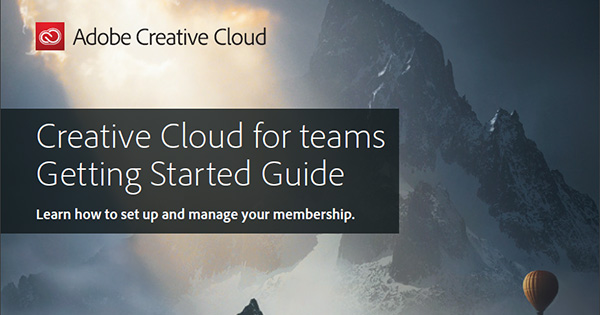 If you've already purchased or are considering buying Adobe's Creative Cloud for Teams, then the free downloadable PDF guide (plus videos) below will help you learn how to best use the group and licensing management tools that come with this plan.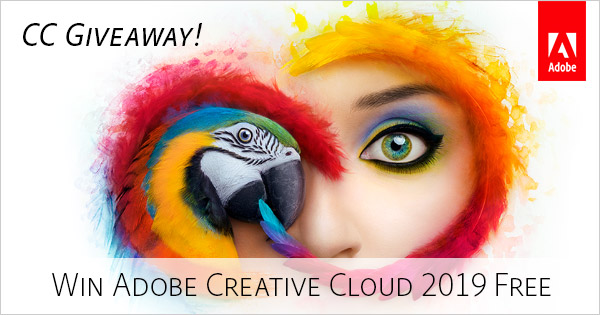 [UPDATE – Also see our new MAX 2019 Ticket Giveaway!]
Last fall, Adobe launched the all-new CC 2019 product line, a major milestone of creative tools and services marking the seventh major release of the CC product line. This latest version contains thousands of new features and advancements since Creative Suite in 2012, and this product is available only via Creative Cloud membership – a community which now surpasses 15 million paid subscribers.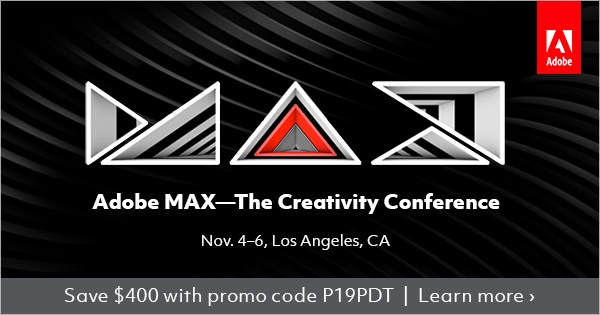 "Adobe MAX is an experience unlike any other — an opportunity to learn from the experts and connect with thousands of the most influential designers, developers, and decision-makers in our industry."
If you'd like to go to Adobe MAX this year in Los Angeles (November 4-6) and save US$400-$500 in the process, then you came to the right place… You can get an instant discount of $400 simply by using our exclusive ProDesignTools promotion code here: P19PDT. This coupon code is valid worldwide.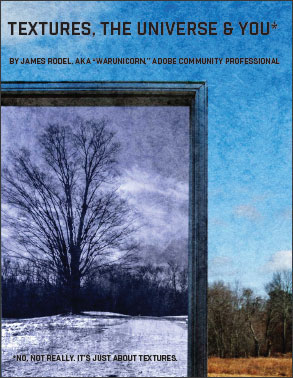 We've got another great resource for you – a freely-available collection of custom Photoshop textures to help set your work apart… This exclusive set of 29 different handcrafted textures has been released by War Unicorn Media at no cost and is 100% royalty-free. This collection comes complete with an 18-page guide (available online or as a download­able PDF), filled with tips and tricks on how to best use textures in your Photoshop workflow, as well as how to create your own!
Textures are super-easy to apply and use in Photoshop. Just load the texture into a new layer above your composition, and then set its Blending Mode and Opacity for how you want it to impact the photograph or image underneath. More details and ideas are given in the short tutorial video included below.
Here is James Rodel's introduction from the accompanying guide, which is packed with examples and entitled, "Textures, the Universe, and You":