[UPDATE (April 2013) – Confirmed: Image Deblurring is coming soon in Photoshop!]
Can you imagine a new feature in Photoshop that could automatically deblur photographs to restore the originally-intended subject material to clarity and focus? Adobe can…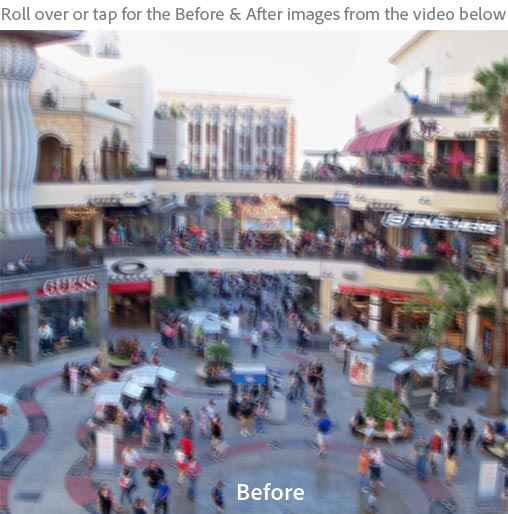 This demonstration comes from last week's Adobe MAX conference in Los Angeles, where the last major session showcases "sneaks" of what Adobe is working on but hasn't revealed yet. There are no guarantees for what may or may not appear in a production release, or when. But, could this appear in a future version like Photoshop CS6? Well, watch this video and make up your own mind:
Adobe Photo Deblur: How Does It Work?
From the video you see the key element in the unblurring feature is the program's intensive computation of a "blur kernel" (or point spread function), a unique signature which describes the motion trajectory of the camera while the shutter was open during the creation of the flawed image… Then, once this path is determined, further computation applies it to the blurry picture to reverse and work back to what the photograph should have looked like originally – in other words, to remove the blur and restore a sharp image.
For the clearest example, check this high-resolution before-and-after still photo comparison. Or see brand new amazing photos of this capability that have been released since the show.
Watching it in action is pretty amazing – unreal even – as heard in the gasps and incredulity of the audience, which at this venue is a pretty sophisticated crowd. The show's emcee calls it, "mind-blowing, cool Photoshop magic." And though this plug-in can't correct a picture that's just plain out of focus, with the rise of cellphone cameras everywhere and the iPhone now being the #1 camera on Flickr, the ability to fix camera shake and repair blurry or smeared images could be a very big deal.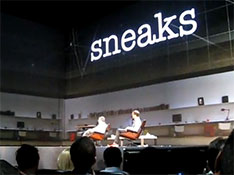 So, back to the previous question – could this new feature be coming in Photoshop CS6? Well, Creative Suite 6 (or whatever CS "Next" is called) could be about six months away or so – and picking up some of the cues from Adobe presenter Jue Wang, it's unclear… He says in various spots, "we have been working on this problem for a while and have built a prototype to solve it," and, "you can see there are a lot of controls here because it's still an early prototype," so it's hard to say how close something like this might actually be.
What do you think?
Let us know in the comments below.
[UPDATE (October 2012) – Don't miss Adobe's latest news on the Photo Deblurring feature!]
See the best from Adobe MAX 2011 – including the keynote presentations plus over 160 hours of free tutorials and training sessions from the experts, on a wide range of topics covering all major Adobe products. And we'll have more MAX sneaks here for other Adobe products in the coming weeks… For instance, here are new sneaks for InDesign Liquid Layout and Premiere Pro Syncing.
Check out more Adobe Photoshop (CS5) magic with advanced demos and techniques for the new Content-Aware Fill feature as well as Puppet Warp.
[NEWS (October 16th) — Adobe has just now provided much more information and background on this unblur capability, including additional before-and-after photos, on their Photoshop blog. Plus, you can now watch the complete collection of all sneaks from MAX!]
To follow this story going forward, subscribe to our RSS feed or like us on Facebook or Twitter… You can also enter your email and have new articles sent directly to your Inbox. We are reader-supported; when you buy through links on our site, we may earn an affiliate commission.