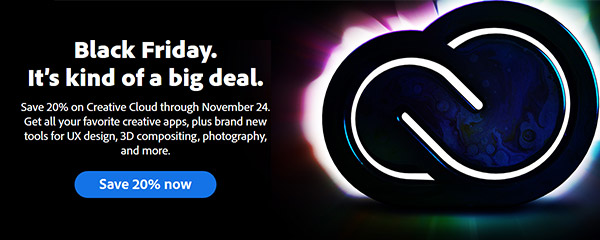 [UPDATE (Nov. 2017) – Check out Adobe's new 2017 Black Friday Deals!]
Adobe has got a huge raft of amazing money-saving deals lined up for Black Friday 2010 and Cyber Monday this year, and we've got the full scoop… There are more than 20 offers on tap in multiple countries covering all products – including saving up to $200 on Photoshop, $100 on Lightroom, 15% on CS5 suites, $50 on Elements or Acrobat, free shipping, and much more. The specials kick off on Monday, November 22, with most running through Tuesday, November 30. Note that you do need to use individual coupon codes (given below) for almost all of them.
All the holiday promos and some of their graphics are detailed below. So if you've been waiting for a great sale to make a step, now could be your time… And in a year where we've seen brand new releases of Creative Suite 5, Lightroom 3, Elements 9, Captivate 5, and Acrobat X (now shipping), it could be a pretty good time.
[UPDATE (Nov. 2017) – Check out Adobe's new 2017 Black Friday Deals!]
Adobe has just put out some great new deals for the big shopping week… Please note these offers are only for orders direct from Adobe.com (see links below) and most require a coupon code…
All the promos and their codes are listed here for easy reference:
These specials are good for seven days only, until Cyber Monday, November 30th.
And if you prefer to try before buying, you can immediately download any Adobe application you like as a fully-functional 30-day free trial, then later activate it within the period for the discount.
For Black Friday Deals on anything else, well there's always Amazon!