Even years after it went up, a lot of people still don't know about it.
We're talking about the free online documentation for all Adobe software – the official set of user manuals that can answer quite a few customer questions, and also be a great resource if you don't use a product yet but want to find out more about it…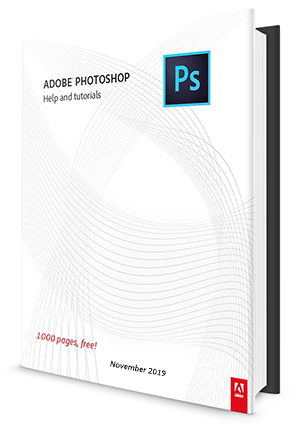 This exists in searchable and downloadable form for all major Adobe applications, including the Creative Cloud, Creative Suite, Lightroom, Acrobat, Photoshop Elements, etc. – for all recent releases on both Windows and macOS.
For example, every so often we receive a question on how to save back to earlier versions from Adobe InDesign… Fortunately, this is answered in the "Saving Documents" section in InDesign's online manual. (And for all the cases like these, we also put together a special roadmap for CC file compatibility.)
Free Stock! Download 1,000,000+ premium assets from the new Adobe Stock Free Collection
Each Adobe reference below can be downloaded as a complete offline ebook if you want (more about this below)… These books are substantial – the latest "Photoshop Help & Tutorials" hand­book is over 1,000 pages alone, and collectively the entire set of manuals for all Creative Cloud 2020 apps totals 7,000+ pages!
So here below are the direct links to all the PDF guides to bookmark for your future reference:
We're long past the point of printed books or manuals in a box – it's all live and living online, updated regularly by the Adobe documentation team…
Important! If you're going to be offline for a while or just prefer to read it all in an ebook format, there are full PDF versions available for download for each application – just grab that and poof, you have a full up-to-date manual in digital book form, for free. This is great for sending to a Kindle, or for reading on an iPad where it can be opened and stored in iBooks.
To download any of these software user manuals in PDF form:
For Creative Cloud/Suite pages above – just click on "PDF manuals" or "Previous versions."
For all other tools above – look for the "Help PDFs" near the top or left side of the screen.
If for some reason you don't find your answer there, it's an easy jump over to Adobe's User-to-User Forums or Customer Support.
And to continue learning, don't miss dozens more free books for many Adobe products, covering recent versions of all major applications.
See Also

Do you have any questions about these manuals? Just ask them below and we'll get you answers fast!
Keep up with the latest on Adobe software — follow us on Facebook or Twitter, or subscribe to our RSS feed… You can also enter your email and have new articles sent directly to your Inbox. We are reader-supported; when you buy through links on our site, we may earn an affiliate commission.