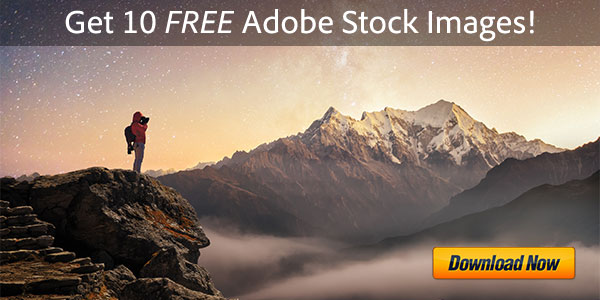 [IMPORTANT NOTE – Adobe stopped selling CS6 entirely several years ago – here's why… So the CS products are not being made by the company, nor legitimately for sale through any channel in any country, from any vendor or reseller.]
Some folks think it might be a good idea to try to save a few bucks and buy Adobe software off of eBay, Craigslist, Amazon Marketplace, or from any vendor or seller who is unfamiliar. It could be Creative Cloud, CS6, Photoshop, Lightroom, Acrobat, Elements, or any other title – in a retail, student, full or upgrade version… or sometimes it's the "OEM" scam, or the plausible-sounding "extra" volume/enterprise license swindle, or an illegal black or "gray market" import.
But it's actually not a very good idea at all. Why?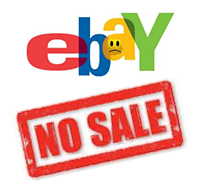 The first problem is that Adobe does not recognize these venues as valid or authorized resellers, they are fully disregarded and invalid. So as a result, Adobe will not officially recognize any of those buyers as actually owning their software. Yes, you read that right.
Meaning, you think you own the genuine article but effectively you don't. You cannot provide an accepted proof of purchase – so you can't formally prove you own the products. You may not be able to transfer the software to someone else, nor be able to get product support or upgrade to the next version, etc… You also aren't able to return the software to get your money back from Adobe like you normally can.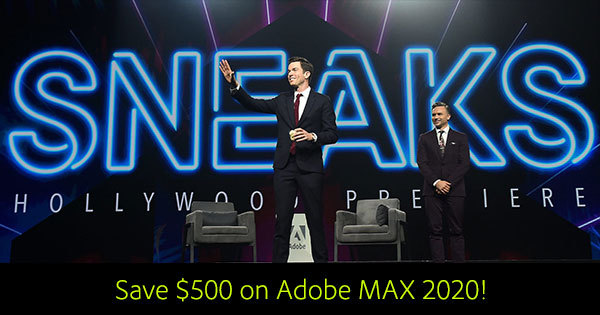 Adobe MAX—The Creativity Conference is lined up for October 19–21 back in Los Angeles, Cali­for­nia – and planning is already underway to make the 2020 MAX experience better than ever: "Join over 15,000 like-minded creatives from around the world for a week of sessions, labs, speakers, events, inspiration and fun — everything you need to keep you creative for the rest of the year. Can't wait to see what we come up with in LA for 2020!"
Adobe has also quietly launched a free MAX 2020 pre-registration portal where you can quickly guarantee a US$500 discount off the regular price if you decide to go.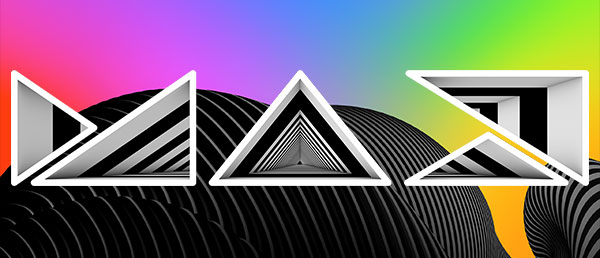 Just back from Adobe MAX 2019 and as in previous experiences, it's always the three most intense days of the year… It's wall-to-wall with larger-than-life presentations, keynotes with creative luminaries, diverse educational sessions, connecting with other leaders in the Adobe space, hands-on with the latest design tools, meeting the product teams, feeling the energy of the Pavilion floor, the buzz over mind-blowing "Sneak Peek" demos of cool new technology, and of course the fantastical MAX Bash party with 15,000 of your closest friends.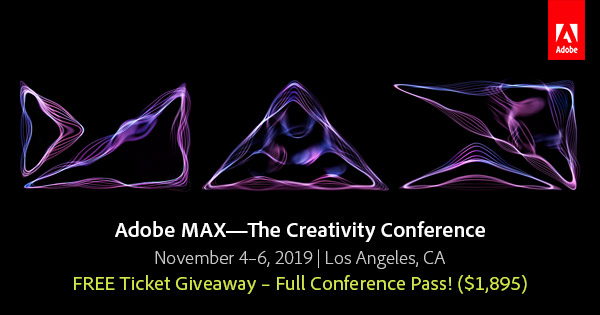 [UPDATE – Also see our Winter Creative Cloud 2020 Giveaway!]
MAX 2019 – the big annual conference intersecting creativity and Adobe technology – is happening this fall in Los Angeles, California… And continuing our longtime custom of free Adobe giveaways, we've got one free regular full conference pass (worth US$1,895) to give away, courtesy of our friends at Adobe Systems! Plus, an exclusive US$400-off MAX ticket discount code that's usable for everyone… (details below)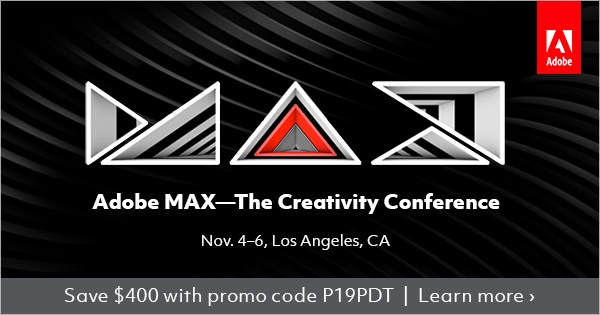 [UPDATE – See all of Adobe's current deals & discounts!]
"Adobe MAX is an experience unlike any other — an opportunity to learn from the experts and connect with thousands of the most influential designers, developers, and decision-makers in our industry."
If you'd like to go to Adobe MAX this year in Los Angeles (November 4-6) and save US$400-$500 in the process, then you came to the right place… You can get an instant discount of $400 simply by using our exclusive ProDesignTools promotion code here: P19PDT. This coupon code is valid worldwide.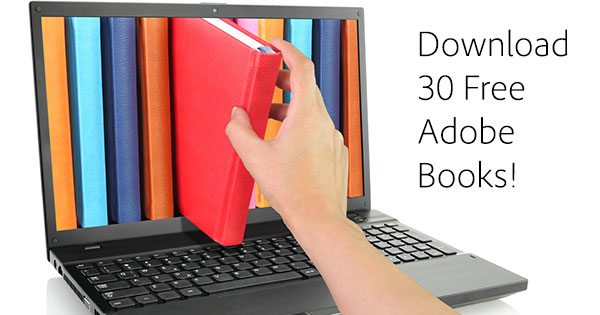 Next to our Adobe software direct download links, easily the most popular resource here at ProDesignTools is the set of free Adobe books that we've put together over the years…
So we're pleased to announce that, with the recent addition of the Adobe Illustrator New Features Guide, this no-cost collection has now grown to more than 30 different titles that you can legally download and use royalty-free, forever. These eBooks comprise thousands of pages covering the CC and CS releases of all major Adobe products. So before you go and spend money for a book, you might want to check these out first!
'Tis the season for holiday deals, but it can also be the season for order changes or returns… Although naturally, this can happen at any time of year.
Sometimes even despite using Adobe's free trial downloads to try out the software before buying, customers may want to exchange something and get a different Adobe product instead – say swapping Lightroom 6 for the CC Photography bundle, or returning an individual CC tool and getting the full CC 2020 suite instead (which includes 21 applications instead of one).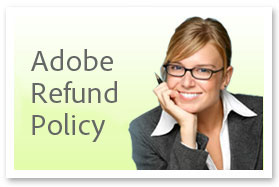 So did you know that Adobe offers a full money-back guarantee on almost all current products? This includes Creative Cloud (CC), Acrobat, Lightroom, Captivate, Photoshop Elements, and so on. This offer applies even after you've already downloaded and installed the product on your computer(s) – however, only software purchased directly from Adobe.com worldwide can take advantage of this refund policy (not resellers, retailers, or auction sites).
Yes, it's true – you can simply contact Adobe within 14 days of your order for subscription products, or 30 days of your order for non-subscription products – via live online chat is usually fast and convenient. Then, provided you follow the correct procedure, they will take it back (after being uninstalled and deactivated from your computers, if applicable) and issue you a complete refund.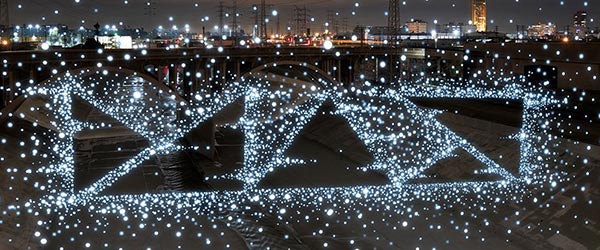 [UPDATE (Nov. 2019) – Watch 120 hours of new training & tutorials from MAX 2019!]
Did you make it to MAX this year? Adobe's Creativity Conference once again broke records with 14,000 attendees coming together in Los Angeles last week, a full doubling from 7,000 only 3 years ago… In fact, it was the largest gathering of talented creative professionals that there has ever been in one room, anytime in history!
Those who were there enjoyed major new product launches, inspirational key­notes from creative luminaries, hundreds of enriching training sessions, countless opportunities for networking with colleagues, access to the latest cool technology on the Pavilion floor, meeting the Adobe product teams in person, and the always-mind-blowing "Sneak Peek" demos of amazing new features under development.
Even years after it went up, a lot of people still don't know about it.
We're talking about the free online documentation for all Adobe software – a set of user manuals that can answer quite a few customer questions, and also be a great resource if you don't use a product yet but want to find out more about it…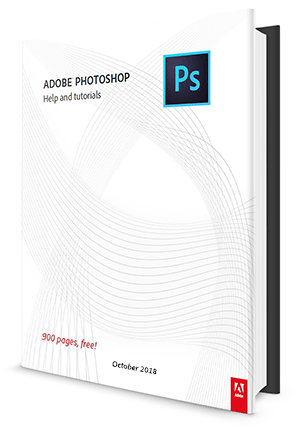 This exists in searchable and downloadable form for all major Adobe applications, including the Creative Cloud, Creative Suite, Lightroom, Acrobat, Photoshop Elements, etc. – for all recent releases on both Windows and macOS.
For example, every so often we receive a question on how to save back to earlier versions from InDesign CC or CS6… Fortunately, this is answered in the "Saving Documents" section in InDesign's online manual. (And for all the cases like these, we also put together a special roadmap for CC file compatibility.)
Related: Do you believe any of these? The 10 Most Common Myths About Creative Cloud
Each Adobe reference below can be downloaded as a complete offline ebook if you want (more about this below)… These books are substantial – the latest "Photoshop Help & Tutorials" hand­book is almost 1,000 pages alone!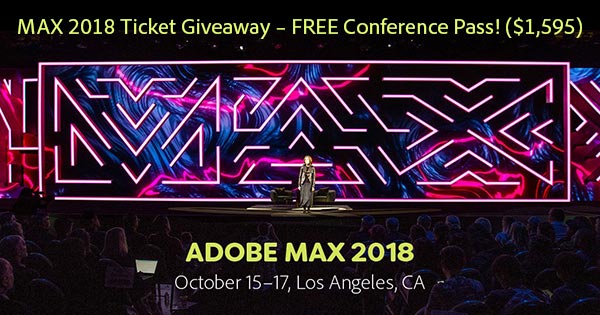 [UPDATE – Also see our Winter Creative Cloud 2020 Giveaway!]
MAX 2018 – the big annual conference intersecting creativity and Adobe technology – is returning this fall to Los Angeles, California… And continuing our long tradition of free Adobe giveaways, we've got one free regular full conference pass (worth US$1,595) to give away, courtesy of our friends at Adobe Systems! Plus, an exclusive US$400-off MAX ticket discount code that's available to everyone… (details below)