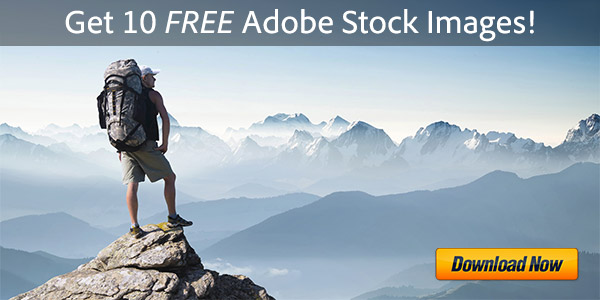 Save US$400-$500 on Adobe MAX 2018 with Our New Coupon Code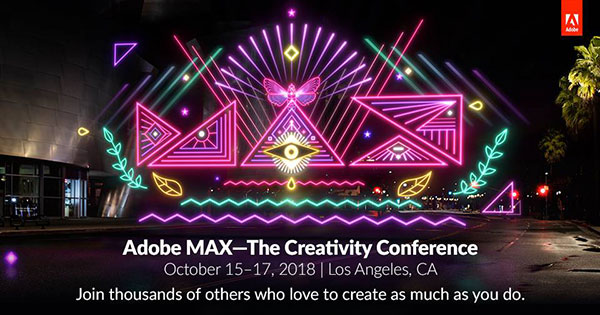 "Adobe MAX is an experience unlike any other — an opportunity to learn from the experts and connect with thousands of the most influential designers, developers, and decision-makers in our industry."
If you'd like to go to Adobe MAX this year in Los Angeles (October 15-17) and save US$400-$500 in the process, then you came to the right place… You can get an instant discount of $400 simply by using our exclusive ProDesignTools promotion code here: M18PDT. This coupon code is valid worldwide.
The best deal available on Adobe's Special Offers page is for a US$300 Early Bird discount on your regular (three-day) show ticket:
Come to MAX and join thousands of others who love to create as much as you do — and save $300 on a full conference pass with Early Bird pricing through July 30th, 2018.
So you'll save an extra $100 by using our special promotion code M18PDT instead.
However, if your primary residence is outside of Canada and the United States, then you can get an even bigger discount: you'll save $500 simply by registering through the MAX International portal… Just make sure to use the international voucher code given there, and you'll get $500 off.
To activate all Adobe MAX coupons mentioned above, you must enter a promotion code to apply the discount. Only one promotion discount can be applied per attendee registration. All discounts are applied to the full conference price of US$1,595:
See you in L.A.!
---
The world's premiere creativity conference, MAX is an awe-inspiring mashup of 12,000 of the world's top creatives and best in the business experts who come together to learn, share, create, connect and play. MAX offers over 300 sessions, labs and creativity workshops taught by industry leaders. It's the perfect blend of information, inspiration, practical knowledge and creative magic.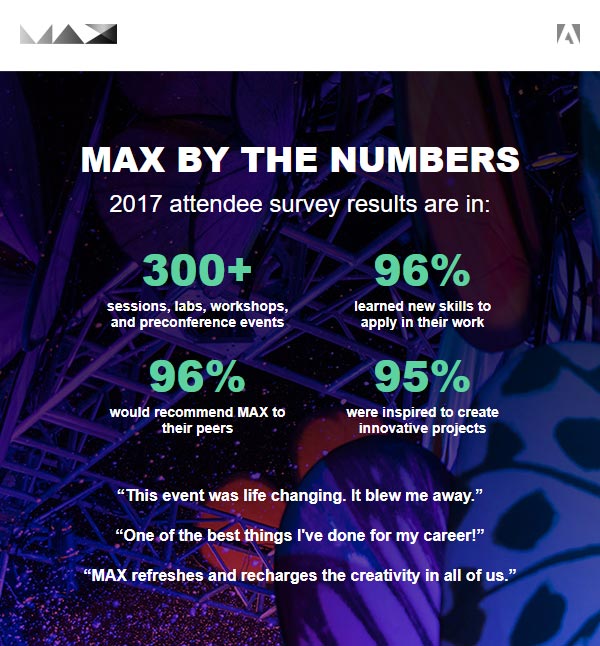 See Also

Share This
GET FREE ADOBE BOOKS
Sign up for our popular newsletter and we'll send you 30 great ebooks to learn all major Adobe tools at no cost!