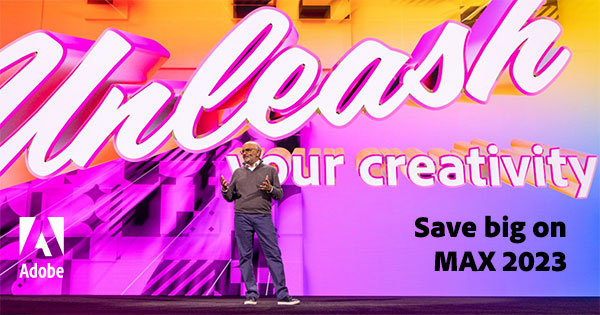 "Adobe MAX is an experience unlike any other — an opportunity to learn from the experts and connect with thousands of the most influential designers, developers, and decision-makers in our industry."
If you'd like to go to Adobe MAX this year in Los Angeles (October 10–12) and save US$400-$1,500 in the process, then you came to the right place… You can get an instant discount of at least $400 simply by using one of the promotion codes here. These coupons are valid worldwide.
If you'd rather attend the virtual MAX 2023 conference from the comfort of your own home or office, then simply sign up to attend online here… Free online registration includes two days (October 10 and 11) of live and on-demand Keynotes, Sneak Peeks, and Luminary sessions, plus more than 50 streaming courses with informative and inspiring content for all creatives. View the MAX Online page for more details:
For attending in person, the best deal available to everyone on Adobe's Special Offers page is for a US$400 Early Bird discount on your regular (three-day) show ticket:
Come to MAX and join thousands of others who love to create as much as you do — and save $400 on a full conference pass with Early Bird pricing through July 15th, 2023.
However, if you work for the Government, a Non-Profit, or in Education, then you can get an even bigger discount: you'll save $600 using one of the voucher codes here.
Qualifying students get the best deal of all – saving over $1,500 and paying just $299 for a full conference pass! Use coupon code M23STU.
To activate all Adobe MAX coupons mentioned above, you must enter a promotion code to apply the discount. Only one promotion discount can be applied per attendee registration. All applicable discounts are applied to the full conference pass price of US$1,895:
See you there!
---
The world's premiere creativity conference, MAX is an awe-inspiring mashup of thousands of the world's top creatives and best in the business experts who come together to learn, share, create, connect and play. MAX offers over 200 sessions, labs and creativity workshops taught by industry leaders. It's the perfect blend of information, inspiration, practical knowledge and creative magic.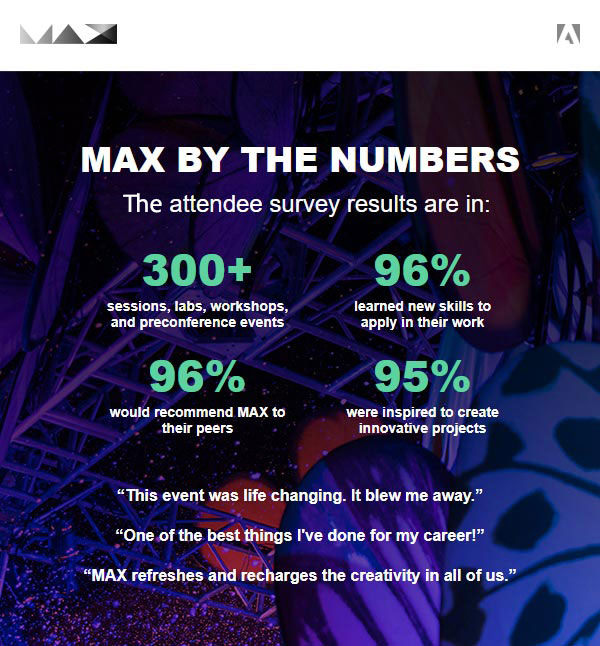 Watch the MAX 2022 Highlights
See Also

Keep up with the latest on Adobe software — follow us on Facebook or Twitter, or subscribe to our RSS feed… You can also enter your email and have new articles sent directly to your Inbox. We are reader-supported; when you buy through links on our site, we may earn an affiliate commission.