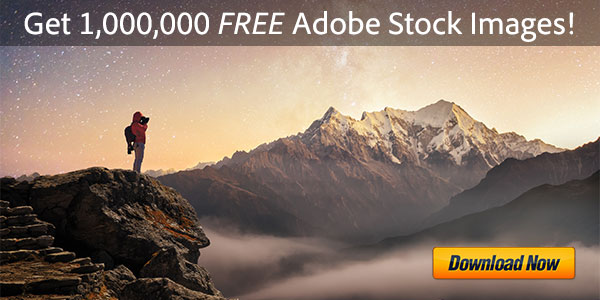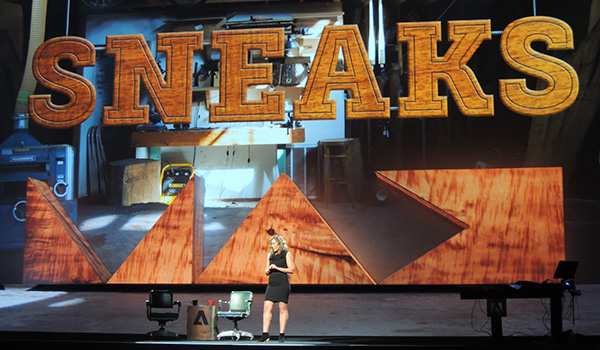 SAN JOSE, Calif.—October 13, 2015—At the record-breaking MAX conference last week, Adobe revealed 11 sneak peeks of technol­ogies they are working on but haven't released yet. Some of these new features are absolutely mind-blowing and defy belief, yet the company did not web­cast the sneak peeks. But good news, you will find complete videos of each of them captured below!
Naturally, the Adobe says there aren't any guarantees for what will appear in a production release, or when: "See the coolest demos of what we're cooking up in the Adobe development labs, and be the first to get a peek at technologies that may (or may not) make it into future products and services." But never­the­less, major new product features very often appear in these previews before they make it into the real tools (cases in point: Content-Aware Fill, Perspective Warp, Image Deblurring, and Defog/Dehaze).
Powerful new features are coming to Adobe's industry-leading video and audio tools. You'll soon be able to work even more creatively, seamlessly, and profitably — from script to screen. Here's an early look at what to expect in the upcoming releases …
[UPDATE (April 23rd) – Creative Suite 6 is out!]
On Thursday Adobe surprised everyone with an "early reveal" of the new CS6 video products just in time for the NAB 2012 show in Las Vegas kicking off today…
If you missed it, we have coverage of the new features in Premiere Pro, After Effects, and Audition, with a CS6 vs. CS5.5 version comparison – as well as the same for the CS6 Production Premium suite, taking a look at what's new and improved.
These video tools are loaded with new features and performance improvements, and are already getting solid reviews. Lynda.com writes, "Workflow, speed, and efficiency make for a strong CS6 update to veteran production applications Adobe Premiere Pro and After Effects."
And Expert Reviews gives its verdict on Premiere Pro CS6: "A significant interface overhaul, both in appearance and day-to-day operation, makes this sophisticated, powerful editor more tempting than ever… Adobe's video-editing flagship completes its transformation from a clunky and unresponsive behemoth to a smooth, efficient professional tool."
Here now are some Frequently Asked Questions (and answers) on the products, and a bit further down are some helpful video demos for each of the three.
[UPDATE (April 23rd) – Creative Suite 6 is out!]
Wondering what's coming soon in Adobe's world-class video suite CS6 Production Premium, before it comes out next month? Read below for the latest details on what's new and improved in CS6, and what's different compared to CS5.5…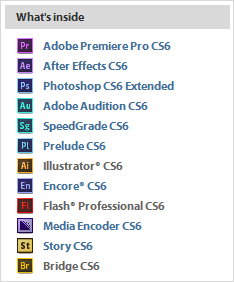 This information is being revealed in advance of the 2012 NAB Show in Las Vegas next week, where the company is planning to make a really big splash with these new tools.
Adobe CS6 Production Premium introduces a sleek, fresh editing environment in Premiere Pro – the hub of your post-production workflow. Freely iterate creative ideas with the new Content-Aware family of technologies in Photoshop Extended and with new 3D advancements in After Effects, where the Global Performance Cache lets you work as fast as you can think. New components – Adobe Prelude, a logging and ingest tool, and Adobe SpeedGrade, for color grading and finishing (originally published by Iridas) – offer superior solutions to common production challenges. Adobe Audition adds dozens of enhanced editing features and support for control surfaces so you can produce audio more efficiently. From planning to playback, CS6 Production Premium gives you tools that help your workflow.
[UPDATE (May 7th) – CS6 is here!]
We've got the scoop on the new video features and software coming soon in Creative Suite 6 — and the go-ahead from Adobe to reveal them!
In particular, we can sneak peek and show you everything that's going to be in the CS6 Production Premium video suite: Premiere Pro CS6, After Effects CS6, Audition CS6, Story CS6, Adobe Media Encoder CS6, Encore CS6 – plus two new applications, Prelude CS6 and SpeedGrade CS6!
The company is planning to make a really big splash with these new tools at the 2012 NAB Show in Las Vegas next week.
Adobe Premiere Pro CS6 delivers a sleek, professional user interface; a powerful playback engine; and a host of fantastic creative features. Quickly stabilize shaky shots with Warp Stabilizer. Natively edit anything from low-resolution to RED EPIC 5K and ARRIRAW footage, finesse your work with dynamic timeline trimming, handle more multicam angles, and correct rolling shutter artifacts. Get flexible audio tracks, powerful color workflows, Adobe Prelude software integration, and more.
[UPDATE (April 23rd) – Creative Suite 6 is out!]
Similar to how they did before the launch of CS5.5, Adobe has been quietly slipping out a bevy of "sneaks" (now numbering 16 videos including those for Photoshop CS6) for new features that may be in a forthcoming release of the Creative Suite…
"Check out what new technologies, features and innovations the Adobe product teams are working on behind the scenes. Stay tuned to get an early glimpse of what could be next from Adobe."
The latest CS6 products previewed include: Dreamweaver, InDesign (2), Premiere Pro, Audition, Flash Profes­sional, Illustrator (previously), and of course Photoshop.
The drumbeat has been getting louder with plenty of news lately about Creative Suite 6:
So things are starting to get a little exciting.
Here now are some of the significant new preview demos… For the complete set, please see the Adobe Technology Sneaks 2012 page.