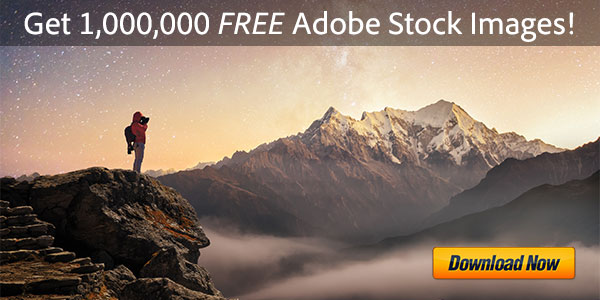 Over the years, we've put together a large collection of free Adobe books that we share with our readers here… This extensive set of helpful, no-cost books has now grown to over 30 different titles that you can legally download and use royalty-free, forever.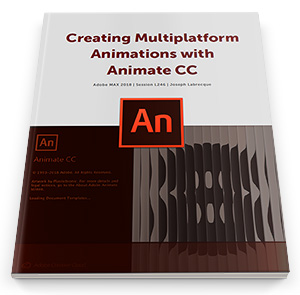 These digital books cover Creative Cloud, Creative Suite, Photoshop, Illustrator, InDesign, Acrobat, Dreamweaver, Muse, Lightroom and more – but until now, we haven't always had a good and recent offering for Adobe Animate CC (formerly Flash Professional).
Fortunately, this has changed with the publication of the new "Creating Multi­platform Animations with Animate CC" guidebook, which comes from award-winning Adobe Education Leader and longtime Animate guru Joseph Labrecque.
Mr. Labrecque conducted a paid Animate CC workshop at the Adobe MAX conference this month, and is now making the class's training materials available to the general public completely free of charge. This special offer includes the main 59-page course workbook together with 9 MB of sample working assets, all of which you can download for free here.
Here is the overview description of this course:
The new Creative Cloud (CC) is the most sophisticated and powerful toolset Adobe has ever released and recently readers have been asking for solid training materials to learn how to best use these applications…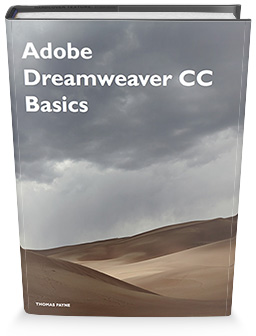 A while back, we spread the word on over 30 hours of free video tutorials for CS6, and last year we published details on a fantastic new ebook for getting started learning the Adobe CC/CS6 Design Suite (202 pages). But if you're looking for a solid primer or helpful beginner's lessons for Adobe Dreamweaver, that's harder to find.
Fortunately there are two new books you can download that will teach you the essentials of Adobe Dreamweaver for free, thanks to the generosity of author Professor Thomas Payne… He writes:
"These tutorials are designed to get you through the basics of making web sites in Dreamweaver with the most flexibility and the least amount of work. Think of them as supplying you with a toolbox full of tools to start making good websites.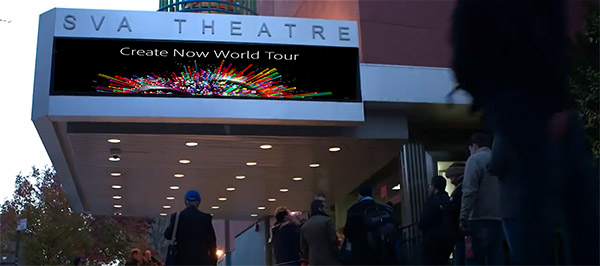 Did you miss Adobe's big 2014 Create Now Tour? Would you like to see it now, online and on-demand?
The Create Now session we attended was packed – a large theater with standing-room only – and got terrific audience reviews and feedback… All together, over 100,000 people went to the tour around the globe.
[UPDATE (February 2013) – Adobe has just released a free software upgrade and everyone can now get Edge Animate 1.5 (still) for free! (download it here) They've also now made available for all users a free preview version of Edge Reflow, their new responsive-web design tool.]
Perhaps the biggest news from Adobe's Create the Web event earlier this week is how much they're giving away their new mobile-ready web development software… The new Edge Tools & Services collection includes some great products for free download and use, including the final official release of Edge Animate 1.0 – the full and permanent version at no charge (regularly US$499) – for creating interactive and animated web content.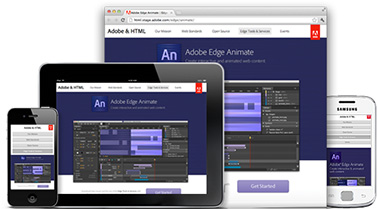 Edge Animate (formerly known as "Adobe Edge" during its long Preview period) is effectively Adobe's "Flash Pro for the HTML5/CSS3 world" – this new application works similarly to how Flash Professional does for creating rich media – but instead of generating Flash, it outputs standards-based HTML that can be viewed in browsers all across the web, on desktops and laptops as well as mobile devices and tablets.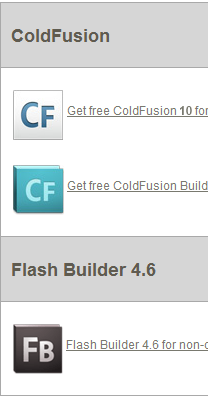 You may have heard of the recent releases of Flash Builder 4.6 (formerly Flex Builder, and part of CS6), plus ColdFusion 10 and ColdFusion Builder 2…
And we've written about this particular offer before, but it bears repeating now that we have these major product refreshes for both Flex and ColdFusion.
Adobe will give you full versions of these premium devel­opment tools (US$249 – $1,499 values) absolutely free world­wide if you qualify! And if you don't, you might know someone who does and could benefit…
Free copies of Adobe Flash Builder 4.6 Standard are given for non-commercial use to: (a) students, faculty and staff of eligible educational institutions, or (b) software devel­opers who are affected by the current economic conditions and currently unemployed.
The ColdFusion products are also available for free to educational customers, to use for learning purposes only and not for production purposes. Complimentary installation support is available, and if you are a teacher and would like ColdFusion 10 for multiple systems in your lab, you can request up to 30 education serial numbers.

Adobe's first-ever 'Creative Week' kicked off today in the UK, with 18 hours of free program­ming available either live or on-demand anytime…
The latest trends, the hottest issues, the coolest technology! Join us for lively interactive debates, informative presentations, creative challenges, and exclusive demonstrations broadcast live online over 5 days from our London studio. We'll be covering every aspect of the creative industry with the help of creative luminaries, industry experts, Adobe evangelists and many members of the creative community.
If you'd like to learn how to use Adobe's Creative Suite tools to easily and portably create websites and apps for tablets, smartphones, and mobile devices there's a new 2¼-hour course you'll be interested in…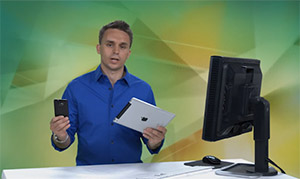 Guru Paul Trani teaches an extensive free class with 18 video chapters that will take you step-by-step on how to create portable content that will run on both Apple iOS and Google Android devices with a wide variety of screen sizes using a single code base. Basic usage of HTML5 and CSS3 is covered, as well as how to bring in Adobe's recent additions PhoneGap (for building fast, cross-platform mobile applica­tions) and Typekit (for delivering custom web fonts).
The first half of the video series employs Adobe Dreamweaver CS5.5 to develop both websites and apps, with steps on how to convert a website into a portable mobile app. The tutorials then move on to using Flash-based tools (with Adobe AIR) to build multi-platform mobile apps. We already know that Flash Professional CS5 can be used to build apps for the iPad and iPhone, but this takes it a step further. The videos guide you all the way through to how to publish your app to your device and to the Android Market (which shows immediately) or to the Apple App Store.
Adobe this week launched a new initiative to bring some of their best and most favorite font faces to wide use for textual content on virtually any website. The new Adobe Web Fonts offering is designed to work seamlessly with the browser and computer of any site visitor, and thus allows website developers to move past the limitations of the narrow set of web-safe fonts we have been using since the web began. Some of the over 120 200 typefaces being made available are Myriad, Minion, Trajan, Chaparral, Text Pro, Cooper Black, News Gothic, Adobe Garamond, and Bickham Script.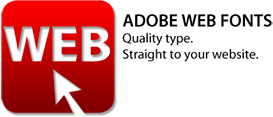 Previously, the only consistently certain way to display these font faces in portable fashion on websites was via static images. For standard textual content, website developers needed to stick to a small set of browser-safe fonts guar­anteed to be available on all platforms (both Windows and Mac systems) – like Arial, Times, and Verdana. But now you can display your website text in your choice of many fonts and have it look great while being usable, flexible, searchable, editable, and indexable. This really is going to change web design.
With the final releases of new Flash Player 10.1 and AIR 2, Adobe is hosting a new series of free webinars introducing the new multi-screen web content and applications development capabilities of the Flash Platform. You will discover the exciting new features of Flash Player 10.1 and AIR 2 and learn the best practices from leading industry experts on how to create unique experiences and optimize web content, video, and applications across desktop and mobile. Here's the session list, with detailed descriptions available on the registration page:
Best practices in optimizing web content for Flash Player 10.1
Tuesday, June 22, 9AM–10AM PDT — Watch Free On-Demand
The quickest way to build cross-platform apps with AIR 2
Tuesday, June 22, 1PM–2PM PDT — Watch Free On-Demand
Rich Internet App development with Flash Builder 4 for Flash Player 10.1 and AIR 2
Wednesday, June 23, 9AM–10AM PDT — Watch Free On-Demand
Multi-screen web content development with Flash Pro CS5
Thursday, June 24, 9AM–10AM PDT — Watch Free On-Demand