Adobe this week launched a new initiative to bring some of their best and most favorite font faces to wide use for textual content on virtually any website. The new Adobe Web Fonts offering is designed to work seamlessly with the browser and computer of any site visitor, and thus allows website developers to move past the limitations of the narrow set of web-safe fonts we have been using since the web began. Some of the over 120 200 typefaces being made available are Myriad, Minion, Trajan, Chaparral, Text Pro, Cooper Black, News Gothic, Adobe Garamond, and Bickham Script.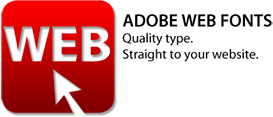 Previously, the only consistently certain way to display these font faces in portable fashion on websites was via static images. For standard textual content, website developers needed to stick to a small set of browser-safe fonts guar­anteed to be available on all platforms (both Windows and Mac systems) – like Arial, Times, and Verdana. But now you can display your website text in your choice of many fonts and have it look great while being usable, flexible, searchable, editable, and indexable. This really is going to change web design.
How does it work? After signing up with Adobe's industry-leading partner Typekit, you add a line of code to your markup and then can select the fonts you want using the standards-based CSS @font-face property built directly into modern browsers (including IE, Firefox, Chrome, and Safari). The fonts are then delivered straight to visiting browsers by a very large and fast global network of redundant font servers. Your pages will be completely text-based, with actual real fonts applied to the HTML. This is great for search engine optimization, accessibility, translations, copy-and-pasting, and everything else that makes the web work so well. Read the FAQ.
The bottom line is these look great on screens and are now easy to add to your website. The font selection is broad and carefully-chosen, and the service is high performance and ready for prime time, with a free trial. Adobe has been a leader in type design and technology for 35 years and there are a lot of people who've been waiting to get Adobe fonts into their web pages. These are some of the world's most popular, recognizable, and respected typefaces – all of them newly optimized and hinted for online display. So this is very good news for anyone who cares about great-looking web content and design.
Browse Adobe's entire collection of over 2,300 available fonts in Adobe Font Folio 11.