[UPDATE (August 31st) – The final release of Lightroom 3.2 is now out, a free update for all Lightroom 3 owners, and free 30-day trial for everyone else. For now, the initial Lightroom 3.2 'Release Candidate' described below also remains available for free use for all, if desired.]
Adobe has just made available for free download its Release Candidate for the first update to Lightroom 3, which will be called Lightroom 3.2… This new release has dozens of bug fixes, performance enhance­ments, and one new feature – and thus far looks like a winner and a welcomed update by the Lightroom community. But you don't even need to own any version of Lightroom to get or use it.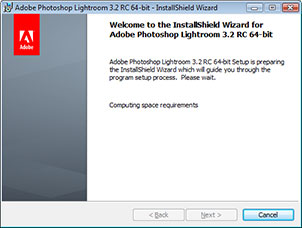 The download is in the form of a ZIP file for both Windows and Mac and is not just an update nor a trial – but a full version that will work until it expires for all users. These Release Candidates are more like betas in that Adobe is looking to see how a poten­tial new version performs in the field (and welcomes your input, feedback, and bug reports on it) – but Lightroom 3.2 shouldn't be confused with Lightroom 3 beta 2 (which was the last available beta version of Lightroom 3.0 before its final release). And although Release Candidates are fully-working free versions that don't require serial numbers, typically they have an expiration date to stop functioning within two calendar months of issue – meaning Lightroom 3.2 RC will probably expire by October 31, 2010.
So what happened to Adobe Lightroom 3.1? There actually wasn't one – they are calling this first update "3.2" to align the point release numbers with Adobe Camera Raw (ACR), which has a new Release Candidate of its own – Camera Raw 6.2. The Camera Raw plug-in is not required to run Lightroom — it goes with Photoshop instead — but Adobe adds new camera and lens profile support to both programs at the same time. So the release number syncing is to avoid confusion on which version corresponds with which.
With Lightroom 3.2 RC, we have an impressive list of 68 bugs fixed plus support for 12 new cameras and 57 new lens profiles added or improved. Performance is also generally reported to be significantly boosted all around. And lastly there is the addition of direct publish func­tionality from Lightroom to Facebook.
The new cameras supported are: the Casio EXILIM EX-FH100; Leica S2; Panasonic DMC-FZ100, DMC-LX5, DMC-FZ40/FZ45; Pentax 645D; Samsung NX10, TL500 (EX1); Sony A290, A390; and Sony Alpha NEX-3, NEX-5.
So, should you update? Adobe says, "The 'release candidate' label indicates that this update is well tested but would benefit from additional community testing before it is distributed automat­ically to all of our customers." If you've had any issues or reservations with the initial release of Lightroom 3.0, or have been waiting for the first "bug-fix release" before buying, we recom­mend giving this a free and easy try. You don't need to log in or provide any information – you can immediately download and use it free for a couple months.
Installation is straightforward, with both 32-bit and 64-bit versions included:
Working with Lightroom 3.2

Mac: The Mac Lightroom 3.2 release candidate can be installed alongside Lightroom 3.0.
Windows: By default, the Lightroom 3.2 release candidate will remove or over­write your existing Lightroom 3.0 installation. If you wish to return to Lightroom 3.0 after installing Lightroom 3.2, simply reinstall Lightroom 3.0 from your original download after uninstalling Lightroom 3.2 using the Windows add/remove program utility.

Both versions of the application share the same catalog format allowing your catalogs to be opened by either version without complications.
And when the final version of Lightroom 3.2 is eventually released, it will be a free update for all current Lightroom 3 owners and at that time you can just install that version over this 3.2 Release Candidate and continue on with your work.