[UPDATE (March 6th) – The Lightroom 4 final release is now shipping!]
NEWS FLASH – Adobe has just announced a free public beta release of the eagerly-anticipated Photoshop Lightroom 4, with new tools and advancements to enhance and share your digital photograph library: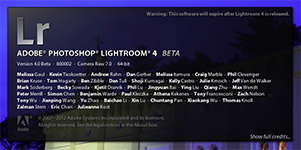 "Available as a free public download from Adobe Labs for Windows and Mac, the Lightroom 4 beta is a preview of new features and capabilities that will be offered in the final release of LR4, expected in early 2012.
The beta features refined technology for superior shadow and highlight processing, expanded management capabilities including enhanced DSLR video support and the ability to create beautiful photo books from within Lightroom. Adobe encourages photographers to try the beta release and provide feedback to the product team."
The news comes six years to the day from the very first beta release of Lightroom 1 on January 9, 2006, where it all started… Lightroom is Adobe's digital photography workflow solution helping amateur and professional photographers quickly import, manage, enhance and showcase their images.
And great news – some long-requested new features are here now in LR4…
New Features in Lightroom 4 Beta
Highlight and shadow recovery brings out all the detail that your camera captures in dark shadows and bright highlights.
Photo book creation with easy-to-use elegant templates.
Location-based organization lets you find and group images by location, assign locations to images, and display data from GPS-enabled cameras.
White balance brush to refine and adjust white balance in specific areas of your images.
Additional local editing controls let you adjust noise reduction and remove moiré in targeted areas of your images.
Extended video support for organizing, viewing, and making adjustments and edits to video clips.
Easy video publishing lets you edit and share video clips on Facebook and Flickr.
Soft proofing to preview how an image will look when printed with color-managed printers.
Email directly from Lightroom using the email account of your choice.
LR4 Beta Download Availability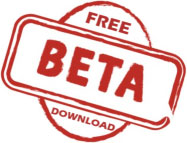 The free Lightroom 4 beta program is open and available to the public. Anyone with an Internet connection can download and test it out in full. You do not need to own (or have tried) a previous version of Lightroom, and there is no serial number required. The Lightroom 4 beta will not overwrite or interfere with any existing installation of Lightroom 1, Lightroom 2, or Lightroom 3.
You can download the beta immediately and use it freely until the product expires at the end of March. Please see this detailed post for the minimum system requirements and installation instructions, as well as more information on the new features and known issues. One possible hiccup for some users is that Lightroom 4 is not supported on Windows XP systems.
Also be sure to give your feedback to the Adobe developers…
Introduction to Lightroom 4
And here's a great video series on what's new and to get you started… Afterwards, explore more on the differences between Lightroom 4 vs. Lightroom 3.
For Lightroom 3, the Current Release