It's been a few months now since Adobe Photoshop Elements 10 was officially released, so let's take a look at what the reviews out there are saying…
First, for a quick overview of the new version, check out our Elements 10 Release Guide, as well as What's New in PSE 10 vs. 9, 8, 7, or 6?
And if you're wondering which edition of Photoshop is right for you, see: What's the Difference between Photoshop CS5 vs. Elements 10 vs. Lightroom 3?
OK, so now on to the reviews for Photoshop Elements 10:
PC Magazine writes, "If you're mostly concerned about doing interesting and creative things with your images, but don't want to invest the time and money in learning Photoshop, Photoshop Elements 10 is an excellent option… Competitors don't come close to matching Photoshop Elements' array of dazzling photo effects, organizational tools like face tagging, and sharing and output options. Photoshop Elements 10's tools for perfecting your digital images are unrivaled, making it our Editors' Choice for prosumer photo editing."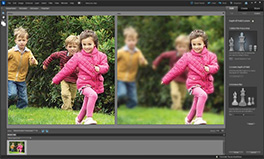 About.com says, "Each new update to Photoshop Elements has always brought strong new features to the program. Photoshop Elements 10 is no exception… Elements remains an extremely powerful and useful photo editing program for anyone who doesn't need the graphic editing feature of CS or its high price tag. Whether you are a beginner or 'old hand' at photo editing, Photoshop Elements 10 offers strong tools for a very reasonable price."
Computer Shopper weighs in: "Photoshop Elements 10 remains a must-have tool for casual and hobbyist digital photographers alike. Overall, this is a super-solid consumer image editor, but it's not a vast improvement over the already-excellent version 9. Many owners of version 9 will not find enough new here to justify the discounted upgrade price. But for newcomers and those who haven't upgraded in a few years, the substantive features for both manual and automated photo editing make Photoshop Elements a heck of a bargain, whatever the cost."
Notebook Review gives the software a 4½ out of 5-star overall rating and concludes, "Adobe Photoshop Elements and Premiere Elements are both mature programs that have worked well for consumers for some time now. Particularly with the enhance­ments in version 10, these products remain among the top contenders that we recommend."
Macworld renders its verdict: "Over the years, Photoshop Elements has evolved from a de-featured version of its Photoshop CS cousin into a full-featured product on its own. In the brand new version 10, new features abound in the Editor as well as the Organizer, with a focus on enhanced creativity, mobile interconnectivity, problem solving, and simplicity… These features make an upgrade well worth the $80 price tag."
Tech & Learning gives its overall rating: "Elements 10 provides ordinary users with a variety of digital touch up tools to adjust a picture, add a caption, change a color, and fix some red eye while working in a Photoshop-like workspace without being overwhelmed. The latest version adds several new features and enhance­ments, including adding text on a line, painting special effects on designated areas of a photo, and management tools for organizing photo sets, tagging, finding duplicate photos and creating online photo albums. As with earlier versions, changes are incremental rather than overwhelming. If you don't already have a copy of Adobe Photoshop Elements for image editing and organization, it's a worthwhile investment. If you own a copy of Elements 9, the new Elements 10 Text on a Shape tool enabling users to flow text on a rectangle, ellipse, polygon, heart, speech bubble or other shape is sufficient reason to upgrade."
Renderosity writes, "Adobe Photoshop Elements is not only a powerful image editing program, it is also a timesaving tool for organizing and sharing your images… all at an affordable price. At first glance, the additions to Elements 10 seem minor; however, once you explore the program, you'll discover numerous new features and enhance­ments that will spark your creativity. In conclusion, although Photoshop Elements 10 is not overflowing with new features, the functionality and affordable price make this a must-have program for all levels of photographers: from hobbyist to professional."
The bottom line from PCMag: "Lots of powerful image-manipulation tools. Strong face- and geo-tagging. Excellent output options — printing, online, photo books. Good help with performing advanced edits. Bottom Line: Photoshop Elements continues to be the best way to get some of Photoshop's coolest effects without requiring you to attend a night course. This version tweaks the program's combination for success, adding some nifty new tools."
Want more? Read 20 additional industry reviews for Photoshop Elements!
---
Adobe Photoshop Elements 10 will run on both 32-bit or 64-bit computers, and is designed for Windows XP, Vista, Windows 7, or Mac OS (see full system requirements). It can be installed side-by-side with earlier versions of Elements without difficulty or interference.
Want to try it out for free yourself? Just download a fully-working free trial and you can be up and running in minutes.