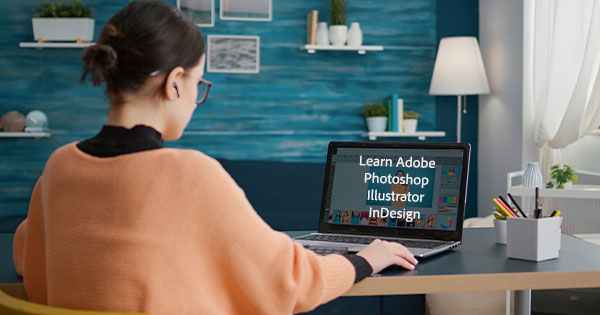 Here's an incredible offer you should not miss… It's a compre­hensive set of profes­sional training courses on How to Become a Graphic Designer, now completely free with no catch. The program of study includes 27 hours of high-quality instruction broken out into 11 funda­mental courses – including core classes on Photoshop, Illustrator, and InDesign (5-6 hours each) at no cost.
This bundle of courses is being given away for free on LinkedIn Learning (formerly Lynda.com) for a limited time. No account, trial, or purchase is required. No login is necessary, and no credit card is needed either.
This offer is part of LinkedIn's Global Skills Initiative, to help people gain the digital skills they need to fill the most in-demand jobs around the world. Whether you are just starting out or need a refresher on the fundamentals, be sure to take advantage of this unique opportunity to master the essentials of Adobe's flagship design tools:

Here's a quick rundown of the 11 main courses included in this collection:
What is Graphic Design? (2m) – Sean Adams
Graphic Design Careers: First Steps (20m) – Cara St. Hilaire
Introduction to Graphic Design: Concepts (52m) – Tony Harmer
Graphic Design Foundations: Layout & Composition (2h 3m) – S. Adams
Graphic Design Foundations: Typography (2h 23m) – Ina Saltz
Color for Design and Art (1h 45m) – Jim Krause
Adobe InDesign Essential Training (5h 11m) – David Blatner
Adobe Photoshop Essential Training (6h 29m) – Julieanne Kost
Adobe Illustrator Essential Training (5h 27m) – Tony Harmer
Creative Collaboration (1h 25m) – Denise Jacobs
Color Trends (50m) – Nicte Cuevas
And here's the program description:
Graphic designers create visual concepts that inspire, inform, and transform. Use industry-leading tools to build innovative design projects and discover the skills needed to become an in-demand visual thinker and communicator.
If you have a free LinkedIn account, then sign in before you view the courses to earn a certificate of completion and access the exercise files. This coursework also qualifies for official academic credit at select partner universities globally:
If you don't already have the Adobe software installed on your computer but would like to get going today (and work side-by-side with the lessons), you can easily download the free trial for Windows or Mac – then install, run, and start your training… The Creative Cloud trial is fully-functional for seven calendar days, plus month-by-month plans are available for shorter-term use.
And if you also like learning in print, then you'll love this great set of free Adobe books you can download, with over 30 different titles to choose from. Another helpful resource for understanding the products is the official documenta­tion – free PDF manuals you can download for Photoshop, Illustrator, InDesign, or any other Adobe application.

Install now: Get all new Creative Cloud 2024 direct download links and free trials.
Here are a handful of user reviews for the three Adobe LinkedIn courses:
This course is brilliant and really down to the real skills for quality visual work. Thanks for the privilege to be your student!

I have tried many courses for beginners and this is by far the best one, and the only one that I have stuck with to learn Photoshop.

I enjoyed this course and learned a lot from it. The content is well organized, explained and focused on practical situations. I highly recommend it!!

This was a great class on InDesign. The instructor was very easy to understand and follow along with.

The best Photoshop training I've ever had so far. Highly recommended.

Very helpful and it was really easy to understand! :)

This is one of the best tutorials I have ever seen about Illustrator, with creative examples and quizzes.
Special: Legally download dozens of free Adobe books for a limited time!
In addition to graphic design, LinkedIn Learning is also offering free training for other in-demand careers, including dozens of no-cost courses for Software Developers, Project Managers, Digital Marketers, Sales Representatives, IT Administrators, Customer Service Specialists, IT Support/Help Desk Specialists, Financial Analysts, and Data Analysts.
Check out these other programs too to see what you're interested in, as these additional courses can help you qualify for the jobs which have the greatest number of openings, have had steady growth in recent years, pay a living wage, and require skills that can be learned online here.
So what are you waiting for? All of these in-depth classes are now 100% free for you with immediate access and zero downside, but will not be available forever – so go for it! Tell your friends and colleagues too, and let us know what you think of them in the comments below.
See Also

Keep up with the latest on Adobe software — follow us on Facebook or Twitter, or subscribe to our RSS feed… You can also enter your email and have new articles sent directly to your Inbox. We are reader-supported; when you buy through links on our site, we may earn an affiliate commission.