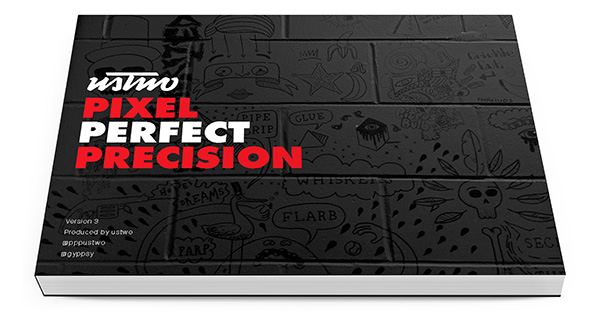 The newly-expanded 3rd edition of Pixel Perfect Precision for Photoshop is out – and it's better than ever plus still free – so if you don't have it yet, go grab it now…
This designer bible comes to us from respected Adobe partner ustwo, the digital design studio who just won an Apple Design Award for their gorgeous Escher-inspired app, Monument Valley.
Pixel Perfect Precision v. 3 is a stylish and helpful tome covering introduction to core interface design principles (best practices for web, apps, games, and other digital media), combined with inter­mediate-level techniques on how to to best use Photoshop to put those principles into practice.
The 214 pages of the free book are divided roughly into half for each part, plus there is also a smaller chapter for Adobe Illustrator as well. Taken together, both seasoned professionals and newcomers to the field can gain something valuable from this quick-start guide.
It works with any recent release of Photoshop, but if you're not running it yet then you can pick up Photoshop CC (the latest version of the leading desktop tool that used to cost $999) for as low as $10 a month, with ongoing upgrades included. A free Photoshop trial is also available for instant download.
The design of the ebook itself is, of course, lovely and readable, and easy to flip through. It's available in either Adobe PDF or Apple iBook formats, with both at no cost.
As Adobe's Jeff Tranberry writes:
This amazingly useful handbook covers the dos and don'ts of design for user interface designers, covering topics ranging from general design principles including navigation, interaction, error handling, accessibility; to Photoshop-specific topics including color management, layer organization, pixel precision using vectors, exporting work, Adobe Generator for asset creation, and much more…

A wonderful resource of essential design tips and Photoshop techniques for screen designers.
Grab this gem for yourself instantly and completely free here:
For another terrific free book on Photoshop, check out Adobe Design Basics – 211 pages of step-by-step tutorials for understanding how to best use Adobe's top three design tools: Photoshop, Illustrator and InDesign.
And to continue learning, don't miss dozens more free books for many Adobe products, covering recent versions of all major applications!
See Also

Keep up with the latest on Adobe software — follow us on Facebook or Twitter, or subscribe to our RSS feed… You can also enter your email and have new articles sent directly to your Inbox. We are reader-supported; when you buy through links on our site, we may earn an affiliate commission.