Longtime readers know that we offer a series of free books for Adobe software with over 30 different titles that anyone can download on how to best use the different major products… These books are very popular and well-received.
But since Adobe software is all about creating, for a long time there was a missing piece: a collection of free books simply about building your creativity – something that everyone in the world can use and benefit from… So here is that set! You can legally download and use the six PDF e-books below to inspire your own creative process and help improve your work, no matter what you do in life. They are (in our view) all easy, enjoyable, and enriching reads.
Book #1: The Creative Aid Handbook (142 Pages)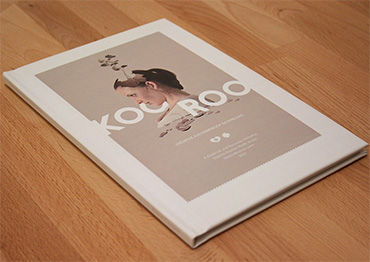 Co-creators Richard Tapp and Nicole Smith of Kooroo Kooroo rightly describe The Creative Aid Handbook as a outside-of-the-box resource to get your creative juices flowing: "We wrote, designed, and illustrated a book featuring unusual tips to nurture your creative well-being, boost your creative intellect and foster internal inspiration. Meant to serve as a mini-resource for your creative projects and food for your creative thoughts. We've included our own valuable refer­ences and resources we know and trust as a means to help you get your projects done. We want to give you the creative push from a direction you may not have thought of, be it informative, inspirational, or simply entertaining."
And included with this must-have volume for creatives is free companion artwork you can download as well (in AI format): "In keeping with our principles and an open-source ideology, all of the art featured, plus extra concept work for this book is downloadable in vector (.AI) format. This means you are free to download, keep, re-use and alter all art for whatever creative needs, purposes or endeavors you may have."
Book #2: Creative Turnaround (69 Pages)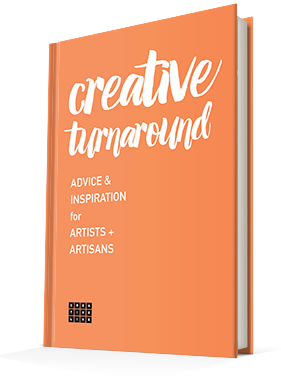 CreativeLive was founded on the principle that every­one should have the right and the means to pursue their creative aspirations. That includes you. They offer many great online classes, and the live ones are always free. And in this spirit, they've also put together a terrific book for you: Creative Turnaround – Advice & Inspiration for Artists + Artisans.
Within these pages, they've assembled inspiring and practical advice from world-class experts on how to take your own vision for the coming year and turn it into a reality. They offer this guide as a free gift to you in the hopes that something here will move you to open your heart and take a risk: start a project, share your work, leave your day job, follow your dream, start your own business.
Wherever your creative passion takes you, this can be a helpful resource for you at every step of the journey. So what are you waiting for? Go for it and good luck!
Book #3: The Creative Self Workbook (23 Pages)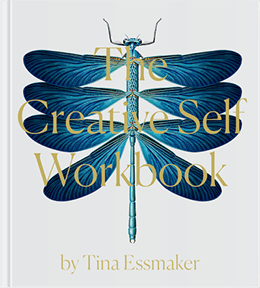 When was the last time you felt connect­ed to your creative self? The Creative Self Workbook is an invitation for you to engage with your creative self as a practice, over five days of exploratory exercises designed by creative coach Tina Essmaker.
You'll explore: What does the Creative Self mean to you? Have you clarified your purpose? Are you in touch with your creative voice? Are you in alignment with your chosen career? How do you connect to the community around you? And where is this all taking you tomorrow, next month, next year?
In these pages, you'll begin with discovering, or rediscov­ering, your voice and purpose. Then you'll think about how you can best nurture the parts of yourself that support your creativity. You'll be encouraged to consider people who are a source of strength to you and communities where you can thrive creatively. Ultimately, you'll be asked to lay the foundation for an ongoing practice that embraces actions and truths to sustain you into the future and continue long beyond today.
Book #4: What Is Creativity? (75 Pages)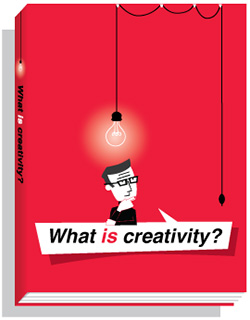 "Be more creative" is a phrase often used within business and marketing with little consideration given to its meaning. Many fields have seen seismic shifts over the last few years and being creative is now an essential ingredient to success. But what does it mean to be creative?
What Is Creativity? is a 75-page ebook written and illustrated by Shelli Walsh. The book is an intro­duction to what creative thinking is, with nine chapters to teach thinking skills and techniques on how to be more creative. It's chock full of helpful tips and inspirational quotes from luminaries that you probably have never heard before.
The second half of the book asks noted industry thought leaders five key questions about what inspires them, entitled "What does creativity mean to you?" Chapter contributors include: Rand Fishkin, Wil Reynolds, Dave Trott, Lee Odden, Paddy Moogan, Neil Patel, Bas Van Den Beld and Chris Brogan, who all share their perceptive insights within.
Book #5: How to Be Creative (49 Pages)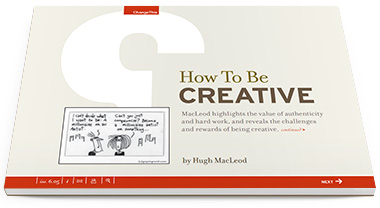 Author Hugh MacLeod, an advertising executive and popular blogger with a flair for the creative, gives his 26 tried-and-true tips for being truly creative. Each point illustrated by a cartoon drawn by the author himself.
Written in irreverent and provocative style, How to Be Creative highlights the value of authenticity and hard work, and reveals the challenges and rewards of being creative. Notable chapter titles include: Ignore everybody, Everyone is born creative, Sing in your own voice, You are responsible for your own experience, Keep your day job, Never compare your inside with somebody else's outside, Avoid the Watercooler Gang, and Write from the heart. Caution: this book does contain some colorful language.
If you've ever felt the draw to do something creative but just haven't been able to pull it together, you'll love this manifesto.
Book #6: Time Management for Creative People (29 Pages)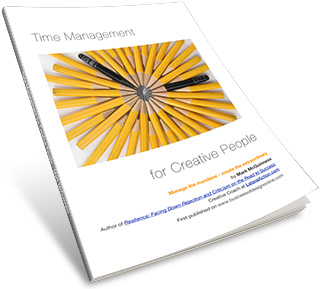 In order to create anything well, you've got to have the time to get it done. And while our increasingly digital and con­nect­ed world brings great promises, it also brings great distractions. Happily for us, longtime business coach and trainer Mark McGuinness has learned a lot about what it takes to get original work done in the midst of the demands and distractions of the 21st-century workplace – and he shares it freely in his ebook, Time Management for Creative People.
This book has been downloaded over 100,000 times, and has received enthusiastic feedback from people all over the world who say it has transformed their working habits and helped them achieve their artistic and professional goals. It's full of practical advice for creatives, including: Finding the method in your creative madness, Identifying and prioritizing your most important work, Getting in the right state of mind for focused work, How to minimize interruptions and distractions, Managing e-mail effectively and How to remember – and fulfill – all your important commitments.
Download Now for Free (387 Pages Total)
So there you have it – six amazing and inspiring titles to download, read and share – all completely for free. You can download all of them here… hope they help let your creativity soar!
More Free Adobe Books (2,000+ Pages)
And to continue learning, don't miss the dozens more free books for many Adobe products, covering recent versions of all major applications – learn how to best use Creative Cloud (CC), Creative Suite (CS6 and older), Photoshop, Illustrator, InDesign, XD, Acrobat, Dreamweaver, Animate, Premiere Pro, After Effects, Audition, Lightroom, Elements, and more… Get them here!
See Also

Keep up with the latest on Adobe software — follow us on Facebook or Twitter, or subscribe to our RSS feed… You can also enter your email and have new articles sent directly to your Inbox. We are reader-supported; when you buy through links on our site, we may earn an affiliate commission.