Hard to believe, but today Adobe Photoshop officially celebrates its 25th anniversary (or birthday, depending on how you look at it)… The first version of Photoshop shipped on February 19th, 1990, at a price of US$895.00. Adjusted for inflation, in today's dollars that would cost almost $1,700! Now, of course, there are tens of millions of users of Photoshop who can pay less than $10 a month for the latest-and-greatest release of this iconic, industry-leading tool.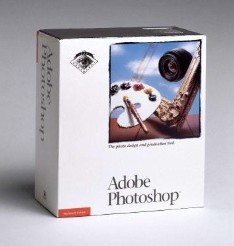 Indeed, the software has traveled a long way. When it first came out, Adobe predicted it would sell just 500 copies per month. Yet today, over 90 percent of creative professionals worldwide have Photoshop on their desktops. The original authors say they knew they had a groundbreaking technology on their hands, but never anticipated how much it would impact the images we see all around us. Adobe Fellow and Photoshop co-creator Thomas Knoll says, "Not in my wildest dreams did we think creatives would embrace the product in the numbers and ways they have. It's inspiring to see the beautiful images our customers create, the careers Photoshop has launched and the new uses people all over the world find for Photoshop every day."
The current CC 2014 version of Photoshop is actually release 15.0 – so there have been fourteen major upgrades of the tool since its initial release 2½ decades ago. Over that time, we've seen incredible innovations such as layers, vector shapes, Camera Raw, spot healing, Smart Objects, the Adjustment panel, Content-Aware Fill, Puppet Warp, video editing, Blur Gallery, Camera Shake Reduction, Perspective Warp, support for touch devices, 3D printing, and much more.
Free Stock! Download 1,000,000+ premium assets from the new Adobe Stock Free Collection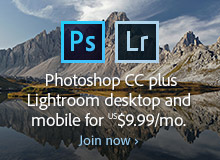 And the future of Photoshop promises to continue the exciting trend, with cool new features like Defog-Dehaze being sneak-peeked to customers, plus ground­breaking capabilities such as "Photoshop Streaming" becoming available from a web browser – although Adobe is clear to say that Photoshop will never run completely in the Cloud.
Special: Legally download dozens of free Adobe books for a limited time!
If you're not yet running the most recent release of Photoshop, then you can easily get it (plus Lightroom, and all ongoing upgrades to both programs included) through Adobe's popular new $9.99/month CC Photography Plan. If you'd like to try out the software first, then just download the free 30-day trial to get started.
So Happy 25th Birthday Photoshop – and many more! Dream On:
See Also

Do you have any questions about Photoshop? Just ask them below and we'll get you answers fast!
Keep up with the latest on Adobe software — follow us on Facebook or Twitter, or subscribe to our RSS feed… You can also enter your email and have new articles sent directly to your Inbox. We are reader-supported; when you buy through links on our site, we may earn an affiliate commission.