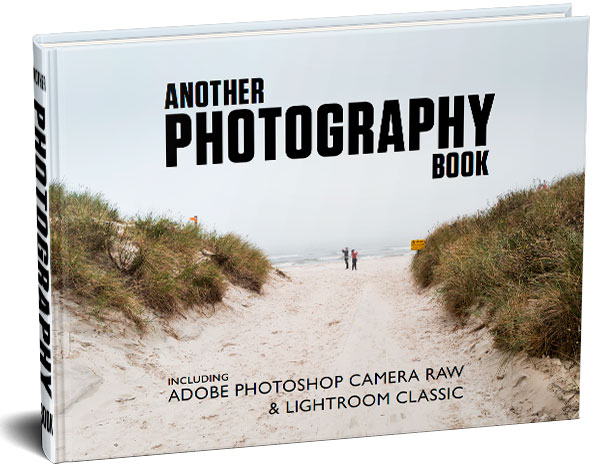 Over the years, we've put together a large collection of free Adobe books that we share with our readers here… This extensive set of helpful, no-cost books has now grown to over 30 different titles that you can legally download and use royalty-free, forever.
These books cover many different Adobe products – but up until now, we haven't been able to offer a solid book on doing photography together with Adobe's top creative tools… That has all changed with the excellent (and did we mention free?) new guidebook entitled, Another Photography Book, using Adobe Photoshop Camera Raw and Lightroom Classic.
In this volume, courtesy of author Professor Thomas Payne, you will learn the ins-and-outs and top tips to using your camera effectively, as well as how to use the most important features of Camera Raw and/or Lightroom in order to bring out the best in your digital photos.
Here is the overview description of this substantial 314-page book:
Another Photography Book is a text that can be used to learn Photography over a semester of university instruction or through self-instruction. This step-by-step book includes the basics of photography, along with integrated guides to Adobe Camera Raw (ACR in Photoshop) and Adobe Lightroom Classic – you can use either one.

Covering everything from the history of photography to what to shoot, to how to read histograms and apply different types of adjustments, using masks and transform­ations, and of course red-eye removal and other important retouching techniques, this guidebook goes over everything you'll need to know to feel competent in your craft.

Both medium resolution and high resolution versions of the book are available for free download. In other words, this title comes in two versions with small (48 MB) and large (96 MB) file sizes. The content is the same, but the large file size version will allow for enlarging of the illustrations.
And here's a sample page: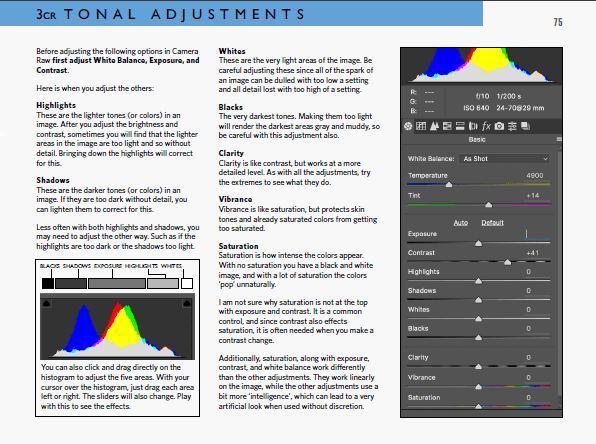 You can download this guidebook in PDF format via the link below, absolutely free of charge:
Here are a few reader reviews for the book:
"​Thanks for sharing! Great book!"

"​Fabulous, thanks very much! This is a wonderful resource."

"Just started reading the book and It looks excellent and just what I need."

"This is really detailed, thanks for creating. Great book to use in my Digital Design class!"

"​Fantastic book with huge information for every photographer and videomaker. Thanks."

"Thank you for this wonderful book! Very informative and useful!"​
And the Table of Contents:
You'll need either Photoshop or Lightroom Classic to complete everything as outlined. If you don't have the software yet, just download a free working trial for any new CC 2024 product for Windows or Mac (or try the complete Creative Cloud) – then install and start right away.
Install now: Get all new Creative Cloud 2024 direct download links and free trials.
If you wish to continue after your free trial expires, then the Creative Cloud Photography Plan is available for just US$9.99/month – which includes the latest versions of Photoshop plus Lightroom and Lightroom Classic, bundled together with other related apps and services.
If you prefer video training instead (or in addition), then check out all the free sessions and training from the recent MAX conference on many different tools and topics here: Over 200 New Courses and Tutorials from MAX.
Please let us know below what you think of the new book!
And to continue learning, don't miss dozens more free books for many Adobe products, covering recent versions of all major applications… This large collec­tion includes the official Adobe user manuals, which are comprehensive in size and scope!
See Also

Do you have any questions about Creative Cloud? Just ask them below and we'll get you answers fast!
Keep up with the latest on Adobe software — follow us on Facebook or Twitter, or subscribe to our RSS feed… You can also enter your email and have new articles sent directly to your Inbox. We are reader-supported; when you buy through links on our site, we may earn an affiliate commission.