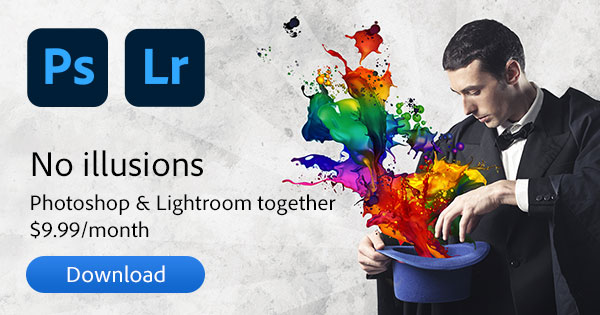 In our view, the best deal going in Creative Cloud (if you're not a student or teacher) is the Photography plan. You get not one, not two, but three core desktop products, plus additional tools and services, for around $10 a month.
The Photography plan was originally created as a one-time special offer in 2013, but it proved so popular that Adobe eventually made it permanent. The low price of the plan has not changed from the initial promotion nine years ago all the way up to today. There was even a rumor in 2019 that Adobe was raising the $9.99 price, but that was not the case.
So what makes it such a great deal? With the US$9.99/£9.98/€11,99/A$14.94 per month Photography Plan, you get the latest versions of Photoshop, Lightroom, Lightroom Classic, and much more in the package. Here's an overview of everything that's included:
The full desktop release of Adobe Photoshop (not a reduced or limited version), the industry-standard image editing tool for over 30 years.
The latest Adobe Camera Raw (ACR) plugin, the foundational raw imaging engine to import and enhance your photographs.
Adobe Bridge, Creative Cloud's flagship desktop media browser and digital asset manager (although it's true that Bridge is free for everyone).
Photoshop on iPad – the real deal on iPad, which shares the same underlying code base as its venerable older sibling, PS for desktop.
Full access to the premium version of the Photoshop Express app to install on mobile, for both iOS and Android.
New: Photoshop on the Web (beta) to edit, review, and share Photoshop cloud documents right in any [Chrome or Edge] web browser.
Adobe Lightroom, Adobe's powerful cloud-based desktop application to non-destructively edit, organize, and process all your photos.
Lightroom Classic, the original desktop-focused digital photography solution which uses your local hard drive(s) for photo storage.
The Lightroom Mobile app for iPad, iPhone, and Android, which shares many features and has connected workflows to the LR desktop apps.
20 GB of online Creative Cloud storage (upgradable), including online photo storage on Lightroom Web.
The complete Adobe Fonts library for desktop and web, with 22,000+ different typefaces for any personal or commercial use.
Full access to Adobe Portfolio, which allows you to quickly and easily build a website to showcase your creative work.
3,000+ design assets included with your subscription – graphics, colors, textures, styles, brushes and more you can download & use in your work.
Ongoing upgrades and updates for all included applications and services, so long as your subscription remains active.
Access to hundreds of exclusive video tutorials in Creative Cloud Learn.
Download and use two previous major versions of your apps, if desired.
Install all desktop applications on up to two of your computers, and easily move the products between different systems you own.
The Photography plan is upgradable to the complete Creative Cloud "All Apps" plan at any time, which includes many more tools.
You can download and run a fully-functional free 7-day trial to try out all the software on your own computer and devices first.
All direct purchases from Adobe automatically come with a 14-day full Money Back Guarantee, in case you change your mind.
Get going! Download the free 314-page guide to Photography, Photoshop & Lightroom.

For the $9.99/month price, Adobe only offers an Annual plan – meaning Photography plan subscriptions run for one year at a time. Adobe does offer other flavors of Lightroom / Photoshop plans: one with more storage, one with Lightroom only, one including Fresco and Adobe Express premium, and one available month-to-month at a higher price. You can compare the plans here.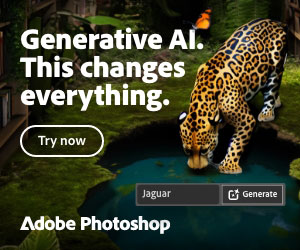 But again, in our view, it's tough to beat the value offered by the standard Photography plan – as this collection of best-of-breed professional tools previously cost well over $1,000 upfront just to get in the door, which didn't include upgrades. Heck, Photoshop by itself used to cost $699-$999 upfront for a static copy.
So for our money – with the exception of the Student & Teacher Edition (if you happen to qualify) – the Photography bundle continues to be the best deal Creative Cloud has got going, and its lowest-priced plan.
See Also

Do you have any questions about Creative Cloud? Just ask them below and we'll get you answers fast!
Keep up with the latest on Adobe software — follow us on Facebook or Twitter, or subscribe to our RSS feed… You can also enter your email and have new articles sent directly to your Inbox. We are reader-supported; when you buy through links on our site, we may earn an affiliate commission.