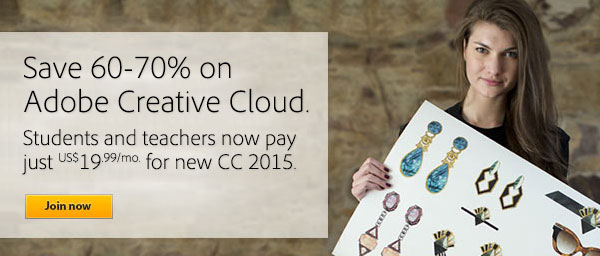 [UPDATE (Oct. 2018) – Students & teachers will now receive Adobe's all-new CC 2021 release of tools & services with Creative Cloud membership – all other information below remains the same.]
The standard pricing for Adobe's new CC 2015 release – their flagship Creative Cloud all-in-one offering – is US$50 a month with an annual membership. But what about education customers? How much is the academic discount?
On price, the offer is even better – all students, teachers, and education staff can now pay just US$19.99/month with an annual plan (under $1/day) for your first year – but importantly, no previous ownership of any Adobe product is required and no coupon code is necessary.  Outside of North America, the levels of reduction can be even greater – £16.24 or €19,50 or A$21.99 per month (including VAT), or 60-70% off:
Adobe CC 2015 Education Offer

Students & teachers, now get Adobe Creative Cloud – including all-new tools like Photoshop CC 2015, Illustrator CC 2015, InDesign CC 2015, Muse CC 2015, Acrobat DC 2015, and more – for a reduced price of US$19.99/month for the first year. That's 60% off the regular price. This offer is limited to one (1) purchase of one (1) Creative Cloud annual membership per customer, and may not be assigned, exchanged, sold, transferred, or combined with any other discount.
Any current or recent student or teacher (aged 13 and older) can take advantage of these deals… For showing academic eligibility, the company says: "Documents dated within the last six months are considered current." Or, if you happen to have a school-issued email address (such as ".edu" or ".k12"), then you will be instantly verified.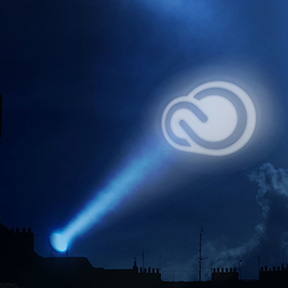 The alternative for academic customers is to get the traditional Student & Teacher Editions which have the CS6 version from 2012, and are also offered at up to 70% off the normal commercial prices. They run from $119 to $999 for a perpetual license depending on the product. These older editions require academic validation once up front at the time of purchase, and then can be used indefi­nitely but can not be upgraded. Outside of that, there are a few other restrictions.
So which route is best for you? In terms of features and functionality, there is no difference between the education version of the Creative Cloud and the regular one. The only distinction is that academic eligibility verification is required at the time of of purchase and again at your yearly renewals to retain the school discount. And after your first year, renewals will be at the then-current education price ($29.99 a month at present).
If you're trying to decide which path to choose, there are different pros and cons to consider for each option. For example, the Creative Cloud can be installed on both Windows and Mac and in multiple languages, whereas the traditional software is locked to one platform. And if you'd like to get all the current leading industry tools with the full Creative Cloud (or even just check out the free level of membership), Adobe has been adding excellent value there.
Here's a guide to help compare:
» Adobe CS6 vs. Creative Cloud (CC) – Which Should You Choose?

While Adobe continues to offer CS6 licensing, the vast majority of customers are signing up to use more of the top applications through the Creative Cloud.  The Cloud already includes all 15 of the CC 2015 desktop programs (including Muse and the Edge collection) plus many other useful tools and services. Behance ProSite and Business Catalyst are in there for easily creating and hosting your websites, as well as Lightroom 5 (for photo­graphy), Typekit (for fonts), and the Digital Publishing Suite (for creating unlimited iPad apps) at no extra cost, plus a newer version of Acrobat Pro (version XI).
In addition, all CC subscribers get many hours of free training with hundreds of tutorials from industry-leading providers. All Creative Cloud members also have access to download, install, and run the CS6 tools as well (together with or instead of CC), if desired.
Which way is right for you? If you go with the perpetual licensing, you pay a higher cost upfront for an older, static version of the software. If you go with the Creative Cloud, there's a world of the latest/greatest tools you can use – all the best Adobe has to offer now and in the future – with ongoing upgrades included plus other benefits at an affordable monthly price point in a comprehen­sive package that's receiving nearly 5-star reviews from customers.
Check our helpful Launch Guide for everything else you should know about CC 2015:
» The New Adobe CC 2015 Release Is Here – What You Need to Know

See Also

Do you have any questions on this post?  Just ask them below and we'll get you answers fast!
To hear about future Adobe sales & deals, follow us on Facebook or Twitter, or subscribe to our RSS feed… You can also enter your email and have new articles sent directly to your Inbox. We are reader-supported; when you buy through links on our site, we may earn an affiliate commission.