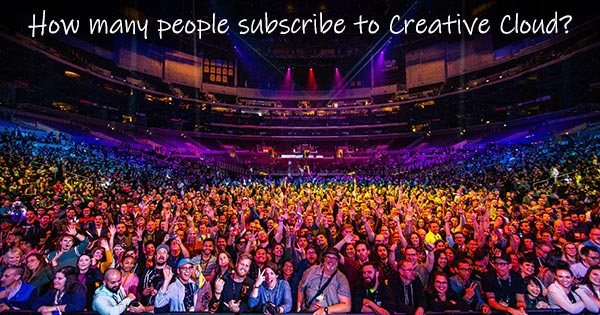 Adobe's Creative Cloud has been available for over a decade now and continues to extend strong adoption in the worldwide marketplace, the latest published figures show.
Per the company's record fiscal year results out last week, recurring revenue in Adobe's Creative segment grew 13.4% over the past twelve months. Last year at this time, annual growth was reported as 17.3%. And at the end of 2020, manage­ment said that "the Creative Cloud business has grown ~85%" from 2017, when analysts pegged the number of CC paid subscribers at 12 million.
So, doing the math and updating for year-end 2022, this gives an estimated new total of nearly 30 million subscribers. This is well over double the number from five years ago, and up approx. 3.5 million from last year. Meaning, the run rate of new subscriptions is close to 1 million per quarter – adding an average of ~10,000 net new paid members every day for the CC 2023 product line.
With the older Creative Suite tools, Adobe had an installed base of 12.8 million custom­ers using different CS versions, which had been built up over a decade… The latest Creative Cloud subscription figures show they have more than doubled that customer base in the ten years since CC was first released. This is powerful, because all Creative Cloud subscribers are running and collaborating with the same creative software release, the latest-and-greatest available.
Adobe stopped selling CS6 six years ago, but the Creative Cloud compares favorably on almost all measures and is one of the company's highest-rated major products ever – likely because it gives access to almost everything they make, all for one simple price with no steep upfront costs.
From an Adobe quarterly conference call:
In Digital Media, the transition to subscriptions is happening faster than expected. Creative Cloud has become the de facto platform for all creatives, providing the tools and services to fulfill every creative need. We are migrating existing customers from our Creative Suite installed base, as well as attracting large numbers of new users with strong adoption across our Individual, Team and Enterprise offerings.

Continuous innovation is the hallmark of Creative Cloud and the catalyst for our retention and growth. Creative Cloud innovation is forging ahead in the mobile space, where our mission is to help creatives bridge their desktop and mobile design processes into a seamless creative workflow. Our plan to deliver new value through compelling services such as Adobe Stock to augment our desktop and mobile applications is off to a strong start. We will continue to deliver new services, and partner with the broader ecosystem to make Creative Cloud the one-stop shop for creative inspiration.

Highlights in our recent quarter include accelerating adoption of Creative Cloud, driven by strong net new CC subscription additions. Across all routes to market, we continue to see solid demand for Creative Cloud, with large portions of our legacy perpetual customers moving to a subscription model. In addition, we are now migrating significant numbers of hobbyist customers who previously used Photoshop Elements and Lightroom on a perpetual basis to the Creative Cloud Photography offering. And we are seeing on Adobe.com that the vast, vast majority of people who are buying Acrobat DC are buying the subscription option.
Creative Cloud is available in over 90 countries and to get started with all the new CC 2023 tools and services, you can download a free trial instantly here:
Special: Legally download dozens of free Adobe books for a limited time!
And the following comes from an earlier conference call:
In our Digital Media segment, we continued to make great progress with our Creative Cloud service as customer adoption proceeds more quickly than we anticipated. Subscriptions have grown faster than expected and, as a result, perpetual Creative revenue has fallen off more quickly. In addition to paid members, we currently have millions of customers who are trying out the free service.

In addition to success with Creative Cloud for Individuals, Creative Cloud for Teams also had strong results, growing 62% quarter-over-quarter. Teams and groups of creatives are realizing the collaboration benefits from being on the same version and the ability to seamlessly share files, fonts and preferences, and enterprises are increasing their adoption due to simplified licensing models and integration with Adobe Marketing Cloud's digital asset management capabilities.

The Creative Cloud offering continues to evolve to ensure that we are satisfying our existing subscribers and attracting new members. In the surveys that we are doing, over 20% of the user base who are adopting the Creative Cloud are completely new customers for us. Last fall, we introduced the CC Photography Plan, providing Photoshop and Lightroom via Creative Cloud to professional photographers and hobbyists at an affordable monthly price. Uptake on this offer has been strong, and we believe adding these users is accretive to our long-term goals.
The company sees further growth ahead:
Our strategic goal continues to be to accelerate adoption of Creative Cloud, and we are focusing all of our innovation there. We've added thousands of new and improved features to Creative Cloud since CS6 came out in 2012, which is driving higher customer satisfac­tion. What's more, we experienced strong retention among individual customers renewing at full price as their introductory promotions expired. And so we're pleased so far with what we are seeing in terms of renewal rates, which are above what we originally modeled.

It's nice to see that we're ahead of the metrics we forecast, not just the annual numbers we provided last year, but the analyst meeting in November 2011 as well when we started this transition. And we reflect that no company has gone through a transition of this magnitude. And for us to be ahead of our goals I think demonstrates the value we're providing to our customers. And the confidence in both the strategy and our ability to execute enables us to be optimistic about our growth prospects…
Free Stock! Download 1,000,000+ premium assets from the new Adobe Stock Free Collection
What's New in Creative Cloud 2023?
See Also

Do you have any questions about Creative Cloud? Check out our extensive Creative Cloud FAQ, or just ask them below and we'll get you answers fast!
To hear about future Adobe sales & deals, follow us on Facebook or Twitter, or subscribe to our RSS feed… You can also enter your email and have new articles sent directly to your Inbox. We are reader-supported; when you buy through links on our site, we may earn an affiliate commission.