[UPDATE (January 2013) – Existing CS4 and CS3 users can still upgrade to the Creative Cloud and receive a 40%-off discount off the regular price.]
Earlier this year, Adobe made a significant change to their Creative Suite upgrade policy that had been in place since CS3 came out in April 2007…
In a nutshell, they said that the older Creative Suite versions CS4 and CS3 will only be able to get upgrade discounts to CS6 until the end of this year… Starting soon in 2013, only one major version back (i.e., CS5 and CS5.5) will be eligible for upgrade pricing to CS6. This goes for suite editions as well as standalone products like Photoshop.
Here it is, found on their site:
Special upgrade offer for CS3 and CS4 customers

Take advantage of our special introductory upgrade pricing on Creative Suite 6 for customers who own CS3 and CS4 individual products and suite editions. This temporary upgrade offer is valid through December 31, 2012. After that date, only customers who own CS5 or CS5.5 products will qualify for upgrade pricing to CS6.

Read the details about our Creative Suite upgrade policy »
In other words, Adobe's longtime "three versions back" upgrade policy will last only until the end of this year… Starting in January 2013, owners of any product older than CS5 would have to pay full price, or switch to the Creative Cloud instead.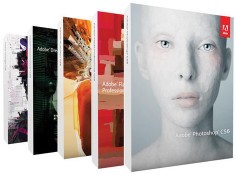 Why is Adobe making this change? It's likely that part of their reasoning for shifting from a "three versions back" to a "one version back" upgrade policy is because the major CS releases are now spaced out to once every two years, compared to 18 months in the past – so there's more time between each one.
This means that if you do get on board with Creative Suite 6 before yearend, then under the new policy beginning in 2013, you'll have over three years to consider later upgrading from CS6 to CS7 or CS7.5 down the line. You will not have to upgrade every year to retain future eligibility (a popular misconception), if you don't wish to.
But this does mean that all customers currently running Creative Suite 5 or 5.5 will also eventually have to upgrade to CS6 if they want to later be qualified to move up to CS7.
Going forward, you will be able to purchase future Creative Suite products just like today, as perpetual licenses that will work permanently on your desktop – or you can go with the Creative Cloud, which offers the latest software with a discount on first-year membership for current CS customers… The choice is yours – and if you like, we have a guide for helping to decide.
Not completely sure if you want to upgrade to CS6 yet? No problem, you can easily download the free CS6 trial and install/run then side-by-side with your older software, and see what you think. To get started learning the new tools, check out these free downloadable CS6 ebooks or many hours of free CS6 video tutorials.
You can also see a comparison of CS6 vs. CS5 vs. CS4 vs. CS3, including new features and other changes.
Wondering about your project files? Yes, CS6 should be able to open all your existing data files going back to CS3.
[UPDATE (December 26th, 2012) – "6 Days Left to Get CS6: Set your ideas free and save on the new version of Adobe Creative Suite 6. If you are currently still on suite editions or individual products of CS3 and CS4 you qualify for upgrade pricing on the new Adobe CS6, but only until 31 December 2012. After this date, only users with Adobe CS5 or Adobe CS5.5 will qualify for upgrade pricing. Upgrading to the latest version now will not only save you a lot of money, but you will be able to unleash your creativity to produce irresistible work with the latest capabilities and perform­ance enhance­ments in Adobe CS6. And with only 6 days to go, you must act now, to not miss out. For 1 to 10 licenses, upgrade online."]
See Also

Do you have any questions about CS6? Just ask them below and we'll get you answers fast!
Keep up with the latest on Adobe software — follow us on Facebook or Twitter, or subscribe to our RSS feed… You can also enter your email and have new articles sent directly to your Inbox. We are reader-supported; when you buy through links on our site, we may earn an affiliate commission.