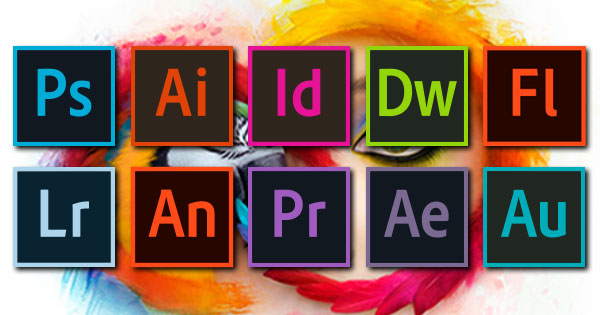 UPDATE (Oct. 2023) – The new Creative Cloud 2024 direct download links are now available.
Adobe has just made a big change to the version availability and usage of its creative software products, both for CC and CS applications…
Since the advent of Creative Cloud in 2012, subscribers have been able to use any version of the CC products that has ever been released. Some customers use prior versions due to compatibility with evolving system requirements, or because co-workers have standardized on the same earlier release.
However, effective immediately, Adobe has completely discontinued certain older versions of Creative Cloud apps and as a result, under the terms of the licensing agreement, subscribers are no longer licensed to use them.
Per their recent email, "We ask that you discontinue all usage of the unauthorized products listed in this table, and instead update to the authorized versions provided. You will continue to receive all the value that Creative Cloud has to offer, but with more advanced features and capabilities, critical bug fixes, and security updates. For these reasons we recommend all customers use the latest release of our Creative Cloud applications."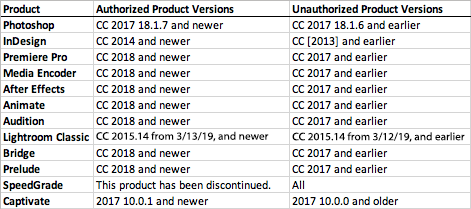 How does this move impact Creative Cloud users?
These unauthorized versions of CC programs are recommended to be uninstalled, otherwise users "will not have third-party claim coverage pursuant to their contract with Adobe. Should customers continue to use or deploy these unauthorized versions, they may be at risk of potential claims of infringement by third parties."
Pursuant to this, Adobe has removed access to these specific tools from both the Creative Cloud Desktop app, as well as downloading those tools via the CC direct links… This is something to be especially aware of if you have relied on access to and usage of those older apps.
Fortunately, all tools within the most recent two major releases of Creative Cloud (CC 2021 and CC 2019 and CC 2018) remain fully licensed and authorized, and all of them continue to be available for download & installation via both the CC Desktop app as well as via direct links.
Further, not all older versions of all apps are restricted. For example, Dreamweaver, Illustrator, and InDesign CC 2014, 2015, 2017, 2018 and 2019 are all still authorized and all still available for download and ongoing use.
In a new blog post on this topic, Adobe writes:
"Going forward, Creative Cloud customers can use and download only the two most recent major versions of Creative Cloud. This change enables us to develop the features and functionality most requested by customers and ensure peak performance across all Creative Cloud apps and services. We always encourage our customers to use the latest version of Creative Cloud to have access to the latest features, optimal performance, security and other benefits."
So if you are only using the most recent releases of CC apps, as Adobe says the vast majority of customers are, then you have nothing to worry about.
How does this affect Creative Suite (CS) applications?
Adobe's changes to download availability also affected CS tools, even those with perpetual licenses. First off, note that perpetual products are not subject to the "unauthorized" issue, even though older releases like CS6 were officially discontinued (EOL) years ago.
So perpetual users are still able to utilize their software. But for those who purchased CS perpetual licenses and need or want to access installer downloads, the options have changed. Historically, there have been public-facing direct download links available for versions like CS4, CS5, and CS5.5.
Now, instead, if you purchased the software directly from Adobe (via an Electronic Software Download), then the company says an installer download should be available under your account by using the process listed in "Find Downloaded Apps and Files" or "Download Older Versions of Adobe Apps."
If you purchased perpetual software via a CD/DVD or from an authorized reseller/retailer, then make sure to complete the registration process discussed in "Find Your Serial Number." If you can't register your software, then you might be able to retrieve your working license key from your computer by running one of the free utilities described here.
Otherwise, if you are unable to find the disc media or serial number that was provided with your purchase, then you may be out of luck. However, volume license customers can still retrieve the volume license perpetual installation files at https://licensing.adobe.com/.
The Good News for Direct Download Links
The good news is that complete sets of direct download links remain working and available for the two most recent releases of Creative Cloud – CC 2019 and CC 2018 – while older versions still retain some direct links which are functional within CC 2017, CC 2015, CC 2014 and CC 2013.
Regarding standalone installers for the older end-of-life Creative Suite products, some direct download links for CS6, CS5.5, CS5, CS4 and CS3 are still working and available.
Last, but not least
Finally, and importantly, Creative Suite 6 is no longer available to download as part of a Creative Cloud membership. CS6 was the first release of software that early Creative Cloud subscribers received in 2012, but it is no longer offered with CC membership.
That said, Adobe is not doing anything to actively uninstall CS6 (or any older CC version) from Creative Cloud customers' machines – the removal of any such now-unauthorized version is ultimately up to the subscriber.
Do you have any questions about this policy change, or Creative Cloud in general? Just ask them below and we'll get you answers fast!
See Also

Keep up with the latest on Adobe software — follow us on Facebook or Twitter, or subscribe to our RSS feed… You can also enter your email and have new articles sent directly to your Inbox. We are reader-supported; when you buy through links on our site, we may earn an affiliate commission.