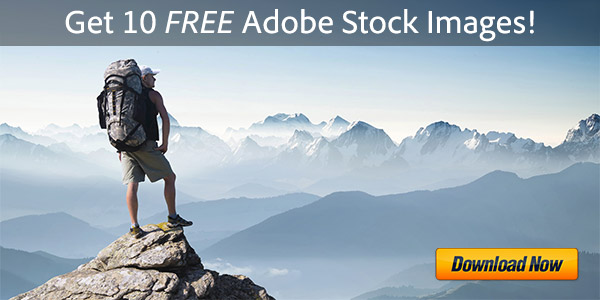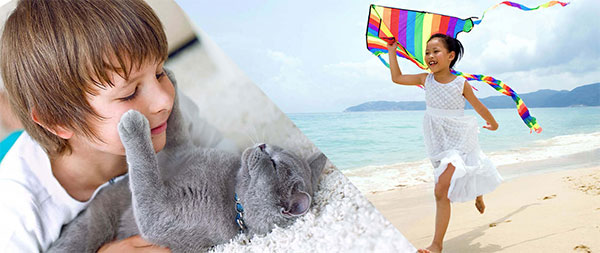 A short while ago, Adobe shipped version 2020 of Adobe's "Elements" line – and since Elements releases are now named by the upcoming year instead of a version number, this edition would be the equivalent of version 18 in the previous numbering system.
And continuing our tradition of publishing the direct download links for major Adobe products such as Creative Cloud, Lightroom 6/CC, and Acrobat DC, below you'll find the direct links from Adobe's servers for the free trials and full offline installers for the new releases of Photoshop Elements 2020 and Premiere Elements 2020, for both Windows and macOS.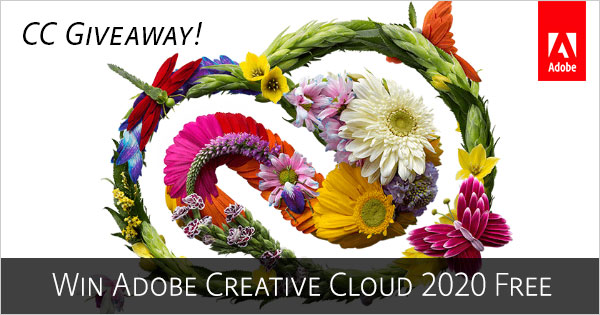 Every autumn brings MAX – Adobe's big annual creative conference – and every recent MAX has also brought a major new release of Creative Cloud… For instance, CC 2019 was unveiled at MAX last year, and we expect this year to be no different. In fact, Adobe has already tipped this off with a new article about changing requirements for the next Photoshop and Lightroom:
As we prepare for our next major releases of Camera Raw, Lightroom Classic and Lightroom at MAX 2019, we wanted to give you a heads up on upcoming changes to our System Requirements…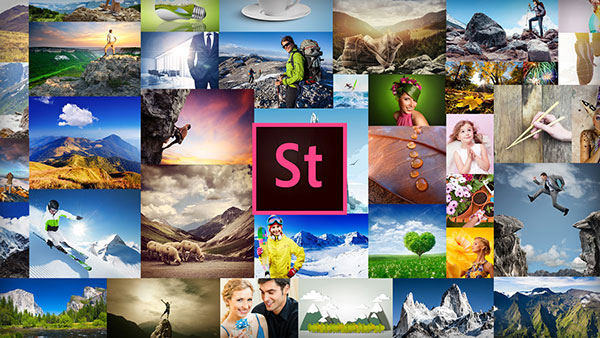 Adobe has really been sweetening the pot lately for you to try out their massive Stock photo collection… These are high-quality, curated images, illustrations, vectors, graphics, templates, photos, and more from a vast collection of over 150 million assets to choose from. After acquiring Fotolia in 2015, Adobe rolled out a one-month-free offer which was nice, but it required paying for your first month up front (which would later be refunded if you canceled).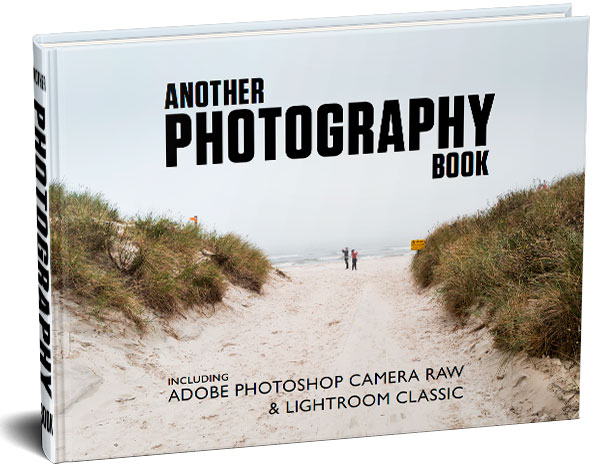 Over the years, we've put together a large collection of free Adobe books that we share with our readers here… This extensive set of helpful, no-cost books has now grown to over 30 different titles that you can legally download and use royalty-free, forever.
Here's the new and updated edition of a very handy resource from James Wamser – a complete reference to all versions of Adobe InDesign ever released… Similar to his Photoshop and Illustrator handbooks, it's called called the Adobe InDesign New Features Guide, 1.0 to CC (2019), and this 115-page ebook is available for free download now: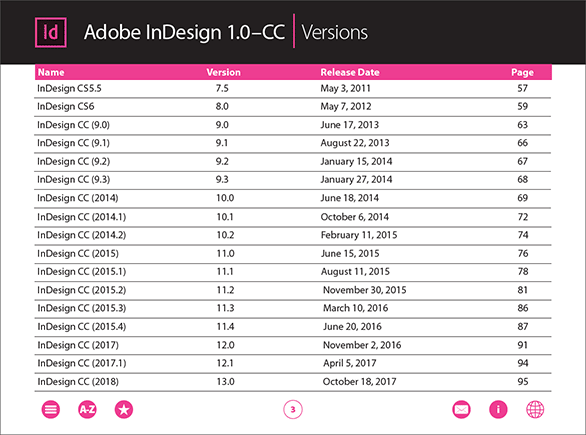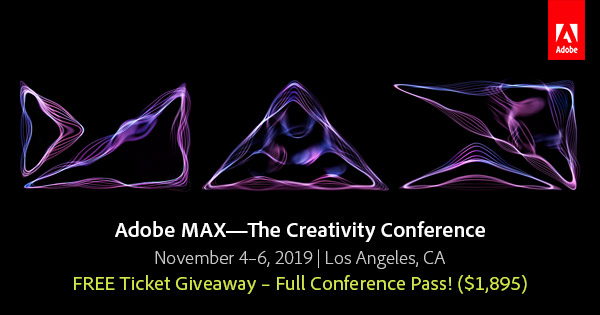 [UPDATE – Also see our new Adobe CC 2020 Giveaway!]
MAX 2019 – the big annual conference intersecting creativity and Adobe technology – is happening this fall in Los Angeles, California… And continuing our longtime custom of free Adobe giveaways, we've got one free regular full conference pass (worth US$1,895) to give away, courtesy of our friends at Adobe Systems! Plus, an exclusive US$400-off MAX ticket discount code that's usable for everyone… (details below)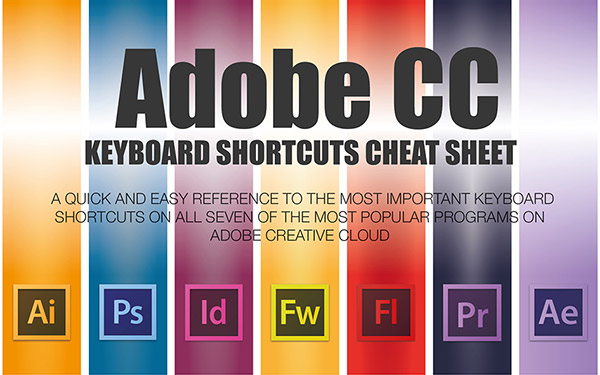 Here's a very handy resource from Jamie Spencer – the complete set of essential keyboard shortcut cheat sheets for every major Adobe CC application… These comprehensive sheets can save you loads of time every day by speeding up your work and allowing you to bypass the need for mouse clicks and movements, getting you to the function you need in the fastest possible way. They are extremely helpful assets to have in your arsenal – and can easily be consulted anytime as an instant reference, or printed out in high resolution and posted, or even used as desktop wall­paper. They are completely free and available for download here: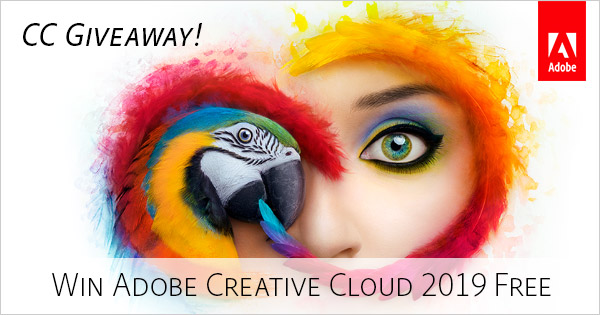 [UPDATE – Also see our new Adobe CC 2020 Giveaway!]
Last fall, Adobe launched the all-new CC 2019 product line, a major milestone of creative tools and services marking the seventh major release of the CC product line. This latest version contains thousands of new features and advancements since Creative Suite in 2012, and this product is available only via Creative Cloud membership – a community which now surpasses 15 million paid subscribers.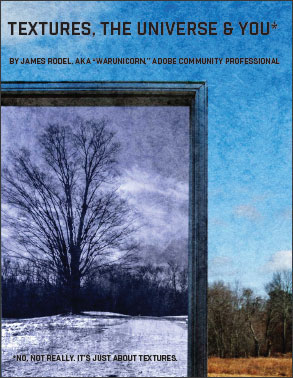 We've got another great resource for you – a freely-available collection of custom Photoshop textures to help set your work apart… This exclusive set of 29 different handcrafted textures has been released by War Unicorn Media at no cost and is 100% royalty-free. This collection comes complete with an 18-page guide (available online or as a download­able PDF), filled with tips and tricks on how to best use textures in your Photoshop workflow, as well as how to create your own!
Textures are super-easy to apply and use in Photoshop. Just load the texture into a new layer above your composition, and then set its Blending Mode and Opacity for how you want it to impact the photograph or image underneath. More details and ideas are given in the short tutorial video included below.
Here is James Rodel's introduction from the accompanying guide, which is packed with examples and entitled, "Textures, the Universe, and You":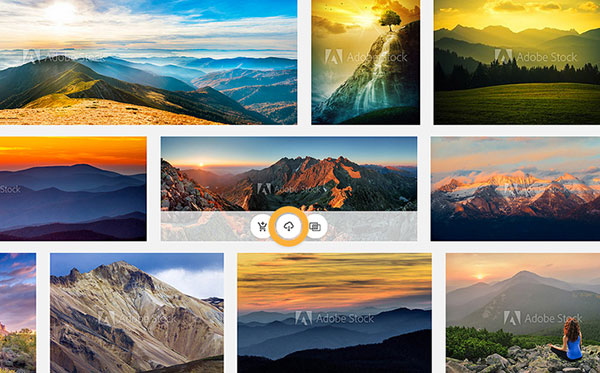 Adobe wants to give you US$50 worth of professional, high-resolution stock images right now. We're talking about premium-quality, curated photos, illustrations, vectors, graphics, and more from an enormous collection of over 150 million assets to choose from…