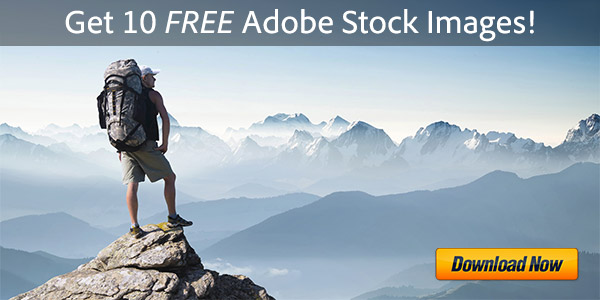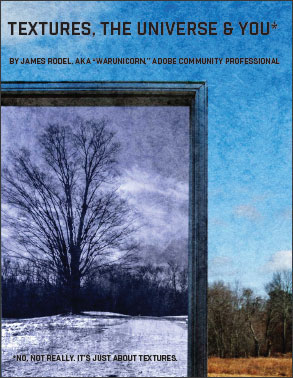 We've got another great resource for you – a freely-available collection of custom Photoshop textures to help set your work apart… This exclusive set of 29 different handcrafted textures has been released by War Unicorn Media at no cost and is 100% royalty-free. This collection comes complete with an 18-page guide (available online or as a download­able PDF), filled with tips and tricks on how to best use textures in your Photoshop workflow, as well as how to create your own!
Textures are super-easy to apply and use in Photoshop. Just load the texture into a new layer above your composition, and then set its Blending Mode and Opacity for how you want it to impact the photograph or image underneath. More details and ideas are given in the short tutorial video included below.
Here is James Rodel's introduction from the accompanying guide, which is packed with examples and entitled, "Textures, the Universe, and You":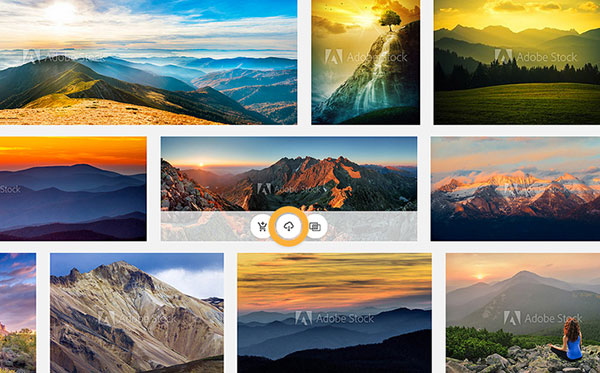 Adobe wants to give you US$50 worth of professional, high-resolution stock images right now. We're talking about premium-quality, curated photos, illustrations, vectors, graphics, and more from an enormous collection of over 130 million assets to choose from…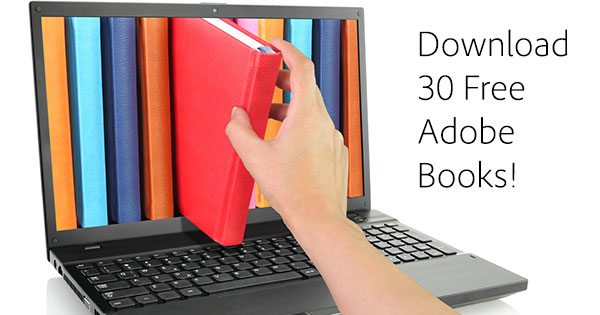 Next to our Adobe software direct download links, easily the most popular resource here at ProDesignTools is the set of free Adobe books that we've put together over the years…
So we're pleased to announce that, with the recent addition of the Adobe Illustrator New Features Guide, this no-cost collection has now grown to more than 30 different titles that you can legally download and use royalty-free, forever. These eBooks comprise thousands of pages covering the CC and CS releases of all major Adobe products. So before you go and spend money for a book, you might want to check these out first!
Here's a very helpful resource out from James Wamser – a complete reference to all versions and features of Adobe Illustrator from CS6 to CC 2019… Similar to his InDesign and Photoshop handbooks, it's called the Adobe Illustrator New Features Guide: From CS6 to CC – and this 38-page ebook is available for free download now: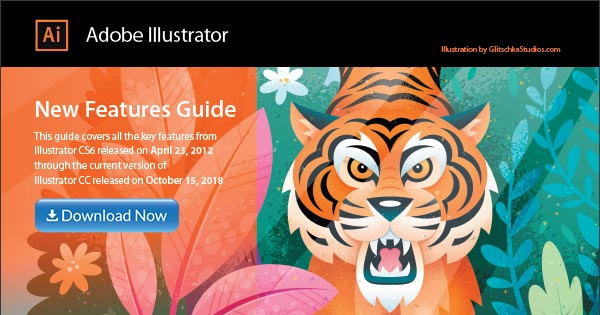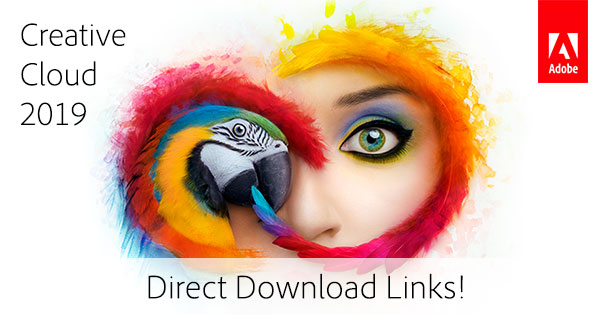 Last October, Adobe unveiled the new CC 2019 Release, which the company says is the biggest product launch since they first introduced Creative Cloud over six years ago. Pam Clark, Senior Director for Photoshop, exclaimed, "Today is by far the largest product announcement and launch experience of my career on the Photoshop team, and at Adobe. We have never delivered so much amazing new innovation to customers on the same day. I can't wait to see what you create!"
With over 15 million paid members for Creative Cloud and growing, we often get this question from readers: "What's a good book to get started with the most popular Adobe tools?" While there are a lot of great CC books for sale on Amazon, why not begin with an excellent title that's available to everyone for free, and that you can download instantly?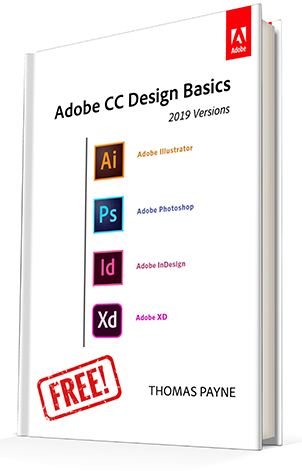 Over the years, we've compiled a collection of over 30 free books that you can download and use for learning all of Adobe's different creative tools… But there's one volume that always stands out as a favorite – and even better, it has just been republished in a brand new expanded edition for the CC 2019 tools.
So if you're just getting going with (or would like a solid primer covering) the core Creative Cloud design tools, then what better than a step-by-step guide that will teach you the essentials of Photoshop, Illustrator, InDesign, Adobe XD, and Muse from the ground up?
So here it is: the very helpful "Adobe CC Design Basics" that will give you all of this for free, courtesy of author Professor Thomas Payne… The book works by intro­ducing and explain­ing the tools in a logical way that builds upon what is previ­ously learned. These applica­tions present a vast array of buttons and gadgets that can be over­whelming to the new user. This book makes sense of it all, not showing how every­thing works, but instead giving a found­ation and a path to learn about all those controls and what they can do for you.
Longtime readers know that we offer a series of free books for Adobe software with over 30 different titles that anyone can download on how to best use the different major products… These books have been extremely popular and well-received.
But since Adobe software is all about creating, for a long time there was a missing part: a collection of free books simply about building your creativity – something that everyone in the world can use and benefit from… So here is that set! You can legally download and use the five PDF e-books below to inspire your own creative process and help improve your work, no matter what you do in life. They are (in our view) all easy, enjoyable, and enriching reads.
Book #1: The Creative Aid Handbook (142 Pages)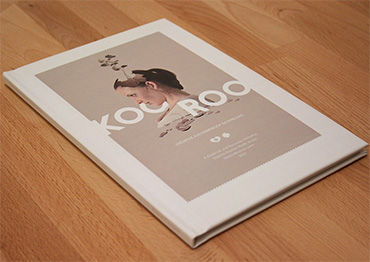 Co-creators Richard Tapp and Nicole Smith of Kooroo Kooroo rightly describe The Creative Aid Handbook as a outside-of-the-box resource to get your creative juices flowing: "We wrote, designed, and illustrated a book featuring unusual tips to nurture your creative well-being, boost your creative intellect and foster internal inspiration. Meant to serve as a mini-resource for your creative projects and food for your creative thoughts. Read more…
Here's the brand new edition of a very handy resource from James Wamser – a complete reference to all versions and features of Adobe Photoshop from CS1 to CC 2019… Similar to his InDesign and Illustrator handbooks, it's called the Adobe Photoshop New Features Guide: From CS to CC – and this 97-page ebook is available for free download now: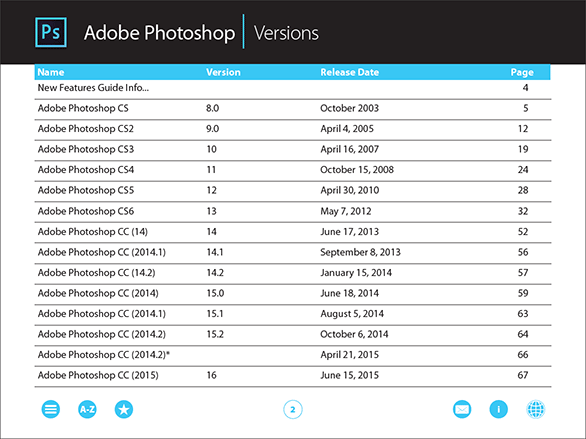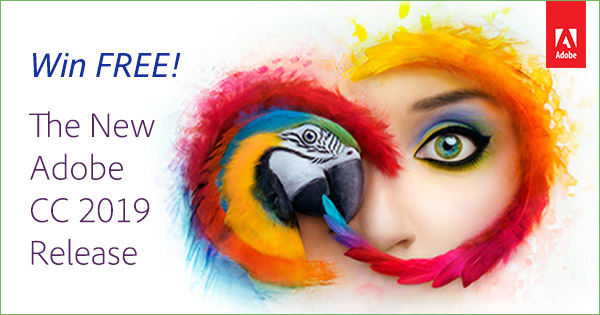 Last month, Adobe shipped the all-new CC 2019 set of tools and services – a milestone marking the seventh major release of the CC product line, which replaced CS6 from 2012. This latest CC version contains thousands of new features and advancements compared to CS6 (across all creative applica­tions), and it is available only via Creative Cloud membership – a community which now surpasses 15 million paid subscribers.
Adobe CC 2019 is also known as the Creative Cloud 2019 Release… And that is exactly what we're giving away for free below, and this offer is open to everyone world­wide.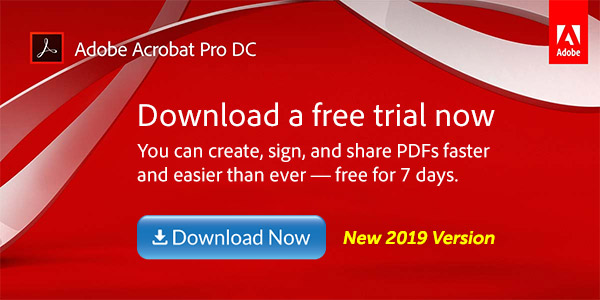 Adobe Acrobat DC 2019 is now shipping! If you hadn't heard by now, "DC" stands for Document Cloud, which is Adobe's set of integrated online services to help customers better manage critical documents. At the heart of Document Cloud is Acrobat DC – the industry standard for creating, sharing and editing PDFs – which was completely rearchitected for the initial DC 2015 milestone release several years ago. For more information, see: What Is the Document Cloud?