Get Adobe Stock for Free & Download 10 High-Quality Images ($50)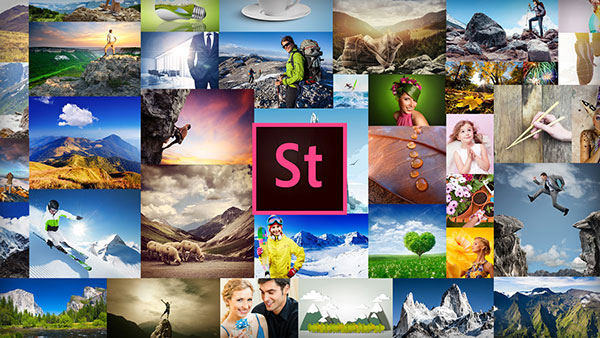 Adobe has really been sweetening the pot lately for you to try out their massive Stock photo collection… These are high-quality, curated images, illustrations, vectors, templates, photos, graphics, audio/music, and more from a vast collection of over 200 million assets to choose from. After acquiring Fotolia in 2015, Adobe rolled out a one-month-free offer which was nice, but it required paying for your first month up front (which would later be refunded if you canceled).
Recently, however, they've made it a lot simpler for everyone… All new Stock subscribers now get the first month including 10 downloadable assets completely free, with zero payment required until the second month. But if you cancel during the first month, then your credit card would never be charged – and your service will continue until the end of that first month. Even if you cancel within 14 days after the beginning of the second month, you'll still be fully refunded.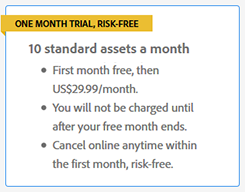 On top of that, they've enabled easy online cancellations for any customer who decides not to continue. Cancellations can be made at any time by visiting your Manage Account page (or by contacting Customer Support in your region).
Note: You do not need to be a Creative Cloud subscriber to sign up for Stock (not even the free level of CC), or even to be using Adobe software at all – because Stock can also work standalone. Either way, all you need in order to take advantage of this offer is an Adobe ID, which can be quickly created by anyone for free.
So now at no risk and no charge, you can have US$50 worth of professional, high-resolution stock images, forever. The standard license to use or edit this content is royalty-free and granted in perpetuity, with no geographical restrictions or expiration dates. Sign-up is immediate, so you can choose and download your best favorite images right away:
Adobe Stock is Seamlessly Integrated into Your Workflow
Better still, since the acquisition, Adobe has added some really cool features to Stock that fully integrate the service with all of your favorite tools like Photoshop and Illustrator, as well as impressive new Visual Search capabilities to make it super-easy to use and fast to find the perfect image for your needs.
The Stock integration with the CC tools is very helpful and a big time saver. For example, you could do a quick search to find a dozen Stock images to try out and see which one works best. You can drag them all into Photoshop and then continue to edit and manipulate your composi­tion. Then when you're done and have decided which ones to keep, just tell Photoshop to license them – and those preview images will be seamlessly replaced with the full-quality, non-water­marked versions, while retaining all of your edits without missing a beat!
A recent research report found that "Adobe Stock provides tight integration with Creative Cloud applications that resulted on average in 10x efficiency gains over working with common stock image services in the benchmarks conducted for this research. Productivity gains measured in these benchmarks are very significant."
This can save you serious time: "… licensing, replacing, and making multiple image adjustments takes 42 seconds in Adobe Stock, versus 7 minutes and 16 seconds with other stock providers."
And if you're part of a larger organization, then you can use the group-enabled capabilities of Adobe Stock (such as sharing pooled images) to collaborate together with your coworkers on larger projects using Creative Cloud for Teams.
Special: Legally download dozens of free Adobe books for a limited time!
Are You a Photographer or Designer? Sell Your Work on Adobe Stock
On top of being an Adobe Stock customer, you can also easily become a contributor as well – and set yourself up to make money by doing so. There are no registration or portfolio management fees, and you'll be able to showcase your work to millions of buyers around the world, 24/7. Thanks to enormous daily sales volumes and royalties typically one-third of the sales price, you could potentially earn thousands of dollars every month. Plus, Adobe recently added a Bonus Program which grants complementary access to Creative Cloud for active contributors.
Just submit your best original work, and if it's accepted after a short review period, then you'll receive a royalty every time one of one of your images or designs is sold through the service – via both Adobe Stock and Fotolia. The submission process is simple and automated, thanks to new smart auto-keywording and auto-categorization tools.
Selling your work to the millions of creatives on Adobe Stock is an easy way to add more revenue that both complements your creative career and diversifies your portfolio. Contributing to Stock can be part of any creative lifestyle, whether you're looking for a full-time commitment or a part-time gig. This can provide whole new opportunities to expand your portfolio and earn meaningful income – essentially, helping you to make money doing what you love. Heck, with a little ingenuity, you could potentially even turn your next vacation into a paid holiday.
If you have any additional questions, you'll probably find them answered in the comprehensive Adobe Stock FAQ! Or feel free to ask them below.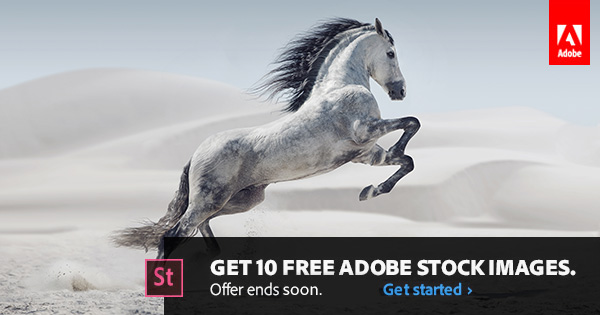 See Also

Do you have any questions about Adobe Stock? Just ask them below and we'll get you answers fast!
Keep up with the latest on Adobe software — follow us on Facebook or Twitter, or subscribe to our RSS feed… You can also enter your email and have new articles sent directly to your inbox.