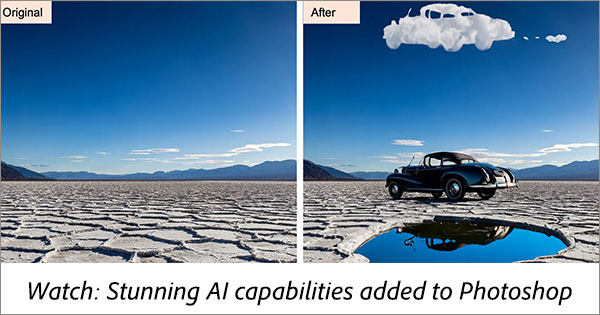 The new version of Photoshop out this week adds ground­breaking Generative AI capabilities (magically powered by Adobe Firefly), enabling you to add, extend, or remove content from your images non-destructively, using simple text prompts to achieve realistic results. And this could be one of the shortest posts we've ever published, because the five-minute video below from Russell Brown speaks volumes. Just watch it! You won't believe your eyes:
We know – bonkers, right? If you're like us, you must have a thousand ques­tions… How does it work? What is everything you can do with it? Where does the AI engine get its source content? Is it commer­cially safe? Are the source creators' rights protected? What are the recommended tips and tricks for using it? How can you tell if an image has been created with Artificial Intelligence?
This essential help page should answer most of those questions… (Any others, just leave a comment below!)
Adobe's blog post explains Generative Fill further, as well as gives additional examples of amazing creations people have made with this new functionality:
Four years ago, we published an April Fools' joke about an (imaginary) new Photoshop feature called "Content-Aware Content" where "you just draw a big box and it puts all your content in for you. Whatever you want, whatever you're thinking of – it shows up auto­matically. Boom, a little clean-up and you're done." Now, here, that exact vision has somehow become a reality. Truth is stranger than fiction!
Now go get it – this Photoshop beta is here and widely available:
Creating will never be the same!
Availability
Generative Fill is available now in the Photoshop beta desktop application, and will be generally available in the second half of 2023. The Photoshop beta app is available to all Creative Cloud members with a subscription or a free trial which includes Photoshop.
A simplified version of Generative Fill is also available today as a free webtool as part of the online Adobe Firefly beta, with no subscription or payment or download required.
Generative Fill is currently not available for commercial use, not available to users under 18, not available in China, and works with English-only text prompts.
Special: Legally download dozens of free Adobe books for a limited time!
See Also

Keep up with the latest on Adobe software — follow us on Facebook or Twitter, or subscribe to our RSS feed… You can also enter your email and have new articles sent directly to your Inbox. We are reader-supported; when you buy through links on our site, we may earn an affiliate commission.