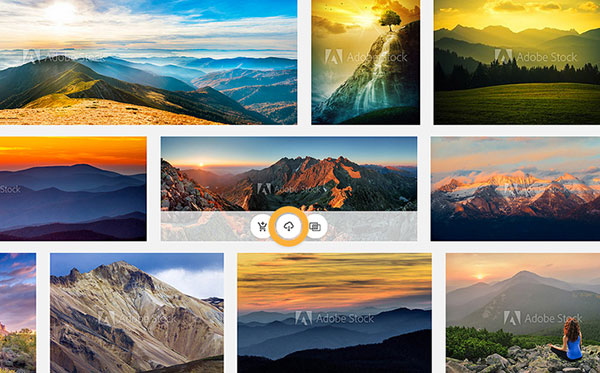 Adobe surprised everyone by giving away a curated collection of over 1,000,000 completely free photos, illustrations, templates, videos, audio, and 3D models from talented Stock providers… This Adobe Stock Free Collection is available for all to download at no cost – plus these high-quality assets meet the same standards as the paid collection, so they come with a royalty-free commercial license forever. Check out the free Stock here and instantly download whatever you want, with an incredible selection to choose from!
Adobe is doing right by the artists who created all this valuable free content, too. Even though you're getting access to hundreds of thousands of world-class assets at no cost, Adobe still makes sure the artists are getting paid for providing it. So, you can use these assets in all of your personal, business, or commercial projects with the peace of mind that you are sourcing content ethically and respecting the artist community. But again, you pay nothing.
And for 10 additional paid assets of your choice at no cost, you can also tack on the free one-month trial described below…
As large as the new Free Collection is, it still represents only a tiny fraction of the complete (massive) Stock library. So, the offer gets even better… Adobe also wants to give you US$50 worth of professional, high-resolution paid stock assets right now. We're talking about premium-quality, expert-curated pictures, illustrations, vectors, graphics, design templates, audio/music tracks, 3D models and more from an enormous library of over 360 million assets to choose from…
How does this work? Well, if you try out the Adobe Stock paid plan, then they will credit you with 10 superlative images you can download free within the next 30 days and use forever. You can select any of the many millions of different assets (try searching right now!), and jump-start your creative projects – or use for any purpose in virtually any project anywhere.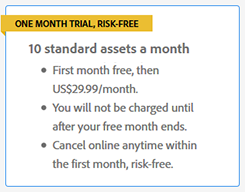 The standard license to use or edit this content is royalty-free and granted in perpetuity, without geographical restrictions or expiration dates. Adobe Stock works beautifully together with the Creative Cloud apps (see demonstration below), but you don't need a paid membership or subscrip­tion to use it (not even the free level of CC), or even to be using Adobe software at all – because Stock can also work standalone. Either way, all you need in order to take advantage of this offer is an Adobe ID, which can be quickly created for free.
Normally with Adobe Stock, single images are US$9.99 each – but you can get 10 photos to use on a Monthly basis for $49.99/month. With the Annual Plan, your price is discounted to $29.99/month – and as noted above, your first month is completely free if you sign up for this plan now:
You will not be charged for the first month's billing cycle. It is a full 30-day free trial and you can use the assets you download indefinitely. At any time during the first 44 days, if you don't want to continue with Stock at the lower price, then you can easily cancel the service online and owe nothing at all. If you wish to continue your Annual plan subscription, then any unused images will roll over between months (up to 120 total) for as long as your Stock member­ship remains active.
If you don't wish to continue, then Adobe provides easy online cancellations. Just visit your Manage Account page at any time to cancel (or contact Customer Support in your region).
Install now: Get all new Creative Cloud 2023 direct download links and free trials.
Adobe Stock is Seamlessly Integrated into Your Workflow
In addition to the rich depth of the catalog and ease of quickly finding the right high-impact image for your needs, Adobe Stock is also already deeply integrated into the CC tools… This tight connec­tion can be an big time-saver in your day-to-day work.
You can use an unlimited number of watermarked Stock preview images in your projects and designs – and search & browse right from within your favorite apps such as Photoshop, Illustrator, InDesign, Dreamweaver, Animate, Premiere Pro, and After Effects. Then if you decide to license any particular image(s), you can do it inside those Adobe tools with a single click, without changing any of the work you've created.
Once you license an image, the watermarked version is replaced with the full-resolution version and the image will be automatically updated wherever you have used it throughout your project, saving you hours of rework. The Stock asset can be saved directly to a Creative Cloud Library and is immediately available on your Desktop as well as Adobe mobile applications.
Check out this 90-second demo – it is so quick, slick and easy to use:
For more details, including the step-by-step walk­through of how to seamlessly use Adobe Stock from inside your CC products, see the Quick Start Guide.
And if you're part of a larger organization, then you can use the group-enabled capabilities of Adobe Stock (such as pooled images, extended licenses, and reporting tools) to collaborate together with your coworkers on larger projects using Creative Cloud for Teams.
Special: Legally download dozens of free Adobe books for a limited time!
Are You a Photographer or Designer? Sell Your Work on Adobe Stock
On top of being an Adobe Stock customer, you can also easily become a contributor as well – and set yourself up to make money by doing so. There are no registration or portfolio management fees, and you'll be able to showcase your work to millions of buyers around the world, 24/7. Thanks to huge daily sales volumes and royalties typically one-third of the sales price, you could potentially earn thousands of dollars every month. Plus, there is a new Bonus Program which grants comple­mentary access to Creative Cloud for active contributors.
Just submit your best original work, and if it's accepted after a short review period, then you'll receive a royalty every time one of one of your images or designs is sold through the service… The submission process is simple, straightforward, and largely automated, thanks to smart auto-titling and auto-keywording tools.
Want to earn money doing what you love? You can learn more about becoming a contributor here, plus get some great and helpful tips for success here.
Terry White: Video Review of Adobe Stock
If you have any additional questions, you'll probably find them answered in the Adobe Stock FAQ.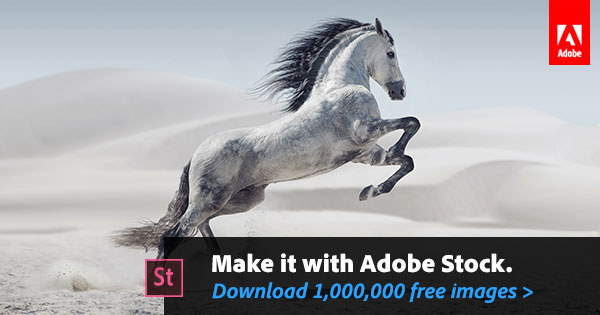 See Also

Do you have any questions about Adobe Stock? Just ask them below and we'll get you answers fast!
Keep up with the latest on Adobe software — follow us on Facebook or Twitter, or subscribe to our RSS feed… You can also enter your email and have new articles sent directly to your Inbox. We are reader-supported; when you buy through links on our site, we may earn an affiliate commission.