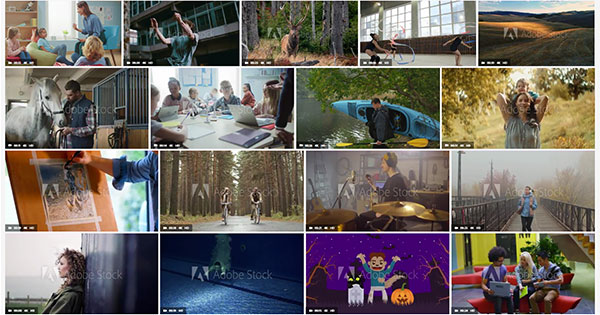 The new Adobe Stock Free Collection is simply amazing. Not only do you get 1,000,000+ free high-quality images, illustrations, vectors, templates, graphics, photos, audio tracks, and 3D models to choose from for your next creative project, but you also now get over 75,000 free professionally-shot HD and 4K stock videos to download for almost any use you desire! And there's no catch.
All of these no-cost assets meet the same standards as the Adobe Stock paid collection, meaning they're premium grade, curated by experts, and come with an Enhanced royalty-free commercial license forever. And even though all this valuable content is being furnished gratis to you, Adobe still ensures the talented producers who created it are being compensated. So, you can use this footage in all of your projects knowing that you are sourcing your content responsibly while supporting the creative community.
Here's a wonderful selection to give you a quick idea of what's included: it's the Featured Free Videos page from from the Adobe Stock Free Video Collection. You can see here that this is top-notch footage and worthy of incorporating into any work you or your collaborators produce:
The value they're offering here is pretty incredible. Normally, Adobe Stock videos sell individually for US$79.99 apiece in HD (1920 x 1080 pixels) and $199.99 each in 4K (3840 x 2160 pixels). Those are the regular prices for one single video clip. But here, you can choose any of over 75,000 different stock videos to download at any time, completely for free. Of those 75,000+ videos, over 50,000 are being given away in 4K resolution.
Doing the math, the total retail value of this free video collection is $12,000,000!
Also included are hundreds of free motion graphics templates (MOGRTs) for easy animated titles and graphics which will level up your videos instantly, plus free music and audio tracks to give your creation that final professional touch.
All you need to get started is a free Adobe ID, which comes with the free tier of Creative Cloud membership. You do not need a paid membership or to be a Creative Cloud subscriber to download these, or even to be using any Adobe software at all. And the videos you receive are permanent, without royalties, and not watermarked.
So don't miss the entire free Stock footage collection linked below, royalty-free and production-ready. Search and find the videos and audio you'd like, and start downloading today to bring your story to life:
Special: Legally download dozens of free Adobe books for a limited time!
More Advantages of Adobe Stock
As large as the new Free Collection is, it still represents only a small fraction of the complete Stock library, which now includes over 360 million assets of all kinds (with 23 million videos)… Of course, if there's something you find the paid collection which appeals to you, Adobe will be pleased if you purchase it. And they even offer a free 30-day trial where you can download any 10 paid assets you like for free (videos not included).
But that is optional, and there is no obligation either way. So, you can simply use the Free Collection for as long as you like.
By the way, one of the great things about Adobe Stock is how it is seamlessly integrated with the Creative Cloud tools you already use (if you do)… This means you can intelligently search for and add Stock assets to your projects and compositions directly from your current workflows. This exclusive capability turns out to be very helpful and great way to work faster, save a lot of time, and boost your productivity.
Finally, in addition to being an Adobe Stock user, you can also easily become a Stock contributor as well – and set yourself up to make money by doing so. There are no registration or management fees, and you'll be able to showcase your work to millions of buyers around the world and around the clock. For content creators, this is a fun side hustle and nice way to make some extra spending money.
If you have any additional questions, you'll probably find them answered in the comprehensive Adobe Stock FAQ! Or feel free to ask below, and we'll get back to you with the answers.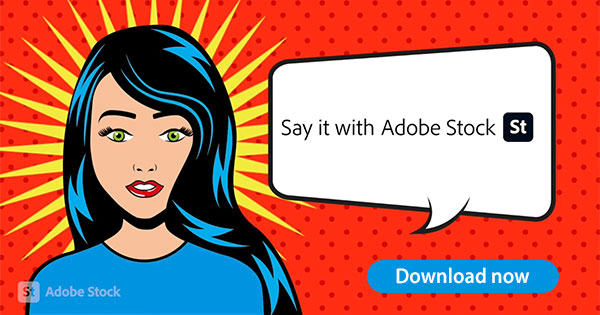 See Also

Do you have any questions about Adobe Stock? Just ask them below and we'll get you answers fast!
Keep up with the latest on Adobe software — follow us on Facebook or Twitter, or subscribe to our RSS feed… You can also enter your email and have new articles sent directly to your Inbox. We are reader-supported; when you buy through links on our site, we may earn an affiliate commission.