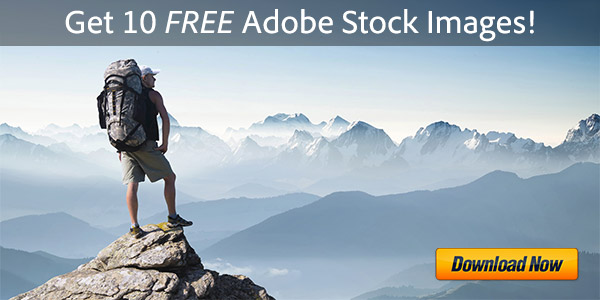 What are the differences between the types of Creative Cloud membership? This is a question we get a lot, so here's a handy comparison guide on the major differences between Creative Cloud for Teams vs. CC for Individuals. In another article we already covered the all the differences between Creative Cloud Student & Teacher vs. regular editions.
Creative Cloud for Teams is Adobe's volume licensing solution for businesses, studios, design shops, agencies, companies, offices, schools, and other organizations. It includes everything that CC for Individuals does, but gives you substantially more features and capabilities for managing and working with different users. It's meant for groups (such as small to midsize businesses and departments) with multiple seats using the products at the same time. For large businesses, Adobe recommends Creative Cloud for Enterprise.
A fast way to get a sense of the biggest differences is to check out Adobe's CC Plans-at-a-Glance comparison page for business – click to open for more details: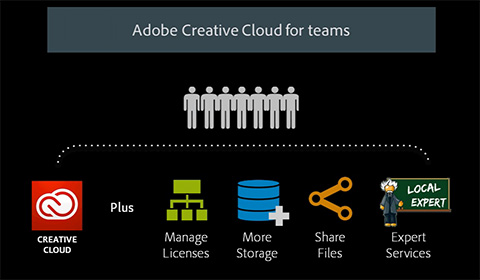 True to our forecast, today Adobe released Creative Cloud for Teams – a new offering for groups and organizations who want to easily manage volume purchases of Creative Cloud licenses for multiple seats or users.
The new Team product provides everything that Creative Cloud for Individuals does, which means open access to the world's best creative tools – plus workgroup capabilities for enhanced file sharing and collaboration (with 100GB of online space for each user), flexible license management (for adding, removing, or reassigning users as needed), usage tracking and reporting, centralized billing, and included Adobe Expert Services (with one-on-one direct access for each person on your team).
Response to the Creative Cloud has exceeded our expectations, and we expect adoption to accelerate as we deliver constant innovation exclusively to members. Our success thus far has been with individual users. Over the next few months, we will introduce new offerings for teams and enterprises which significantly expand the market opportunity for Creative Cloud.

In November, we will launch Creative Cloud for teams, which will enhance collaboration and simplify the setup, management and administration for creative workgroups.

Next year, we will also deliver an enterprise version of Creative Cloud targeted for compa­nies who wish to deploy and provision Creative Cloud across large organizations with a scale similar to the enterprise license agreements we have for Creative Suite today.

Creative Cloud for teams and enterprises will be made available through our channel partners as well as directly from Adobe.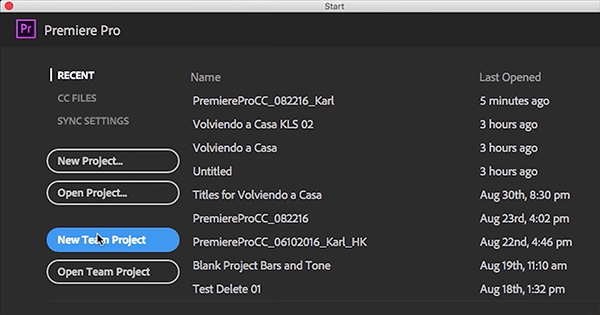 Adobe's pro video tools have made enormous advancements in recent years. So much so, that the older CS versions are hardly recognizable when compared to the newest CC editions, in terms of new features and performance improvements added since then. Adobe has really poured a lot of effort into these tools, and it shows: the current video suite has gained significant adoption and is widely considered a leader in the industry. All of their video applications are available/included in the complete Creative Cloud ("All Apps") subscription offering direct from the company.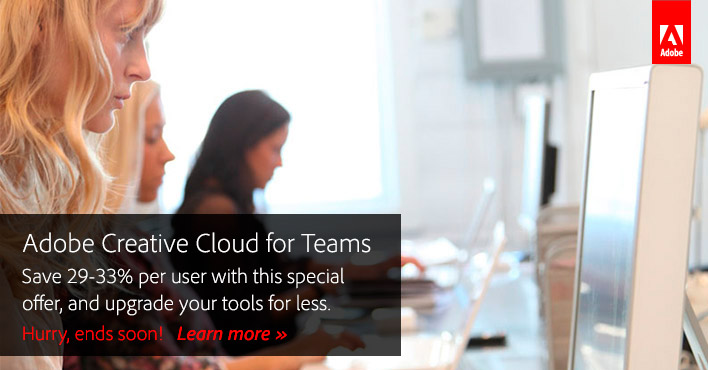 [UPDATE – See all of Adobe's current deals & discounts!]
We have a special Creative Cloud promotion from Adobe for you. For a limited time, you can save US$20/month (almost 30%) on Creative Cloud for Teams for your first year. That comes out to under US$50 a month for the entire CC collection of tools and services, including thousands of new features and performance improvements, as well as ongoing product updates! This promotion is available in many countries worldwide with similar discounts… See below for offer details and links.

One of the most popular articles on our site is How Many Systems Can I Run Adobe CS6 On? That covers Adobe's single user rules for their standard off-the-shelf retail software purchased for home or home office use. But how about for the rest of the world – for groups, teams, businesses, studios, companies, schools, and other organizations? What if you need an open license to run Creative Suite 6 (or other products) concurrently with multi-users on a number of computers on your network?
Fortunately Adobe has an answer for this that makes sense – that's easy and saves time with reduced maintenance via simple license management across your site… Why shuffle and keep track of individual serial numbers between different machines? Why worry about whether your software needs to run on a PC or a Mac?
With Adobe Creative Suite, if you're just looking to set up and run CS6 on either a Windows PC or a Mac OS system, the instructions for that are easy. And in fact, as we discussed earlier, it's relatively straightforward to install and activate the software on up to two machines of the same operating system type – in other words, either two Mac computers, or two Windows PC's.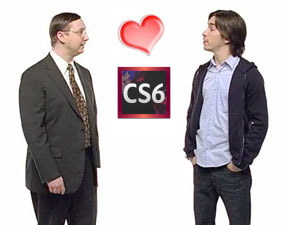 But in most cases, with the platform selection for Creative Suite and Acrobat products, it's "either-or." Either Apple or Microsoft. Either Mac or Windows. That's the story for the retail and education versions of the software. And, if you want to change or swap platforms entirely, and move your tools from one o/s to the other, you can do that with an Adobe CS "crossgrade."
However, there is another possibility if you want or need to have the applications available on both operating systems (Windows plus Mac OS) at the same time – and that is to get an Adobe volume license. Despite the name, anybody can buy them (not just businesses and even for just one copy), though they do offer discounts for larger purchases… and there are some additional advantages too. They're easy to get – no signature contracts are necessary and you can pay online with a credit card, and download right away.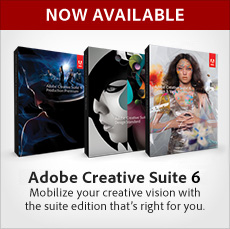 Creative Suite 6 was released today – and is now available through Adobe's Business Store, which was formerly called the Volume Licensing Store…
But this online store is not just for businesses or big volume – it's for anyone who would like to run more than one copy of the CS6 software at one time, or has multiple concurrent users. The standard licensing for Adobe's off-the-shelf retail products permits only a single user running on up to two installed computers – which is usually not enough for most members of a company, group, office, team, school, or enterprise. And it's occasionally not enough for some homes!
[UPDATE (February 2013) – Adobe is no longer offering the older option described here, so now customers who would like to buy multiple copies of creative software for their groups or teams are using this solution instead.]
Regardless, the benefits of going with an Adobe CS6 volume license even for a simple or small purchase are numerous and clear:
[UPDATE – See all of Adobe's current deals & discounts!]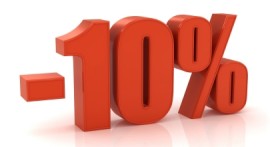 Adobe has a new voucher code: Use adobe10 to save 10% on all products in the Commercial Store in Europe, from now until March 17th 10th… (Update – Adobe has just notified us this offer was so overly successful that they had to expire it early – our apologies!) The code should be entered at time of checkout to receive the discount in the United Kingdom, Germany, France, and elsewhere in the EU.
Another new offer, valid worldwide, is save $20 (£13/€17) instantly when you purchase Photoshop Elements with Acrobat. This discount is in addition to the existing $20 Mail-in Rebate for Photoshop Elements products. See our quick take on Elements 8 here.

Lastly, Adobe has extended the deal for purchasing multiple copies of Adobe Acrobat – buy four, get one free – until April 23, 2010. So that translates into savings of up to US$449 when you sign up for the easy new online Volume Licensing Program with Adobe Acrobat software. Note that Adobe has just rechristened their volume licensing store to be called the Adobe Business Store, and this offer also works in both North America and Europe.
[UPDATE (5/7/2012) – CS6 is now available in the Business (Volume) Store!]
Adobe has just launched a new Volume Licensing Store in the UK and Europe, to go along with the one it opened online last year for North American customers. These sites can save you money, time, and provide benefits not found elsewhere – and make it easy for organizations of all sizes large or small to gain the advantages of volume ordering.

If you use multiple copies at your location (or may in the future), volume licensing is a good idea to consider – in addition to getting a discount on your software, you also simplify maintenance and upgrades enormously, as there is only one license key to deal with for all your systems… Administration becomes a snap and almost all Adobe products are eligible – and discounts can begin with as little as one copy.
It's simple because it's all online, and there are no membership requirements or signature "contracts" to sign. Plus you can conveniently charge your order instantly to a major credit card or PayPal, and download your software right away. Then once you're registered it's easy to add users via the flexible online management tool.
Further there is an option called Upgrade Plan where you are assured of automatic access to all Adobe upgrades for your covered products during the life of your plan – at your convenience and all at a single cost per licensed product.
If you like, there's a new tool to get an Instant Quote for the products you're interested in. And right now there's also an offer going on where you can get 5 copies for the price of 4 – check it out at the Adobe Specials page.
Learn more with our full coverage page on Adobe's Volume Licensing program.