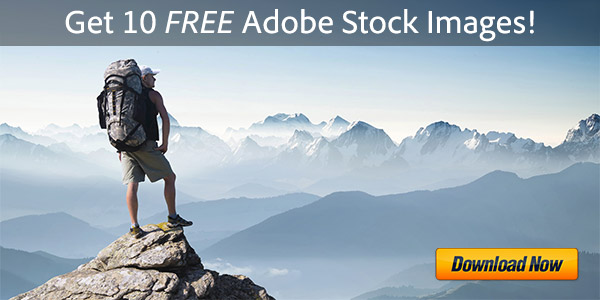 Adobe CC for Teams: Save 29-33% with New Volume Discount Offer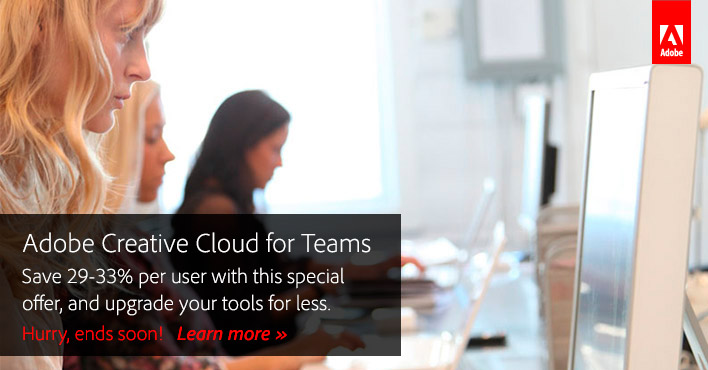 [UPDATE – See all of Adobe's current deals & discounts!]
We have a special Creative Cloud promotion from Adobe for you. For a limited time, you can save US$20/month (almost 30%) on Creative Cloud for Teams for your first year. That comes out to under US$50 a month for the entire CC collection of tools and services, including thousands of new features and performance improvements, as well as ongoing product updates! This promotion is available in many countries worldwide with similar discounts… See below for offer details and links.
Region
Regular Price
Special Offer
Savings
All prices are monthly for one-year membership.
North America
$69.99
$49.99
29% off
UK
£53.20
£38.11
29% off
Europe
€69.99
€49.99
29% off
What is Creative Cloud for Teams, if you don't already know? Well, it includes everything that you get in the standard Creative Cloud – all the same leading tools & services – plus a lot more that's built exclusively for working together in groups within a company, studio, school, or other organi­zation… Tons more storage, better workgroup collaboration, expert help support, centralized license management and billing, custom site deploy­ment tools, smoother controlled upgrades, and more. Check out this briefing for everything you need to know:
» What's the Difference Between CC for Teams vs. Individuals?
This special 29%-off offer is available to all existing Creative Suite 5, 5.5, or 6 customers (any product) who would like to upgrade to Adobe CC for Teams. If you only need just one or two tools from the CC suite, then alternatively you can buy one or more discounted Single-App Subscrip­tions to CC for Teams for $19.99/£14.29/€19.99 a month, or 33% off the regular pricing of $29.99/£14.29/€29.99 per month.
In addition, discounted pricing (25%-55% off) is also available to education institutions via named-user or licensing for small workgroups and departments or per-device licensing for classrooms and labs – with no prior product ownership required.
If you meet either of those criteria, then you can join now and get the latest CC 2015 release with big savings. Hurry though, this offer ends September 2, 2016:
Free ebook: Download the Creative Cloud for Teams Getting Started Guide.
The Creative Cloud 2015 already has 15 million customers and growing fast. And as always, you can start off with free downloadable trials if you like, which will run fully-functional for 7+ days on each computer you install them on.
Do you have any questions about Creative Cloud for Teams? Check out our extensive Creative Cloud FAQ, or just ask them below and we'll get you answers fast!
See Also

Do you have any questions about Creative Cloud for Teams? Just ask them below and we'll get you answers fast!
Keep up with the latest on Adobe software — follow us on Facebook or Twitter, or subscribe to our RSS feed… You can also enter your email and have new articles sent directly to your inbox.
Share This
GET FREE ADOBE BOOKS
Sign up for our popular newsletter and we'll send you 30 great ebooks to learn all major Adobe tools at no cost!