Two weeks after its official introduction, Adobe this morning has released Creative Suite 6, with major upgrades across the line. All CS6 suites and individual products are now shipping and downloadable as trials or for permanent use. The new subscription-based Creative Cloud offering, launched at MAX last November, is also out and now available.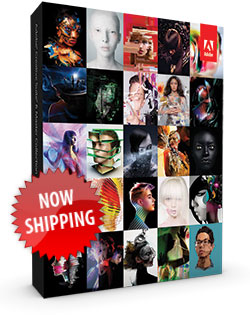 The CS6 configurations are broadly similar to CS5.5, with four product removals and two additions. The product pricing has largely stayed the same, with modest adjustments for some upgrade paths and geographies. The new software is available immedi­ately for Windows and Mac OS via full purchase or discounted upgrade (from as far back as CS3 and CS4, through the end of this year), with delivery via boxed shipment or instant download.
And important news – starting now with this release, all CS6 upgrades can only be purchased direct from Adobe… CS6 upgrades will not be offered from third parties, resellers or retailers.
All of the CS6 free trials are also now available for download. These trials are fully functional for 30 days and will work side-by-side with any previous version(s) of the Creative Suite, including CS5 and CS5.5. If you decide not to buy CS6 when the trial period is up, you can just uninstall it and your older tools will continue to run – while all CS6 buyers can easily convert their trial to permanent use without reinstalling the software, even when upgrading. (For more informa­tion, refer to the complete Trial FAQ.) CS6 will also open all of your CS5 project and data files.
Special: Legally download dozens of free Adobe books for a limited time!
If you have any difficulty with the trial downloading process or using the Adobe Download Assistant, you can instead click through the complete list of CS6 direct download links to easily get all of the trials you want without any download manager or assistant.
The CS6 Student & Teacher Editions are also now shipping. These offer up to 80% off the regular prices for education customers including students, teachers, and academic staff. Just be sure you know the key differences between Adobe's academic versions vs. regular.
If you need more than one copy of any product, check out Adobe volume licensing for price discounts and ease of management, plus other benefits – including the ability to purchase and run CS6 multi-platform (on both Windows and Mac).
CS6 ships in English, French, German, Spanish, Danish, Dutch, Italian, Finnish, Norwegian, Swedish, Portuguese, and Japanese today, with up to 24 languages coming in total – including Chinese, Korean, and Russian. The CS6 System Requirements are close to those for Creative Suite 5 – you can read more about this in the links below.
See Also

Do you have any questions about CS6? Just ask them below and we'll get you answers fast!
Keep up with the latest on Adobe software — follow us on Facebook or Twitter, or subscribe to our RSS feed… You can also enter your email and have new articles sent directly to your Inbox. We are reader-supported; when you buy through links on our site, we may earn an affiliate commission.