Adobe has just unveiled Creative Suite 6 – and one of the upgrade questions people are asking is what's new, what's different, what's changed in CS6 as compared to previous version(s)? Adobe calls it, "a killer release with hundreds of new capabilities rolling up four focus areas: application performance, enhanced user interface, efficient development for multiple devices, and making previously impossible things possible." So our job here is to give you a quick "cheat sheet" on top new features, to help you decide about upgrading…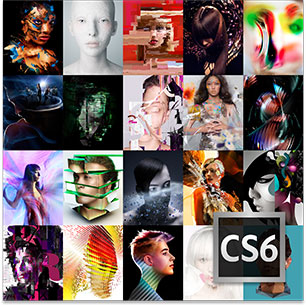 CS6 updates almost all of the individual products from CS5, including Photoshop, Illustrator, Dreamweaver, Fireworks, Flash Pro, InDesign/InCopy, Premiere Pro, After Effects, Audition, and Encore. Learn more about all the new features added to each of these applications in detail, with our special coverage.
The CS5 tools not revisioned to CS6 are Flash Catalyst, Contribute (upgraded to new version 6.5 but sold standalone), OnLocation, and Device Central. Acrobat and Flash Builder are included in the suites but remain the same versions as before.
In addition there are two new applications introduced: Prelude CS6, a video ingest and logging tool to help tag and transcode footage rapidly, and SpeedGrade CS6, a professional color grading system that brings state-of-the-art color science to your video productions. These new tools are included in both the Production Premium and Master Collection suites.
With the spread of online content, Adobe found there was growing overlap in the customer base for the Design Premium and Web Premium suites, so they combined them both into one now called CS6 Design & Web Premium – which draws upon the tools of both editions. Design Standard's collection remains "as is," and rounds out the line-up.
As was disclosed previously, Adobe's new design tools Edge and Muse will not be included within the Creative Suite, but sold separately.
You can download the free trials for all of these applications today… All of them are available for standalone purchase, or as part of larger integrated CS6 suite editions. And new this year Adobe is also offering a mega-collection of all their best creative tools (including everything described here) in the Creative Cloud option.
Install now: Get all new Creative Cloud 2024 direct download links and free trials.
For more information and details on Creative Suite 6 worldwide pricing, upgrade changes, availability, and system requirements, see our companion CS6 Launch Guide.
What's New in CS6 vs. CS5? A New Feature Version Comparison
Here's a quick run-through of some of the top new features in CS6 for major applications…
— Photoshop CS6: New modern user interface, Content-Aware move/patch/extend tools, new Camera Raw 7, background save and auto-recovery, Blur Gallery, redesigned vector and 3D engines, intuitive video editing, and many more. [SEE COMPARISON]
— Illustrator CS6: Reengineered and streamlined user interface, fast Mercury Performance System for native 64-bit support on both Windows and Mac, new creative tools for pattern creation, image tracing, and gradients on strokes. [SEE COMPARISON]
— InDesign CS6: Content Collector tools, hot-linked content across pages, integration with Digital Publishing Suite, Alternate Layout, Liquid Layout, other new tools efficiently adapt layouts to a myriad of page sizes, devices, and orientations. [SEE COMPARISON]
— Dreamweaver CS6: Fluid grid layout for cross-platform design, CSS3 transitions, HTML5 code rendering with Live View and Multiscreen Preview, enhanced jQuery Mobile and PhoneGap Build framework support, optimized FTP performance. [SEE COMPARISON]
— Fireworks CS6: New screen layout tools, jQuery Mobile theme skinning, CSS sprites from comps, CSS3 code extraction, improved color swatches, better redraw performance for Mac, improved memory management for Windows 64-bit systems. [SEE COMPARISON]
— Flash Professional CS6: Sprite sheet generation, CreateJS toolkit to output HTML5, access to platform- and device-specific capabilities, prepackaged Adobe AIR captive runtimes, mobile application interaction simulation, support for the latest runtimes. [SEE COMPARISON]
— Premiere Pro CS6: Sleek and professional user interface, uninterrupted playback, Warp Stabilizer effect, dynamic timeline trimming, expanded multicam editing, rolling shutter artifacts correction, adjustment layers, and many more. [SEE COMPARISON]
— After Effects CS6: Global Performance Cache, 3D camera tracker, ray-traced text and shape extrusion, new variable mask feathering, rolling shutter repair, enhanced integration with Illustrator, new and updated effects, and many more. [SEE COMPARISON]
— Audition CS6: Real-time clip stretching, pitch and speed control, CD burning, parameter automation, control surface support, automatic speech alignment, clip grouping with group suspend, tone generation, and many more. [SEE COMPARISON]
— Encore CS6: 64-bit support for rock-solid performance, faster MPEG import with asynchro­nous processing.
— Prelude CS6

: Full or partial ingest, tag footage with searchable temporal metadata, transcode to many formats, heads-up logging, rough cut creation, thumbnail scrubbing, speech transcription notes, success write confirmation, fully customizable.
— SpeedGrade CS6

: Powerful layer-based color grading, GPU-accelerated performance, Lumetri Deep Color Engine, primary and secondary color correction, automatic scene detection, camera and color space matching, Adobe tool and workflow integration.
These are just a few highlights of what's new in the toolset and there are many, many more.
If you want to know what's different from CS6 going back to releases prior to last, check out comparisons of earlier versions of the Creative Suite, for example CS4 vs. CS5.5, or CS3 vs. CS5.5.
See Also

Do you have any questions about CS6? Just ask them below and we'll get you answers fast!
Keep up with the latest on Adobe software — follow us on Facebook or Twitter, or subscribe to our RSS feed… You can also enter your email and have new articles sent directly to your Inbox. We are reader-supported; when you buy through links on our site, we may earn an affiliate commission.