[UPDATE (Oct. 12th) – See also the new sneak videos out for Photoshop Image Deblurring and InDesign Liquid Layout from Adobe MAX 2011…]

Similar to how they did before the launch of CS5, Adobe has been quietly slipping out a bevy of "sneaks" (now numbering 16 videos) for new features that may be in a forthcoming release of the Creative Suite…
"Check out what new technologies, features and innovations the Adobe product teams are working on behind the scenes. Stay tuned to get an early glimpse of what could be next from Adobe."
The products covered include: InDesign, Dreamweaver, After Effects, Premiere Pro, Audition, Adobe Story, Media Encoder, Flex, Flash Pro, Flash Builder and Flash Catalyst.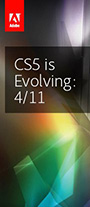 Given the recent news of a "mid-cycle release to CS5" (e.g., CS5.5), and a forecast for when CS6 could be out, one question might be in which future version might we see these new capabilities?
Well, Adobe tips their hand once again – because at the end of a couple of these videos they flash the graphic, "CS5 is Evolving: April 11th, 2011″……
Which says to us, you might expect some of these features soon, in fact you might expect more about them next week!
The company has scheduled a special session with Creative Suite Evangelists on Monday, and is tweeting: "CS5 is getting even better. Stay tuned to #Adobe.com on 4/11, and join this Q&A"
Join us on Facebook for a live Q&A with Creative Suite Evangelists Terry White (Design), Greg Rewis (Web), Paul Trani (Flash Platform) and Jason Levine (Digital Video & Audio) from 9am – 10am PDT on Monday, April 11. They will be answering all your Creative Suite questions, so start thinking about what you've been dying to ask.
So here are some of the significant new preview demos… For the complete set, please see the Adobe Technology Sneaks 2011 page.
[UPDATE (April 11th) – Right on schedule, Adobe CS5.5 is out!]
Sneak-Preview of New Motion Stabilizer for After Effects
Watch Steve Forde, Adobe's Product Manager for Adobe After Effects, demonstrate the Warp Stabilizer, a new way to transform shaky hand-held footage in After Effects.
Sneak-Preview of Adobe Audition
Watch Colin Smith, Adobe's Senior Solutions Engineer for video products, share the future of Audio in Adobe's Creative Suite software.