[UPDATE (May 2012) – The all-new Creative Suite 6 is now shipping!]
Three weeks after its official introduction, Adobe this morning has released Creative Suite 5.5, with major upgrades for mobile, publishing, HTML5, video, audio, and Flash. The CS5.5 configurations are similar to CS5 and the product prices are the same. The new software is available immediately for Windows and Mac via full purchase or discounted upgrade (from as far back as CS2), with delivery via boxed shipment or instant download.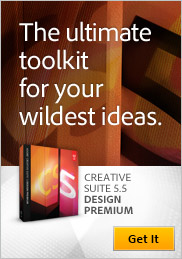 Adobe has simultaneously made CS5.5 free trials available for download (with the new Adobe Download Assistant app). These trials are fully-functional for 30 days and work side-by-side with any previous version(s) of the Creative Suite, including CS5. If you decide not to buy CS5.5 when the trial period is up, you can just uninstall it and your older software will continue to run – while buyers can easily convert their trial to permanent use without reinstalling the software. For upgrades, you can install a trial and then buy an upgrade to convert your trial into a purchased version. (For more informa­tion, refer to the complete Trial FAQ.)
If you have any difficulty with that process, you can instead use the direct download links to get the Adobe CS5.5 trials without the Download Assistant.
The CS5.5 Student & Teacher Editions are also now shipping. These offer up to 80% off the regular prices for education customers including students, teachers, and academic staff. Just be sure you know the key differences between Adobe's academic versions vs. regular.
If you need more than one copy of any product, check out Adobe volume licensing for price discounts and ease of management, plus other benefits.
CS 5.5 ships in English today, with up to 24 other languages to follow shortly – including Chinese, Danish, Dutch, English, Finnish, French, German, Italian, Japanese, Korean, Norwegian, Portuguese, Russian, Spanish, and Swedish. The system specifications for all CS5.5 products are virtually identical to those for CS5.
What's New in Adobe Creative Suite 5.5?
See Also