[UPDATE (March 2012) – Adobe's grace period for free upgrades to CS6 is here!]
Adobe launched Creative Suite 5.5 this week and it is open for preorder but not shipping yet… The company says the release date will be in May, and in the meantime you can still buy Creative Suite 5 (or download the CS5 free trials) if you need something going today.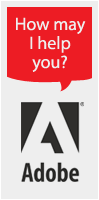 And, if you bought Adobe CS5 recently (a suite edition or an individual application like InDesign, Dreamweaver, Flash, After Effects, Premiere Pro) or if you purchase any CS5 product now, you may be entitled to a free upgrade to CS5.5 when it is released.
Historically, Adobe's policy for major product releases has been that you may qualify for a free upgrade if you buy the previous version near or after the new product has been announced, but before it ships… The advantages are threefold: (1) you get software available for immediate download, (2) you get a more mature release if you prefer and can move up later at your leisure, and (3) you win a lower upgrade cost (e.g., from CS2, CS3, or CS4), because you're buying fewer steps to go up. For Design Premium it's $150 less to upgrade now from CS3 to CS5, than to upgrade from CS3 to CS5.5.
The good news is this post-announce free upgrade policy remains in effect, according to an Adobe Q&A Session earlier this week… So it looks like you can get the best of both worlds and buy or upgrade to CS5, and then later get a free update to CS 5.5 when you — and it — are ready. (Just look for "Can't wait? Order the previous version today" on Adobe's page…)

There are some specific terms for eligibility, based on platform, language, and edition – so you might want to double-check the policy to make sure you'll qualify… The offer is only avail­able through Adobe directly, and to request your free upgrade just go to the Customer Support Portal, click on the "Orders & Returns" tab, and choose issue type: "Post Announce Upgrades."
Here's what Adobe said during the Q&A session about the post-announce upgrade policy:
Customer Question: I assume you have to pay for the upgrade. I just bought CS5 two weeks ago. Do I get a free upgrade???

Customer Question: If we already have Creative Suite 5, will we be able to upgrade for free or at a reduced rate?

Customer Question: If I buy CS5 now, will I get a free update to CS5.5 when it comes out?

Customer Question: Great! But not so great if you've just purchased CS5…

Customer Question: Is there a grace period for people who just bought or updated CS5? If so, what is the timeframe?

Adobe Answer (to all): Hi Everyone, if you've purchased CS5 recently you may qualify for our free upgrade. If you would like to find out if your CS5 purchase makes you eligible for an upgrade, please contact customer support on this page.

If you want to try out the new version to see if it has features you need, you can be notified when the free trial is available around mid-May by signing up here.
Note: To find and purchase the previous version you need to look near the bottom of the Store pages for, "Can't wait? Order the previous version, CS5 today."
If you want to try it out for free first, no problem – you can download the CS5 trials or the CS5.5 trials.
See also:
Our release guide for CS5.5, and a version comparison between CS5 and CS5.5.
And what's new features for each individual product in the suites.
You may also be interested in when Adobe CS6 would be due.