[UPDATE (May 2012) – The all-new Creative Suite 6 is now shipping!]
Yes – Adobe CS5.5 has just been announced with all the details… Pretty much on the time­frame we forecast, you can learn about and order any of the new products or suite editions, or download a free CS5.5 trial. And while the version and software have changed, the boxes look much the same as before.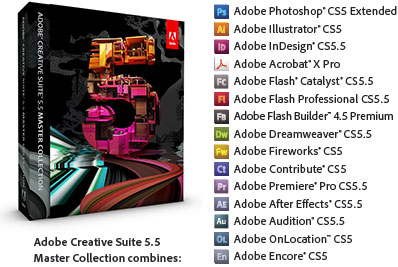 For this "mid-cycle release" coming one year after CS5 first arrived, Adobe is offer­ing similar configurations and prices, but with most of the individual products receiving additional features, enhanced functionality, updated technol­ogies, or nice performance boosts.
Overall we present some highlights here, but see our two companion "what's new" articles for: (1) an overview of the key differences between CS5 and CS5.5, including what's been added and what's been taken away, and (2) a detailed product-by-product review of the significant new features and enhance­ments in CS5.5.
Why CS5.5? — Industry Landscape is Rapidly Changing
A year ago, Android was just starting to gain traction, and the iPad was brand new
Emerging web standards like HTML5 and CSS3 were very early in their adoption
Proliferation of devices and their need for rich design & interactivity, content & apps
Trend towards "video and media everywhere," any time, any place, on multiple screens
CS5 is evolving to keep ahead of this fast-changing, cross-platform marketplace
CS5.5 capitalizes on these key trends with major focus on mobile, media, and video
The next major revision of Creative Suite (CS6) won't be out for quite some time
CS5.5 Pricing, Upgrades, Availability, and Requirements
The CS5.5 Price Sheet shows the complete pricing for the full versions in major geographies and currencies. Upgrade pricing from older versions (CS2, CS3, and CS4) has edged up a bit, by 5%-19%. The cost to upgrade from CS5 to CS5.5 ranges from $119-$179 for the individual point products, and $299-$539 for the suites. If you're considering upgrading from your current tools, here's a helpful upgrade guide with the discount levels.
For education customers, the CS5.5 Student & Teacher Edition prices and line-up remain the same, at up to 80% off. Learn the benefits and limitations of Adobe's academic versions.
If you need to run multiple users with Creative Suite, check out the volume license program. Adobe is also now offering a subscription option for new purchases of full commercial products (not for upgrades or students/education).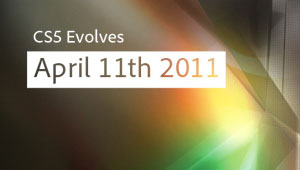 The hardware requirements for CS 5.5 are essentially identical to those for CS5. Premiere Pro CS5.5 and After Effects CS5.5 continue to be 64-bit-only products, however all of the other applications will run well on both 32-bit and 64-bit systems. And the new suite editions do still include the CS4 versions of Premiere Pro and After Effects for the benefit of those still on 32-bit computers.
Adobe has also put together an excellent FAQ that addresses a lot of general questions. And the online documentation for all CS 5.5 applications just went up. There have also been several "Ask a CS Pro" Q&A sessions where Adobe experts answer popular questions about the new release.
And similar to other Adobe software, you may be able to install and run CS5.5 on up to two computers, subject to the terms of the software's license agreement.
So all this new software has been officially announced, but when will CS5.5 be shipping?
Adobe tells us the date it will be coming out is in early May available now!
Read more about how CS5.5 is different in other ways, or see the new featuresets within each product, or download any of the free trials.
Lastly, one of the frequently asked questions for CS5.5: If you're still running an older version like CS2, CS3, or CS4, there is currently a grace period in effect where if you buy or upgrade to CS5 now, you'll get a further free upgrade to CS5.5 once it is released…
[UPDATE (May 4th) – Also available: Our set of direct links for all Adobe CS5.5 trial downloads.]
Do you have any questions about CS5.5? Just ask them below and we'll get you answers fast!