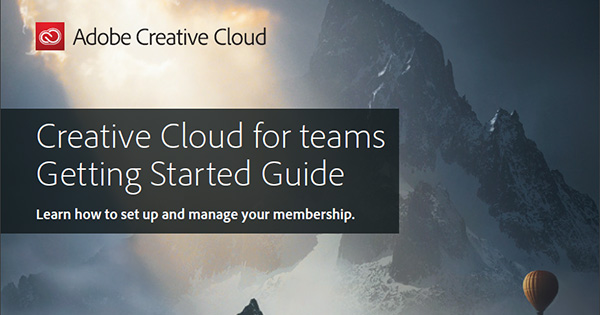 If you've already purchased or are considering buying Adobe's Creative Cloud for Teams, then the free downloadable PDF guide (plus videos) below will help you learn how to best use the group and licensing management tools that come with this plan.
In this concise 10-page ebook you'll find everything you need to get your team up and running with CC for Teams quickly and easily – including how to invite new users, assign product licenses, reassign or remove users & seats, join the team by installing and downloading the Creative Cloud apps, add Secondary Administrators to help with user management and deployment, and more. Learn how to set up and manage your membership:
Install now: Get all new Creative Cloud 2023 direct download links and free trials.
If you're still a bit unclear on how Adobe's Teams plan differs from their Individual plans, then check out our major feature comparison page here:
» What's the Difference Between Creative Cloud for Teams vs. Individuals?
In a nutshell, Creative Cloud for Teams does everything that the standard CC edition does, but takes it to the next level for multiple people (up to hundreds of users) collaborating and working smoothly together… So there are additional capabilities available to Teams subscribers which are not offered to Individual members. And if desired, it is possible to switch from an Individual to a Team membership; even one person alone can still buy and use a Teams plan.
If you prefer to try out the tools first, you can instantly download any Adobe product (or even the entire Creative Cloud) as a fully-functional 7-day free trial. Better still, you can now get a Creative Cloud for Teams free trial for 14 days for ten users, with no credit card or payment details required.
The Teams tryout gives non-expiring access to the Admin Console, which is used to manage your subscription licenses, as covered in the start-up guide above and in the videos below… Importantly, note that Adobe offers a 14-day money-back guarantee on initial purchases of Creative Cloud (all plans), so if you buy the full product now and later change your mind within the first two weeks, then you'd get a complete refund.
Do you have any questions about Creative Cloud for Teams? Check out our extensive Creative Cloud FAQ, or just ask them below and we'll get you answers fast!
Creative Cloud for Teams How-to Videos
Explainer: How Does Creative Cloud for Teams Work?
How to Get Started with Adobe Creative Cloud for Teams
See Also

Keep up with the latest on Adobe software — follow us on Facebook or Twitter, or subscribe to our RSS feed… You can also enter your email and have new articles sent directly to your Inbox. We are reader-supported; when you buy through links on our site, we may earn an affiliate commission.